Claude Chêne takes up duties as SESAR Joint Undertaking Executive Director
Mr Chêne will ensure the continuity of the SJU activities and a smooth connection between the SJU and its Members…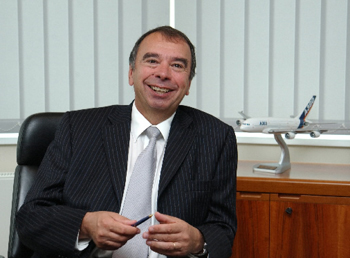 Claude Chêne
Claude Chêne, a former Director-General of the European Commission's Directorate General for Personnel and Administration, has taken up his duties as Executive Director ad interim of the SESAR Joint Undertaking (SJU). Effective as of 1 September, Mr Chêne will ensure the continuity of the SJU activities and a smooth connection between the SJU and its Members, until such time as a new Executive Director is appointed.
Commenting on his appointment, Mr Chêne said: "I am extremely pleased to lead SJU during this period of transition. With the help of very talented and committed staff, I am confident that I can sustain the high level of competence already shown by the SJU until the end of my tenure."
Mr Chêne was selected for the position by the SJU Administrative Board for his wealth of experience, most notably in the transport, administration and aviation fields. "Mr Chêne has a vast knowledge and experience of the transport domain and in particular of the aviation sector. His solid background in the Union's administrative and financial procedures […] constitutes a strong asset," said Matthias Ruete, Chairman of the Administrative Board of SESAR, and Director-General for Mobility and Transport (DG MOVE) at the European Commission.
Mr Chêne's first appointment was in 1976 at the European Commission's Directorate General for Transport. In 1986, he joined the cabinet of Commissioner Clinton Davis to work on the Transport portfolio, and moved to the Cabinet of Commissioner Van Miert in 1989, dealing initially again with the Transport portfolio and then Competition. From 1992 to 1994, Mr Chêne was Mr Van Miert's Head of Cabinet (Competition and Personnel), and again from 1997 to 1999 (Competition). During this period, he also held Director posts in the Directorate Generals for Transport, and Personnel and Administration. From 1999 to 2002, he headed the Task Force for Administrative Reform, before being appointed Deputy Director General in charge of Competition.
From 2004-2009, Mr Chêne was Director General for Personnel and Administration and was responsible for overseeing the full implementation of the Commission Reform programme. Since 2009, he served as Special Advisor to European Commission Vice-President Siim Kallas, during which time he was designated "Explorateur" by the EU and US to explore the various ways to resolve the dispute on "Control and Ownership" in the EU-US open sky agreement. From 2010 to 2012, Mr Chêne also held the position of Chairman of the European Aviation Safety Agency (EASA) working group OPS55: Flight Time Limitation.
The process for selecting a new SJU Executive Director started with the publication in July 2013 of a vacancy notice and is expected to be completed in March 2014.