Ground broken on final element of Chicago airport runway extension
The runway configuration is the last component of the OMP project that is working to reconfigure and balance O'Hare's airfield.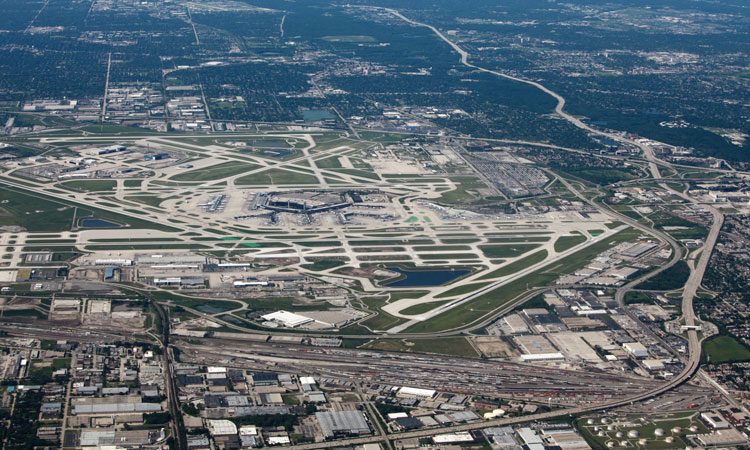 Multiple officials gathered to break ground on the extension of Runway 9R/27L at the O'Hare International Airport, the final component of the O'Hare Modernisation Programme (OMP) first approved in 2005. The project's aim was to increase capacity, improve efficiency, and dramatically reduce system impact delays by re-configuring and balancing the airfield – system impact delays have decreased by 63 per cent since the project began and airfield operations are generally seeing an increase in predictability. The extension will add 3,000ft to one of the airport's most heavily used runways, and will replace a network of intersecting, diagonal runways with six east/west parallel runways. Expected to be completed in late 2021, the extension will increase the runway's ability to handle the demand from larger aircraft and long-haul departures.
The renovations made to the runway have paved the way for the next phase of the O'Hare Airport modernisation. The $8.5 billion project, the O'Hare 21 Terminal Area Plan, will aim to improve the passenger travel experience for millions of travellers each year. The Mayor of Chicago, Lori Lightfoot, said: "We are very excited to begin the final phase of the O'Hare Modernisation Project as we move forward with our full vision for O'Hare Airport with the $8.5 billion O'Hare 21 programme. Chicago's status as a global city rests on O'Hare's ability to handle the ever-increasing demand capacity, and today's ground breaking stands as a major milestone in ensuring a seamless experience for everyone passing through our city for years to come."
The extension of the runway and the other ongoing airfield works will ultimately have a major economic impact on Chicago far into the future and, over the following two years, will create almost 2,000 local workforce jobs – adding to the tens of thousands already created over the completion of the OMP project. Dick Durbin, a U.S. Senator, said: "Today's project, along with the rest of the O'Hare Modernisation Program, will lead to a more efficient experience for passengers and airport operations while creating jobs and increased economic opportunities for the region."