Beijing Daxing International Airport officially opens
Costing around $17.47 billion, Beijing Daxing International 'Starfish' Airport, has officially opened.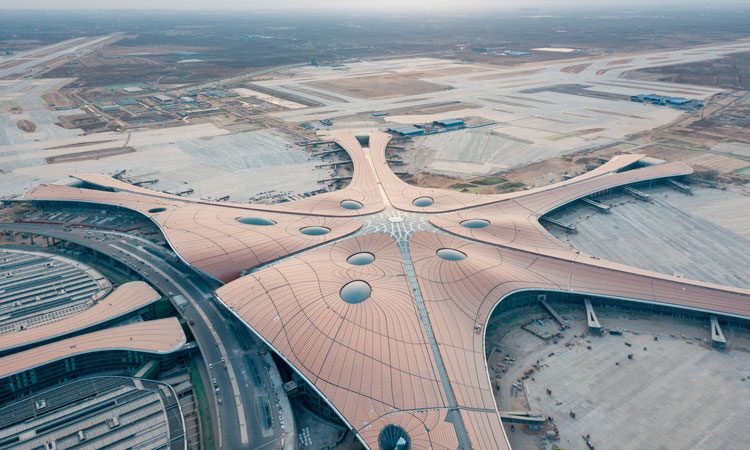 Beijing Daxing International Airport has officially opened in the Daxing district. It is the biggest airport in the world and the second international airport in Beijing along with Beijing Capital International Airport.
Developed to alleviate congestion at the capital's existing airport, Beijing Daxing will be a major transport hub for the region with the world's fastest-growing demand for international travel and is fully integrated within the country's expanding transport network.
Beijing Daxing has been estimated to handle up to 45 million passengers per year by 2021 and 100 million eventually. Its design is pioneering and its location in Daxing district (the southern suburbs of Beijing) is ideal in order to serve the Chinese capital and the neighbouring areas of Hebei and Tianjin. 
Recently assigned the airport code 'PKX' by IATA, Beijing Daxing sets a new standard in air transport services, serving the region's growing population within a compact and efficient passenger terminal that is adaptable for future growth.
Daxing airport, which has a unique shape that has given it the nickname 'Starfish', has four runways (with the prospect of becoming seven in the future) and 79 airport stands. The airport stands are suitable both for one twin-aisle plane and two single-aisle ones. It has a terminal building covering a 700,000m² area while the ground transportation centre extends to 80.000m².
The construction of the airport, which is expected to become eventually the busiest airport in the world, cost the Chinese government around $17.47 billion.
The compact radial design of the terminal allows a maximum number of aircraft to be parked directly at the terminal with minimum distances from the centre of the building, in order to provide convenience for passengers and flexibility in operations. 
The airport's masterplan, which was assigned to Netherlands Airport Consultants (NACO), was developed with respect to environmental protection and on the basis of simplifying passenger procedures
A major focus for NACO was the ground transportation system of the airport. High-speed and intercity trains, metro and public buses will connect the new airport to Beijing city and other major areas.