Battling low visibility, strong winds and fog
Christchurch International Airport rarely gets more than a light dusting of snow, however, as Tim Morris, Manager Airfield Operations, details, the airport must face other extremes during New Zealand's winters.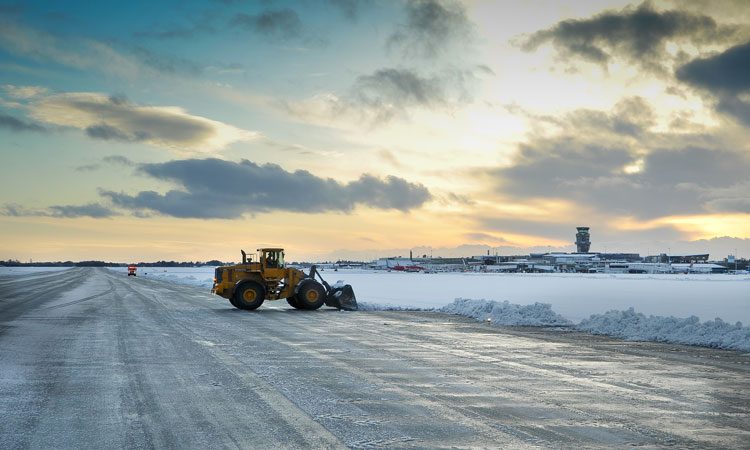 CHRISTCHURCH Airport is the gateway to New Zealand's South Island and the second largest airport in the country, welcoming approximately seven million passengers a year.
In winter, our biggest challenge is not snow. Over the past five years, only small amounts have fallen. Instead, our biggest winter challenge is managing flights diverted here from airports snowed under. Network interruptions can mean us having to accommodate planes that we weren't expecting.
Our own winter challenges are low visibility, strong winds, big storms, frosts and fog. Christchurch Airport has developed relationships with meteorological agencies who provide up-to-date information to show what's coming, and we work with airlines to consider what to prepare for.
Preparing for winter in Christchurch
In the first week of May each year, the airport company hosts a winter preparedness exercise, coordinated by Airfield Operations Support Manager, Robyn Weir.
"We have a formal Snow Plan document, and we test all emergency preparation and processes outlined. The exercise involves multiple internal and external businesses and agencies and is based in our Emergency Operations Centre (EOC).
"We spontaneously rehearse our response to whichever event is announced as we arrive at the EOC, thinking laterally and quickly about how to keep the airport operating as well and for as long as possible. The exercise is a valuable refresher for established staff , inducts new staff and has a range of businesses across the campus working together on an event which really could happen."
Our snow-clearing equipment is on the airfield during the exercise, refreshing and retraining drivers, recertifying the equipment, refining tactics and updating procedures.
Our weather patterns are definitely changing, but not just in winter. We are recording more extremes, with hotter summers and more mild winters, alongside bigger rain and wind events. What used to be described as 'once-in-50-year events' are now more regular, and we learn from each one.
The largest natural event we learned from in recent times was the 2011-12 sequence of earthquakes, which damaged our central city and claimed 185 lives. Though the airport was not damaged, it came under significant pressure as the entry point to a crippled city which rescuers wanted to enter and visitors wanted to leave. As a result of more than 10,000 aftershocks, we learned a lot about emergency responses and ourselves, and have been able to share what we learned with organisations across the country, and world. Our highly-trained and competent team was tested and lauded in equal measure and grew as more people from across the business volunteered for training.
Winter operations can be costly for an airport and if we were to receive a heavy or sustained snow event or were forced to close for a day or two, the impacts would be felt across the city, island and country. South Island producers, for example, rely on daily flights to Asia and Europe to get their prime produce to overseas markets in the shortest time and best condition.
Keeping the environment in mind
Over the past 10 years, we have managed to maintain some form of operation even on difficult days, but making things happen can present their own difficulties. For example, de-icing aircraft comes at a cost to airlines, has an impact upon schedules and can present environmental issues, especially in regard to our airfield which sits above the city's drinking water aquifer.
Kaitiaki, or guardianship, of our environment is one of the pillars of our company's strategy, so all aspects of our winter operations consider sustainability a priority. We have extensively researched products, and only use ones we are confident will have no – or minimal – impact on our surroundings.
We focus on managing icy conditions around the airport, to keep visitors safe, including using inhibitor products to stop ice forming. A typical mid-winter day might be a heavy frost followed by a fine day, repeated the next day and possibly the next.
In these winter conditions we must stop ice forming on runways. Snow and rain are more easily dealt with, but once snow melts and then freezes, it takes a lot of work to clear the runway to a dry usable form. We have equipment and dedicated staff trained and ready for those tasks, but in heavy snow the battle can be to keep areas clear long enough for an aircraft to arrive or depart. When clearance efforts cannot keep up with the weather, major decisions about operational viability must be made. Closing is the last thing airports ever want to do, so we at Christchurch consider ourselves fortunate that such events are rare.
Watching and evaluating the weather is part of our daily operation. It perhaps goes without saying that it is vital for us to do all we can to avoid adverse weather, especially in winter, spoiling what might be the overseas experience of a lifetime.
Biography

TIM MORRIS has worked for Christchurch International Airport Ltd since 1996, currently in the role of Manager Airfield Operations. During these 23 years he has held seven different roles across the business and has worked in, or with, all the company's different operational teams. His current portfolio includes responsibility for the airport fire service, wildlife management, airfield and apron operations, integrated operations centre and emergency management.