How can airports prevent personal injury lawsuits?
How can we ensure that the airport environment is always safe and accidents that could result in personal injury claims and lawsuits are prevented? Steve Howards, Content Marketing Manager at Herrig & Vogt, provides us with the answer.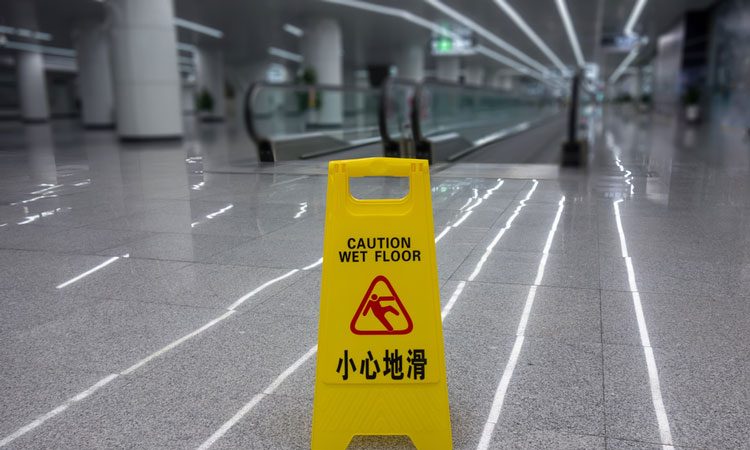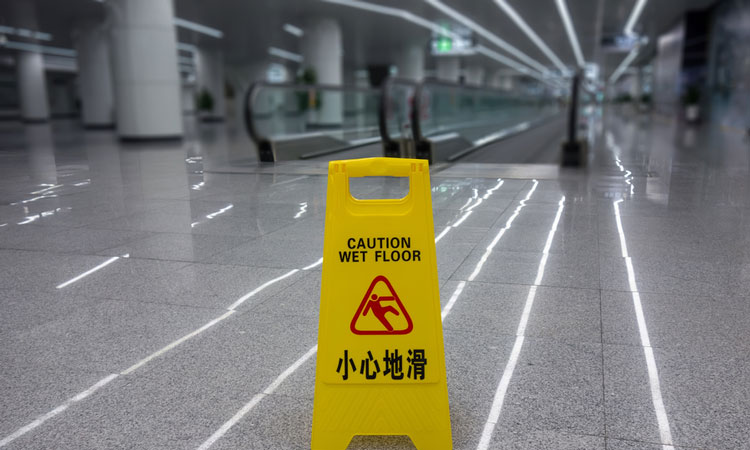 Did you know that more people get injured at an airport than on the aircraft?
For example, according to the Flight Safety Foundation, around 27,000 ramp accidents occur every year, costing at least $10 billion annually.
This is not at all surprising considered how many activities happen inside an airport – many passengers are in a hurry, trying to get through security, managing multiple languages, navigating an unfamiliar environment, looking after their small children, reading signs or listening to announcements. They're distracted and often fail to notice hazards (e.g., a spill on the floor) that could cause injuries.
Some common causes of airport injuries include:
Elevator and escalator accidents
Slipping and falling at an airport due to improperly installed, poorly maintained flooring and spilled food or beverages
Tripping and falling on bunched up carpeting, debris or broken stairs
Malfunctioning jetway during boarding
Defective airport equipment (e.g., luggage conveyor belt)
Collision with airport shuttle
Accidents during transportation inside an airport.
The most common injuries sustained in airports are sprained or strained muscles, torn or ripped ligaments, muscles and tendons, broken bones, amputated digits, bruises, cuts and grazes, back and neck injuries, traumatic brain injuries, and spinal cord injuries.
Many of these injuries are caused by handling heavy luggage as well as slipping and falling. Some of them can be severe and lead to personal injury lawsuits that could be very costly to an airport.
In order to minimise these accidents and the cost of personal injury lawsuits, airport managers and operators must improve the safety of their airports while understanding the legal implication if an injury occurs so they can handle the incident properly.
Who is held liable for personal injuries at an airport?
When an accident occurs in an airport terminal, e.g., when a passenger is going from one gate to another, near the food court, in waiting areas, at the passenger pickup zone, or other public spaces, and the accident is caused by negligence on the part of the airport management or employees, the airport is often held responsible.
In some cases, both the airport and the airline could be liable – for instance, when an accident occurs in the airport's public area but involves an airline employee.
As an airport manager, it's crucial to understand the delineation of liability (e.g., airport vs. airline) so the right resources can be allocated to properly manage areas that are the airport's responsibility to lower the likelihood of injuries occurring.
Under what circumstances can an airport be sued?
Under most state laws, property or building owners are legally obligated to ensure that their premises are safe for patrons, visitors and guests.
If a passenger gets injured in an airport's public area, which is the airport management's liability, they could file a lawsuit against the airport.
Of course, not all personal injuries in an airport can lead to a lawsuit. So how can an airport be sued?
An injured passenger can sue an airport if they can present evidence that the accident was caused by oversight or negligence on the airport management or employees' part.
For example, an airport can be sued if the management knew or should have known of the danger (e.g., someone had reported the danger), failed to take reasonable actions to remove the danger or protect others from harm, and the accident was solely caused by the management's negligence.
Appropriate evidence, such as photos, surveillance video recording, a copy of the airport incident report and other physical evidence that demonstrates the dangerous or defective condition can lead to successful claims for reimbursement on losses associated with the injuries, e.g., medical bills, lost wages and benefits, costs of hospitalisation, physical therapy, permanent injuries, past and future pain and suffering, and other damages.
In addition, the legal concept of foreseeability can significantly affect whether an airport can be sued for a personal injury incident. Foreseeability is a requirement that the consequences of an action or inaction could result in injury, which can be reasonably predicted by a person of ordinary intelligence and circumspection.
For example, if a spill was left on the floor for hours and caused a slip and fall accident, then the airport would likely be responsible. There's a claim for negligence because there was enough time to react and prevent the accident.
If the airport's negligence was found to have caused the injuries, then the passenger would have more ground to sue. For example, when the airport fails to repair a piece of malfunctioning equipment for an extended period of time with the knowledge that the issue exists and could cause injury.
How can airports improve safety and prevent personal injury lawsuits?
Many airport accidents are preventable by implementing the proper procedures and employee training to eradicate hazards and avoid as many human errors as possible.
The likelihood of being involved in a lawsuit due to negligence can also be reduced by taking the necessary precautions. Here's how to improve airport safety to prevent personal injury lawsuits:
Conduct employee training to ensure all personnel is up to date with safety measures and eliminate as many human errors as possible
Develop a safety-conscious culture among airport employees and encourage everyone to participate in maintaining a safe environment
Focus on safety measures and implement frequent inspections in areas where personal injuries in airports often occur, such as bathrooms, restaurants or bars, retail stores, concession areas, baggage claim, construction zones, parking lots, elevators and escalators, moving sidewalks, stairs, jetways and passenger transport vehicles
Ensure that restaurants and stores are also taking the necessary precautions to keep their customers safe. Slip-and-fall accidents caused by spilled food and beverages are particularly common in restaurants and food courts
Enforce a frequent cleaning schedule for the entire facility to ensure that spills are cleaned up as soon as possible to prevent slip and fall accidents. For example, a woman was injured in a slip and fall accident in O'Hare terminal 3. She sued the city and the Chicago Department of Aviation (CDA), alleging that the airport management was negligent since they knew, or should have known, about the spill that caused the accident and failed to clean it or put up warning signs. The city and the CDA settled with her for $800,000.
Implement a rigorous maintenance protocol to ensure the proper functioning of all equipment in the airport, including flooring, elevators, escalators, and baggage claim carousels
Examine outdoor and indoor structures regularly to ensure their structural integrity and prevent them from collapsing. For example, the aforementioned story of a slip and fall has another story of a rusted shelter that collapsed and caused another woman to become permanently paralysed
Display signs in appropriate locations to warn against potential dangers such as wet floors, slippery surfaces, uneven jetways or moving equipment
Ensure there's no design defect on surfaces that could cause people to trip, slip and fall
Regularly inspect flooring and staircases to ensure they're slip-resistant and without uneven surfaces or cracks that could cause a slip-and-fall accident. Document the hazards and the actions taken to eradicate the issues.
Remove ice and snow frequently, especially on slippery steps
Use adequate and clear signages, especially in areas where vehicles and pedestrians tend to come in close contact with each other in confined environments (e.g. parking lot)
Ensure proper maintenance of sidewalk areas. Broken, cracked, or uneven pavements, as well as potholes, are major causes of trip-and-fall accidents. They can lead to fractured wrists and hips, head injuries, dental injuries, knee injuries, and cuts and bruises.
Install adequate lighting in public areas, especially on pavements and passenger pickup zones, to prevent trip and fall injuries
Use a video camera system to monitor issues so that employees can fix potential hazards before accidents happen. In addition, video footage can often provide an objective record to help prevent false claims.
Complete a report after an incident to record accounts from the victim and eyewitnesses, accompanied by photographs of the alleged hazards.
Conclusion
With all the busyness and activities, it's common for airport passengers to get distracted and hurt themselves. This is particularly true in larger airports that handle more air traffic, and it's vital to take the right precautions to avoid unnecessary injuries.
Airport management must inspect all the potential hazards regularly and have a system in place to ensure proper repair and maintenance in order to prevent personal injury accidents that could lead to costly lawsuits and claims.
Biography
Steve Howards, Content Marketing Manager at Herrig & Vogt, has been writing legal-centric articles for several years, focusing on personal injury, family law, and more. Howards strives to offer the public advice on various laws covering a variety of practices.
Related organisations
Related regions