New Doha International Airport
Posted: 1 August 2008 | Akbar Al-Baker, CEO, Qatar Airways | No comments yet
The New Doha International Airport (NDIA), currently under construction in Doha, is set to propel the State of Qatar further into the international spotlight when it opens in less than three years' time.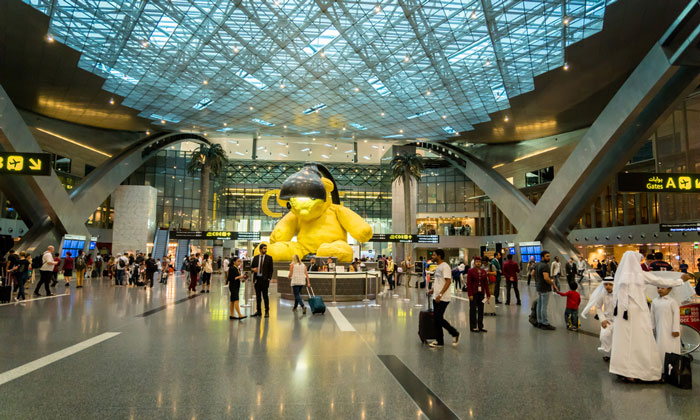 Upon completion, the new airport will become an important centrepiece in the infrastructural development of Qatar's capital city of Doha, with a key objective of being a global transportation hub, linking East and West.
The airport will be the new home for Qatar Airways, one of the fastest-growing airlines in the world. Since its relaunch in 1997, Qatar Airways has rapidly expanded from operating four leased aircraft a little over 10 years ago to now owning more than 60 modern Airbus and Boeing aircrafts. The airline currently has over 200 new aircraft worth a staggering USD 30 billion on order, including eighty Airbus A350s, sixty Boeing 787 'Dreamliners', thirty Boeing 777s and five Airbus A380 'Superjumbos'.
By the time the bulk of these orders are realised, Qatar Airways would have firmly made its mark at the new airport and will have doubled the size of its existing fleet, as well as increased its routes to in excess of 100 international destinations. Today, Qatar Airways flies to more than 80 key business and leisure cities worldwide.
Development
Work began on the new airport in January 2005. Land reclamation has seen 60 million cubic metres of fill dredged from the seabed, with reclaimed land comprising more than 60 per cent of the total land area of the new airport.
When construction began, development at the airport was to be completed in three phases, with the first phase scheduled to open in 2009. Capacity during this first phase of operation was to be an estimated 12 million passengers. However, with Qatar Airways' continued growth, forecasts at the airline projected that by 2009 its passengers alone would immediately push the new facility to full capacity.
The decision was made to combine the first and second phases of the project, and adjust the opening date to 2011, which will allow the new airport to operate from day one with a capacity of 24 million passengers per year.
This has effectively doubled the lifespan of Qatar Airways' Premium Terminal, which opened in November 2006 shortly before the start of the Doha Asian Games. At a cost of USD 90 million, the Premium Terminal, a dedicated facility catering for Qatar Airways' First and Business Class passengers, was built as an interim solution to the existing airport's capacity constraints and was to close once the new airport began operations.
The Premium Terminal's opening and the expansion of the current airport facilities has somewhat relieved passenger congestion through Doha International Airport. However, with the opening of the new airport extended to 2011, plans are now in process to add another extension to the existing airport, including enlarging both the main terminal and the Premium Terminal at a cost of USD 500 million.
Opening day
Upon opening in 2011, four of New Doha International Airport's 40 gates will specifically cater to Airbus A380 aircraft. Qatar Airways first ordered Airbus A380s in 2001, making it one of the launch customers of the 'superjumbo'. Accordingly, New Doha International Airport became the first airport in the world designed to specifically cater to A380 operation. Customised contact gates built into the new terminal allow three access points for passengers to embark and disembark A380 aircrafts. The airport's eastern runway is already complete, and at 4,850 metres long, it is one of the longest commercial runways in the world and capable of handling a fully laden A380.
The 350,000+ square metre passenger terminal facility will be the largest building in Doha, covering an area equivalent to 50 full-size football pitches. As such, it will be bigger than Doha's City Centre, which has an internal area of 290,000 square metres. Flights and passenger processing facilities will be organised in a way to minimise walking distances for travellers. Moving walkways will also help to shorten the distances to contact gates.
The new airport check-in and retail areas alone will be big enough to squeeze in 10 wide-body aircrafts. When it is finished, this area will be about 12 times bigger than the check-in and retail areas at the existing facility, making the journey through check-in much quicker, and the shopping experience more varied. Retail areas, comfortable lounges and multi-storey short-term and long-term parking facilities will occupy a significant amount of space at the facility.
New features at the airport include an Emiri (royal) Terminal complex for VIP flights with additional hardstands, cargo terminal buildings, aircraft hangars and associated airline and airport ancillary features.
Additional facilities include an airport hotel adjacent to the terminal and a one hundred room hotel within the terminal for the convenience of visitors, as well as for transfer passengers.
To conserve energy, the passenger terminal curtain walls are coated to reduce solar exposure, the roof overhang provides shade and the roof is insulated. The mechanical systems include CO2 sensors to regulate air intake based on occupancy and our stratification and displacement ventilation. The electrical system has daylight monitoring and occupancy sensors. The landscaping uses desert-adopted species and irrigation water from recycled waste water.
At its ultimate development beyond 2015, the New Doha International Airport will handle 50 million passengers, together with two million tonnes of cargo. It will be three times the size of the existing airport in Doha, and have more than four times the existing capacity.
New Doha International Airport in numbers
The New Doha International Airport will have a land area in excess of 22 square kilometres. This is about a quarter of the size of the old city of Doha.
At its ultimate development beyond 2015, the new airport will handle 50 million passengers and two million tonnes of cargo, each year.
Its opening day capacity in 2011 will be 24 million passengers. This equates to more than 20 times the current population of Qatar.
NDIA's eastern runway will be 4,850 metres long, only 150 meters shorter than the longest commercial runway in the world at Ulyanovsk-Vostochny International Airport in Russia.
The control tower will be over 80 metres high. The control tower is shaped like a crescent, providing a key night feature shining on the NDIA facilities.
NDIA will create thousands of airport, airline, government and private sector jobs for men and women in Qatar. The multiplier effect will create more support jobs surrounding the airport.
Over 100 hectares alongside the new airport have been reserved for commercial development. Private development opportunities include free trade zones, office and business parks, hotels and a retail mall. This will diversify NDIA's revenue and create more jobs for Doha.
Over 60 million cubic metres of fill have been reclaimed from the sea and used as fill to create the site. This is the equivalent of adding one metre of soil to 9,200 football pitches. Fill material was borrowed from areas approved by Qatar's Supreme Council of Environment.
Over 6.2 million cubic metres of improperly disposed household waste has been removed from the site and disposed of properly in an engineered landfill. This is the largest such environmental programme ever in the Gulf region.