Airbus' icephobic coatings to reduce time for de-icing planes
In an interview with International Airport Review, Airbus discuss their new icephobic technology that will reduce de-icing times airside.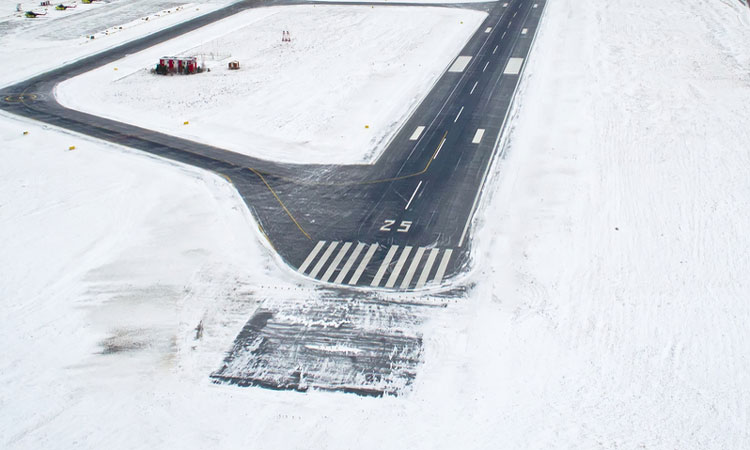 Can you briefly explain how the ice-resistant technology works?
Airbus is currently developing and testing improved ice-resistant technologies to support current anti-icing systems. This "new" ice-resistant technology is based on the design and manufacture of special coatings that can be applied to the external surfaces of an aircraft in order to stop or slow down the formation of ice or snow while an aircraft is on ground or in-flight using less energy than solutions in place today.
How were the planes tested?
The so-called "icephobic" coatings are not yet used on commercial aircraft. Airbus is testing them in laboratory situations; in icing wind tunnel tests, and in-flight tests to assess both their durability and their performance. There is still a long way to go before all tests will be complete and certification achieved.
Will aircraft with this technology in place have any drawbacks concerning in-service life?
We expect that aircraft equipped with this technology should have the same – or even an increased – in-service life as compared with current aircraft.
Is this a technology that can be applied to existing planes?
Yes, "icephobic" coatings could also be applied to existing aircraft. We call this process "retro-fitting", which means applying a newer technology to an existing product. However, the main target for the new "icephobic" coatings will be the next-generation of Airbus products.
Will this technology only be useful in icing conditions?
As our current understanding of the technology is, the same coatings should also allow for a reduction in the accumulation of dirt and of other contaminants onto external aircraft surfaces. This will in turn enable a reduction in drag and therefore fuel consumption – it will also keep the aircraft "cleaner and shiny" for a longer time.
Is this solution cost effective compared to traditional de-icing methods?
We do not expect "icephobic" coatings to totally replace traditional ice protection systems, but instead support them; making them more efficient, reducing the energy required to use them as previously mentioned. Our goal of course being a more eco-friendly air-transportation without compromising on safety. 
Biography

Elmar Bonaccurso is a Senior Scientist for Aerodynamic Efficient Surface Technologies at Airbus Central R&T since 2014. Previously held positions of Research Group Leader at Centre of Smart Interfaces of TU Darmstadt and Project Leader at Max Planck Institute for Polymer Research (MPIP) in Mainz. He was PostDoc at University of Genova (Marie-Curie Fellowship) and at Max Planck Institute for Polymer. Elmar obtained his PhD in Physical Chemistry from the Universities of Siegen and Mainz and holds a MSc in Computer Science & Engineering from the University of Genova.

Camille Caruhel is the Roadmap Owner on Weather Information, Alerting and Protection systems at Airbus since 2017. Her mission is to collect the needs from across the different Airbus divisions & platforms (UAM, rotorcraft, UAV, fixed-wing A/C, etc.), gathering and aligning all initiatives related to weather, and to define a consistent strategy to cope with the meteorological constraints, including icing. She was previously Weather Radar Group Leader at Airbus, and managed the activities from research to in-service, through development of new products. Camille obtained her Engineering degree from the ISAE/ENSICA (Institut supérieur de l'aéronautique et de l'espace) in 2006.

Fabien Dezitter is an Icing Expert and co-owner of the Roadmap on Weather Information, Alerting and Protection systems at Airbus Helicopters since 2016. He worked at Airbus Commercial Aircraft from 2002 to 2016 as Airbus Icing & Ice Protection System R&T Coordinator (2010-2016), Coordinator of the CSA WEZARD project (FP7, WEather haZARDs for aeronautics, 2011-2013) and coordinator of the large integrated HAIC project (FP7, High Altitude Ice Crystals, 2012-2016). Fabien graduated from the French engineering school, ESEM (Ecole Supérieure de l'Energie et des Matériaux).
Related topics
Related organisations
Related people