Collaboration is key to creating a security culture
With passenger traffic expected to top 12 billion by 2031, and the threat of terrorism continuing to dominate the news, it's vital that global airport security systems are sustainable, robust and dynamic. Nina Brooks, ACI World's Head of Security and Gaël Poget, Manager of the Smart Security Programme at ACI World, explain how collaboration between stakeholders can provide an initial step towards progress.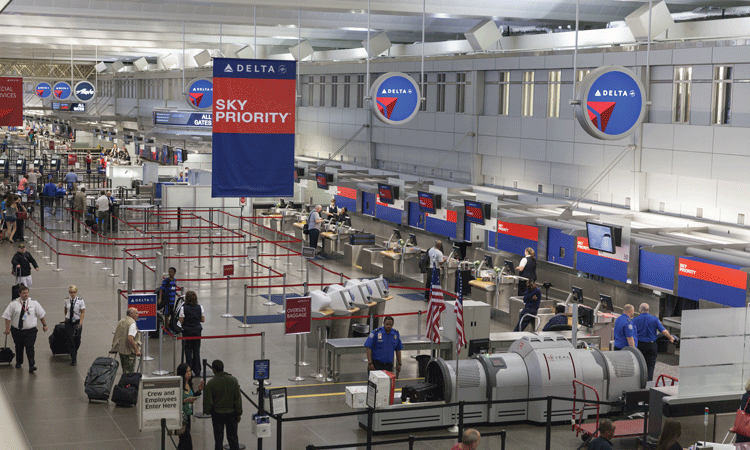 There is no doubt that the threat from terrorism has changed over the past three decades. In the past 12 months alone, attacks directly targeting aviation include the bombing of Metrojet Flight 9268 and Daallo 159, and attacks in the public areas of Brussels-National and Istanbul Atatürk airports respectively. The increased willingness of religious extremists to strike targets outside of their country or region underscores the challenges we face.
According to the Global Terrorism database, the number of attacks and fatalities in Western Europe and North America is on the rise. U.S. intelligence officials have described attempted attacks by IS supporters as "inevitable" and have stated that the size and scope of the global network of individuals mobilised to support the group suggests that related terrorist threats may persist for years to come.
Not only is aviation a high profile target from an operational and economic impact perspective, it is also an attractive target due to the different stakeholders it brings together in one place which includes airlines, retailers, ground handlers, security staff and of course, passengers from all corners of the globe. These variables create a set of challenges in knowing who our staff and passengers are, where our supplies come from, and who is accessing our facilities from both land and airside.
At the same time, passenger numbers are growing; by 2031 global passenger traffic is expected to top 12 billion. Conversely, resources are reduced, with many cuts being made in public sector funding for security.
Maintaining the safety and security of the travelling public is the top priority for airports and it involves multiple layers of integrated processes and technologies to detect threats and/or mitigate risks. Because of the unpredictable nature of security threats, airports often go above and beyond baseline security requirements, implementing additional processes, procedures and technologies that are adapted to each airport's unique geographic location and facility design.
The changing variables of threat to aviation, growing passenger numbers and limitations on resources calls for a paradigm shift towards a genuinely risk-managed approach, and a collaborative effort between all stakeholders.
Risk-based approach
Each measure, or layer of security, should be based on a risk and vulnerability assessment for a particular country and airport, wherein location, physical infrastructure and passenger and airline demographics are taken into account. Where resources are limited, it is key to focus on high risks such as security patrols and surveillance, passenger screening or mitigating insider risks. One approach to risk-based security is through the differentiation of passengers; the application of different screening measures according to the assessed risk that the passenger poses. This might be achieved in a number of different ways, such as journey type, membership of a trusted traveller programme such as the TSA's Preü® in the U.S., or identification of a high-risk passenger based on intelligence of behaviour. 
By focusing resources in this way, a more sustainable model for airport security can be realised.
Facility and process design
With recent attacks on the public areas of airports in Brussels and Istanbul, the need to protect the landside has once again been brought sharply into focus. More screening is not the answer; moving queues to other areas of the terminal simply shifts the vulnerability. However, alongside the implementation of measures such as patrols and surveillance, removing queues and crowds makes the target far less attractive.
Since space and resources are limited, we need to get smarter about designing processes that reduce passenger touchpoints and eliminate queues throughout the passenger journey. Solutions might include the greater automation of currently manual processes such as departure tax payments, the removal of mandatory check-ins, the reconfiguration of remote or dispersed bag drop facilities and of course, a faster and more efficient security screening process to increase throughput. Airports, airlines and government agencies also need to work with tour operators to process passengers prior to their airport arrivals, better coordinate tourist bus drop-offs and allocate desks, where still needed, in a security conscious manner.
Security culture
A security culture is vital in all airports. Vigilance and security awareness provide one of the greatest defences; all staff should have the required knowledge to detect, take note, and report suspicious behaviour and/or items. Travellers also play a critical role; poster campaigns and announcements can go a long way towards raising passenger awareness. Airports can consider implementing a 'see something, say something' campaign, with an easy way of reporting incidents. Coupled with measures such as visible police patrols, explosive detection dogs, surveillance cameras and highly trained security staff, people add a vital layer of security that helps to protect public areas.
Equally necessary is a change of attitude at many security checkpoints. Traditionally, screening authorities have taken a militaristic approach, but implementing a service culture with greater customer-centric interaction can provide greater opportunities for passenger behaviour analysis.
Collaboration and information sharing
The first layer of most security regimes is intelligence – the ability to know about a planned event and prevent it from taking place before the perpetrators get anywhere near the airport itself. However, as intelligence is often not specific, knowing about trends and potential issues can be a valuable tool to an airport security manager in terms of preparedness and addressing vulnerabilities.
Intelligence data is often captured on an ad hoc basis rather than through a coordinated, process-driven approach to information sharing and analysis. Much information is available through open sources, but challenges involve prioritisation and analytical capability. There is a need for genuine partnership between airports, airlines and local and governmental agencies to securely and systematically share information.
Technology
Technology also plays a significant role in security; as detection capabilities increase, a greater number of risks are mitigated. Advanced technology such as cabin baggage screening systems, body scanners and explosive trace detection offer alternative options to existing equipment and manual processes. In the coming years we expect to see machines capable of automatically identifying explosives and orthogonal technologies which can identify a whole range of threats in one piece of equipment. Not only will this help with detection but it will also help to reduce queues, thus removing one prominent vulnerability.
Smart security
The joint International Air Transport Association (IATA) and ACI Smart Security Programme provides an example of how a more sustainable, efficient and effective passenger screening process can be implemented to strengthen security, increase operational efficiency and improve the passenger experience. A great deal of progress has been made so far including changes to processes, configuration and technology in many major airports.
The solutions promoted by Smart Security provide an improvement in detection capability from the conventional security checkpoint that relies on walk-through metal detectors and x-ray equipment, as well as efficiency by addressing the issue of limited space and resources. Smart Security solutions already being implemented include:
Full body scanners that address metallic and non-metallic threats in a single process
Multi-view x-ray equipment that provides the operator with more information
Explosive Trace Detection that further augments explosive detection on passengers and cabin baggage
Auto Clear (the automatic clearance of low clutter images) and Auto Reject (the automatic rejection of high clutter images) that enable some trays to pass automatically through the x-ray machine, allowing resources to focus on images that require human analysis
Centralised Image Processing for remote cabin baggage screening that can significantly increase x-ray image processing capacity, especially when combined with automated lane configuration
Innovative lane design such as parallel divestment that reduces queuing time.
One of the next key items on the agenda is to conduct further research into how different methods of risk-based differentiation can be best applied. Further technologies are also being tested such as automated threat detection systems to further enhance the screener's threat detection capability and machines that can display three-dimensional images.
Assistance
All of the layers of security are valid but they need to be applied globally and consistently. Not all measures are appropriate in all locations, especially when it comes to expensive technologies. However, a solid risk management approach, good training and a robust security culture is needed everywhere. By raising the bar on security in all airports, the overall system becomes more secure and efficient as additional measures such as gate screening for specific flights and the rescreening of transfer passengers can start to be eliminated.  
There are several different assistance programmes aimed at helping States reach the level of security required by International Civil Aviation Organization (ICAO) standards, including the ICAO Assistance Programme itself, the European Civil Aviation Conference Civil Aviation Security (ECAC CASE) project and the AFI SECFAL Plan.
Aimed specifically at airports, ACI World has recently completed the first pilot of its Airport Excellence in Security programme (APEX) and hopes to be able to launch the programme in full in early 2017. The intention of the programme is to enable airports in need of assistance, to benefit from the experience of others through a peer review process that results in the development of an action plan. The review covers all aspects of security from the physical security of the terminal through to security culture, recruitment and training. Many airports have expressed a great deal of interest in participating.
Through programmes such as Smart Security and APEX and better collaboration between airport, airline and government stakeholders, we can make good progress towards a more sustainable and robust security system. Recognition of a problem and willingness to change play a big part. Not every solution needs to involve expensive technologies or major infrastructure – simple process changes and a well-developed security culture can go a long way towards mitigating the risks that we face in today's airports.

Nina Brooks is Head of Security at ACI World. She has worked in the aviation industry for many years, specialising in aviation security and facilitation. With a background in regulatory and government affairs, Nina has broad experience in the security field on subjects such as risk management, emerging threats, cyber security and new technologies.

Gaël Poget has been seconded from Geneva Airport to ACI World since February 2015 to manage the joint ACI/IATA Smart Security programme in cooperation with the IATA project office based in Geneva. In his role at Geneva Airport, he is a strategic advisor to the CEO for international aeronautical affairs.