Revenue streams: Maximising potential to boost growth
Southampton International is a shining example of how a regional airport can maximise its revenue streams to boost its growth. As well as generating commercial income from aeronautical charges, the airport also has important income streams from its retail, car parking and property business divisions. The airport's Head of Commercial, Angus McIntyre, reveals how the airport has developed over the past century.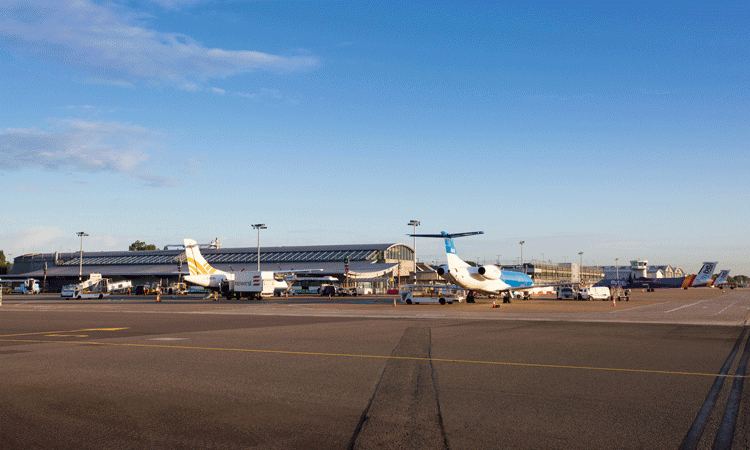 In such a competitive market it's vital that airports remain focused on the passenger
From its first flight in 1910 to present day, Southampton Airport has come a long way over the past 100 years and with it new challenges and opportunities have arisen for commercial development. The very first aircraft to take off from Southampton was the Moonbeam 2 which was owned and flown by local man, Edwin Rowland Moon. Today the airport welcomes many different aircraft from the Trislander through to the Q-400, the Fokker 70 right up to the Boeing 757. The airport has grown to welcome nearly two million passengers a year and offers flights to over 40 destinations with many different airlines and tour operators. Current airlines that fly from Southampton include KLM, Flybe, bmi regional, Volotea, Aurigny, Aer Lingus, and Eastern Airways.
Route development
'Potential' is an often over used word, however within the Airline Business Development Team at Southampton Airport they simply can't use it enough. As airport capacity in the South East of England becomes more and more constrained the role of smaller regional airports such as Southampton Airport is all the more pivotal.
Something of a hidden gem on England's south coast, Southampton Airport has its own direct train station (just 99 steps from the terminal) which affords it the same convenient links to the Capital that many of the other self-proclaimed outer London airports have – just 66 minutes from SOU to London Waterloo. It is also blessed with having the M27 and M3 motorways right on its doorstep as well as fantastic bus links to the city of Southampton. This in itself makes it one of the top airports in the world when comparing airports and proximity to the city they claim to be in. 
Easy access to the capital is of course a trump card for the airport, as is the 'potential' of the airport's immediate catchment area which is the topic of many an interesting discussion between the Southampton Airline Business Development Team and airlines about future services.
Airports are often derided by airlines for unrealistic statements on the scale of their catchment, however Southampton has always adopted a pragmatic approach and the catchment area is defined in two ways. Southampton refers to the 'inner' catchment which is within 30 minutes' drive of the terminal and has a population on 1.4 million, and the 'outer' catchment which is within 60 minutes' drive and has a population of 3.5 million. This of course helps reduce overlap in an area of the country which has several airports but also gives an accurate estimation of where traffic can be pulled from, and stimulated from within the local area.
Not all routes or airlines would work from Southampton Airport, firstly because of the airport's shorter runway which restricts the type of aircraft that can be accommodated without pay load restrictions. Secondly the demographics of the catchment are key differentiators for the airport; Southampton offers the largest catchment area south of London. It is quite discerning with higher disposable income than the UK average and people within the area tending to take four or five breaks per year. It is very important to get the 'science' behind route development correct, an accurate picture of demand, and indeed the competitive landscape is needed to ensure the correct route is added.
The team at Southampton use a variety of tools to help build a view on the size of the prize for an airline. In these current days of 'big data' there are many ways in which a profile of demand can be established, be it the use of social media to speak with the airport's catchment and understand their route wishes, to networking on LinkedIn to gain an understanding of corporate travel demands. Of course Marketing Information Data Transfer (MIDT) and the Civil Aviation Authority (CAA) style data are still priceless in an airport such as Southampton given the nature of the route network and as it will show a pattern of demand and most importantly leakage to other airports.
Slowly, the secret about Southampton and its 'potential' is getting out there. In 2016 the airport handled almost two million passengers, buoyed by the introduction of new international carriers such as KLM, bmi regional and Volotea with its first ever UK operation. The future certainly looks bright as the airport continues to evolve and its primary carrier Flybe continues to grow its footprint.
Retail and the experiential side of things
As well as generating commercial income from aeronautical charges, the airport also has important income streams from its retail, car parking and property business divisions. Southampton's core proposition is one of speed and simplicity, allowing passengers to 'breeze' through the airport. As such, the airport's retail and car parking products need to reflect this and enable passengers to move seamlessly and easily through the airport.
The layout of the airport's stores and size of the facilities reflects its current traffic profile and passenger mix. Menus in restaurants look to reflect the changing tastes of passengers as well as ensuring that the food can be served in an appropriate time frame given the breeze through philosophy. There are wonderful views of the runway and airfield from the departures lounge and an important part of the retail proposition at Southampton is creating a sense of excitement for passengers to see the aircraft and the activity that those within the industry may take for granted. Aviation is a fascinating industry and allowing passengers to see it up close is an important part of the regional airport experience. The fact you can do that whilst enjoying a glass of something indulgent all adds to the experience.
Car parking is an important part of the customer journey and product offering. When booked in advance, the rates at Southampton are very competitive. The short stay car park is immediately adjacent to the main terminal making it very convenient for passengers. The long stay car park is a five minute bus ride away and all our car parks are Park Mark® accredited giving customers that extra assurance. When booking the car park, passengers can also book Priority Security and Priority Lounge products. Again this is an important customer proposition for those passengers looking for a little more exclusivity and relaxation before they fly.
Southampton's property portfolio generates income from traditional rental agreements through to working with business partners such as its fuel provider to grow the on airport fuelling business where airlines look to uplift fuel at Southampton. Key to all these decisions is making sure that the airport offers value for money and an excellent customer proposition. In such a competitive market, its focus is on the passengers and ensuring that it keeps products relevant and its service delivery the best it can be every time.
Helping the little guy
Southampton Airport is also very supportive of general aviation (GA) and recognises that the numerous smaller airfields in the local area and the beautiful scenery is attractive to many recreational flyers. The airport offers basic handling alongside the commercial traffic and can receive quite high numbers of requests, especially on weekends in the summer. During events such as The Boat Show, Isle of Wight Festival and the numerous Goodwood events the demand for flying through Southampton increases significantly. Its business partners include Signature Flight Support who have a fixed base operation at the airport and can accommodate larger GA aircraft including Dassault Falcon 900, Bombardier Global 5000 and Raytheon Hawker 800XP.  Landing and parking fees are competitive and include the huge advantage of being immediately next to road and train connections for onward travel across the South East of England.
Southampton Airport also offers Instrument Flight Rules training (IFR) and because there are quieter periods in the commercial flying schedule and a variety of navigational aids used at the airport, it is a popular location for trainees to practice their skills.
The airport is also the nominated diversion airfield for a number of airlines flying into London airports and should bad weather impact London airspace then Southampton can accommodate most Code C and below sized aircraft at short notice.
Commercial training with the Airport Fire Service
Within Southampton Airport's Fire Service (AFS) there is a highly professional team committed to developing the skills of others. The AFS actively train others in areas such as first aid, fire warden training, hands on use of extinguishers and manual handling. The AFS use a duel-fuelled aircraft training rig which provides realistic firefighting in terms of aviation fuel fires to train their own staff. Other airports, such as Heathrow and Brighton City have also used the facility. The scenarios it provides are internal and external engine fires, undercarriage fires, fuel rail scenarios and realistic fuel spill scenarios.
One of its most popular courses is a three part Fire Safety, Health and Safety and Airside Safety session which is attended by most business partners at the airport. The session ensures that all tenants plus companies utilising the airport are trained effectively and also means that as the landlord to these businesses, it is satisfied that property is occupied by fully trained staff.
At Southampton the AFS also delivers a marine-based course, Standard Training Certificate and Watching (STCW), which in partnership with a local marine training company, provides firefighting training for people who are actively seeking jobs in the marine industry. The course, approved by the Maritime Coastguard Agency (MCA), takes place over 2.5 days and gives candidates the certificate needed to work on ships over 24ft (7.3 meters). The types of students on these courses range from Deck Hand to Officers, dancers in the entertainment department to chefs!
Southampton Airport is very proud of how it has developed over the last century and is looking forward to hitting the two million passengers a year mark later in 2017.

Angus McIntyre has worked in the aviation industry since 2008 when he joined London Gatwick, spending three years in the Airline Business Development team looking after the Asia and the Middle East markets. Since then he has also worked at Heathrow Express as Head of Business Development creating agile B2B solutions and most recently joined Southampton International Airport in 2016 as Head of Commercial, responsible for retail, property, car parking, advertising, marketing and e-Commerce.