Consistently planning for the inconsistent
The unique geographic features of West Michigan in the United States add a layer of complexity to forecasting, predicting, and preparing for winter weather events. Affectionately referred to as the 'lake effect machine', Lake Michigan has a consistently erratic influence on routine weather. For International Airport Review, Gerald R. Ford International Airport (GRR) colleagues Jeff McNally (Field Maintenance Supervisor) and Tara Hernandez (Marketing and Communications Director) explain what is being done to keep the airport operating smoothly in the face of such challenging winter conditions.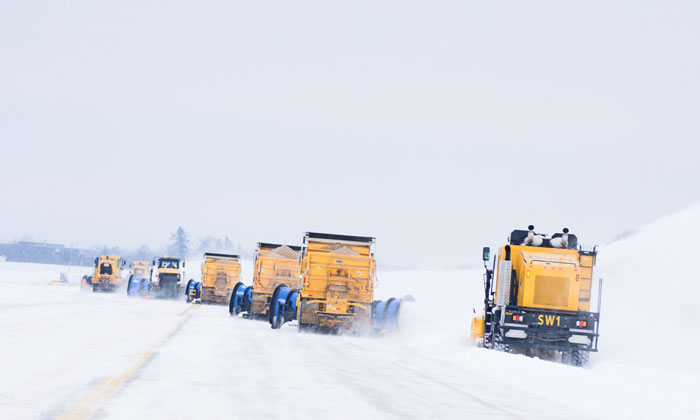 WEST MICHIGAN is home to Lake Michigan – the very definition of a mixed blessing: prized by locals and tourists alike for its beauty and grandeur, yet reviled in winter for the havoc it wreaks on our weather. Lake Michigan, one of the five 'Great Lakes', is located just 50 miles west of our airport. In the winter that means we suffer from lake effect snow, cold temperatures, and icy conditions. Lake effect snow is produced when a cold air mass moves across warmer lake water, resulting in blizzard-like conditions including powdery, thick and sometimes wet snow, and strong face-piercing winds.
Equally as challenging as the lake effect and 'routine' snow, is ice. When pavement temperatures and atmospheric conditions combine to deposit water or frozen rain on cold concrete, crews must be prepared. Preparations at GRR in the City of Grand Rapids, Michigan, include pre-treating pavement surfaces with solid or liquid de-icing chemicals, and the ability to react effectively during an icing event.
Airport winter operations – dealing with conditions
The operations and field maintenance crew at GRR are among some of the best, to the extent that they make it look easy, however, the effort is extensive and spans many layers of personnel and functions. From the experts who have operated in these conditions for decades, to the equipment that can handle anything thrown its way, to the planning, meetings, communication, and teamwork, it takes a village to keep the second largest airport in Michigan operating a top-notch service that sends and receives over 100 flights a day. This unparalleled expertise, combined with technological advances and an investment in efficient equipment, result in a well-prepared crew.
Snow removal should be viewed as an art form and it's a process that has been passed down at GRR over several generations. While technology is ever-changing, the generations of individuals that have fought snow removal battles at GRR have a common thread: the lake effect snow. It has – and always will be – an event that necessitates reaction, but crucially can also cause adverse effects if not managed properly.
Red flag weather traits
So what weather characteristics are we looking for to help us avoid these negative airfield impacts? We first look at Lake Michigan's water temperatures in late fall – and certainly into the winter months – as well as the jet stream, Gulf Stream patterns, Nor'easters (large cyclones), moisture patterns, and Alberta Clippers (characterised by a sudden drop in temperature and harsh winds). Each snow and ice storm has its own unique characteristics, circumstances and challenges; as a consequence, airport snow removal teams need to be like amateur meteorologists.
GRR's goals and objectives take account of the previous snow season's performance measurements and seek opportunities for improvement. After each snow season, we create a short list of toolbox checklist items allowing us to assess what additional information we will need to enhance our performance. We also establish what new supplies, materials, and products we will need to operate efficiently. Our senior management team remains cognisant that when equipment and technology are not in place, the result is productivity loss and inefficiencies. We believe the key is to systematically identify and remove performance barriers in a timely fashion. Most importantly, our snow management team recognises that the difference between failure and success is doing a thing nearly right and doing it exactly right.
Value of people power
Our Finance Team continually monitors revenues, gross profits, net profits, operating margins, budget variances, and cash flow throughout the year, whilst our Snow Team managers instinctually measure post-snow season productivity, equipment utilisation, cycle time measures, machine downtime, operating cost structures and developmental costs. They immediately begin to look at, listen to, and totally immerse themselves in discussions with equipment operators and mechanics.
GRR progressively staffs both Field Maintenance and Operations departments with high-quality people, develops effective planning practices, provides on-going training and dialogue, and ensures they have the tools they need to get the job done.
Our teams have been so dynamic during winter operations that we have won the prestigious Balchen-Post Award in 2001-2002, 2007-2008, and most recently in 2013-2014 when Grand Rapids had a total of 116 inches of snow1 – over 40 inches above normal levels and the second snowiest winter on record.
We are not afraid to challenge the status quo when optimising our fl eet. We recognise that these decisions will impact our fi nancial, operating, service, safety, and quality control performance manifests. We encourage our snow removal teams to stay abreast of new technologies, continue to acquire skills and techniques, and polish the unique skills it takes to function in the snow operation culture.
GRR's dedicated team of operators, mechanics, supervisors, and operations personnel have at their disposal several pieces of specialised equipment.
In 2014 GRR purchased the Snow Wolf Snow Blower, making us the first airport in the United States to own this high-powered machine, and it has lived up to its reputation. Known as the 'Ultimate High Speed, High Capacity, Airport Snow Blower', the stats back up its reputation – with over 1,500 horse power, it can blow over 7,500 tonnes of snow per hour at 25mph and cast it over 85 feet.
Due to the snowfall we experienced and the performance of the first snow blower, GRR purchased a second one from the same manufacturer in 2016.
More recently, in 2017, we also bought four multi-functional combination brooms. Keeping pace with our ambition to use the latest technologies, these combination units are the fi rst of their kind introduced to the United States. They are the combined technologies from Airport Technologies from Portage, Manitoba, Canada who produce the Snow Mauler; Boschung Airport Division from Switzerland who produce the 10000T broom; and Wausau's 24ft Blue Max Plow. We look for optimum performance results at approximately 25mph – our previous equipment had optimum performance between 9-12mph.
The primary goal of our new equipment purchases is to provide GRR with an optimal snow ploughing strategy on a single 150ft runway that will reduce the current runway cleaning time by 21 minutes. What previously took 30 minutes in two passes, is now achieved in 9.6 minutes. We are now measuring machine turning times and high-speed turn-off s and are currently discussing details of vehicle routing and overall operations. We are training to develop a deeper understanding of the 'new playbook' versus our current snow removal processes while keeping in mind the importance of timeliness. In using the 'best practices' approach, we continually strive for safety and excellence.
The solution for proper winter operations isn't always the fanciest, newest equipment, but more importantly the people behind and underneath the controls. It also means keeping our current fleet well-maintained until we find something that can out-perform it and offer more efficient operations.
If you stroll through our maintenance department on a September day as autumn approaches and winter is around the corner, you would notice the efficiency of GRR in the preparations being made by personnel. Operators and mechanics would be oiling, polishing, tweaking squeaks and lines, and twisting wrenches.
Efficient snow removal requires good communication
The snow removal team starts with Operations. As Operations works with the FAA's Air Traffic Control Tower to conduct a runway or taxiway closure, the planning begins. A typical runway closure requires plough/broom combinations with a poly/steel broom for stripping contaminants off the runways and taxiways, three blowers for blowing the snow off the pavement, and two sand trucks for friction control. When they take to the airfi eld, they are commonly known as our 'conga line'. The Operations Team and the Communications Centre assist in the logistical components all while working with ATC, airlines, and tenants for controlled access points to the airfi eld. Maintaining on-time performance for arrivals and departures for our airline tenants is important, so communicating with these operators in advance helps alleviate any delays.
The airfield snow removal team has 15 full-time staff members, two supervisors, and retains the services of 10 seasonal employees to assist with snow and ice control efforts. These personnel are divided into two crews to provide 24-hour coverage as needed.
Our goal remains the same, regardless of the equipment used: operate as an airport maintenance team along with our Operations Team in the safest and most efficient way possible.
We are challenged every day to exceed safety expectations with the travelling public's trust in our hands. Everyone on our Snow Team needs goals, a game plan, the tools, and the capacity to learn quickly. We encourage them to shadow successful people in our industry to learn what they do and how they do it. Annual progress in our snow removal processes depends largely on the enterprise of deep-thinking people who stay ahead of the times in their ideas. They don't hesitate to be different. They are never afraid to try something new, yet they seem to be afraid of doing the same thing as everyone else.
It can seem as though their innovation and creativity has many shortcomings when they stay within the limits of what they already have. Therefore, in recent years GRR has been tenacious in approaching our procurement processes for snow removal equipment that has performance efficiency, user-friendliness, and manoeuvrability ahead of its time, because our airport demands safety and excellence.
Whether it be clarifying, empowering, communicating, planning, equipping, or coaching, we attempt to facilitate the performance of our team by allowing them to perform value-added functionality. We believe it all begins with identifying the functions that are most important to achieving results.
Mother Nature can hand out some cruel and unusual weather in the winter months, along the West Michigan shoreline, but at GRR, the staff work together to ensure travellers reach their destinations safely. We can give credit to the high-powered machinery and well-maintained equipment and technology, but we all know when it comes to handling someone as tough as Mother Nature, you have to send in your A-team.
Reference
1. http://goldensnowglobe.com/all-past-snow-seasons-winners/2013-2014-snow-totals/
Biography

JEFF McNALLY is the Field Maintenance Supervisor at Gerald R. Ford International Airport (GRR). In this role, Jeff manages a team of employees responsible for maintaining the airfield in all weather conditions. Jeff has 12 years of airfield management experience and before joining GRR in 2006, he worked for The Wayne County Airport Authority (DTW) in both field maintenance and operations. Jeff is also a Marine Corps Veteran.

TARA HERNANDEZ is the Marketing and Communications Director at Gerald R. Ford International Airport Authority (GFIAA). She is responsible for airport marketing, advertising, public relations and media communications, social media, as well as event planning, air service development, community outreach, and customer service.