From your seat pocket to your trouser pocket – what's next for travel media?
With digital media growing at pace, is there fight in the inflight magazine yet? Simon Leslie of Ink fills us in.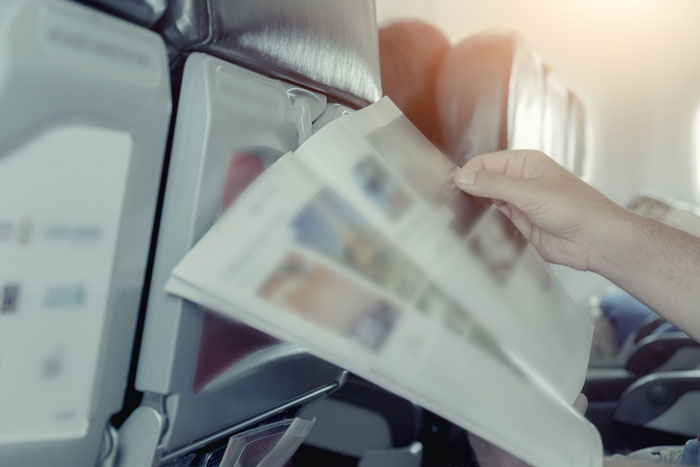 SOME THINGS NEVER CHANGE: Ink is one of the industry leaders for inflight magazines.
When we get on a plane, we know how to use the tray tables, where to stow our luggage and we have come to expect a good read in the seat pocket in front of us. But it hasn't always been this way.
Although the first commercial flight was in 1914, it took a further 52 years for an airline to offer a branded inflight magazine to passengers for the first time when KLM launched the first edition of its magazine in 1966. 
Today, more people are flying than ever before and passenger numbers will double in the next 18 years. This demand is driven by the manner in which budget airlines and competitive pricing has opened up the market and people's wish to be part of the global community. Alongside this, we are consuming more content than ever before. As a result travellers are increasingly receptive to the advertising messages that fund this content, especially if they are delivered in a timely and relevant manner.
With WiFi access now available inflight, travellers are receiving news through digital apps. We are all absorbed in our phones, trying to find out what-is-what on social media. But how can brands and advertisers measure true consumer engagement through these channels?
At Ink, it is our belief that the real airline passenger who has the personal financial means to travel and the time to relax on a plane journey is a more valuable, engaged consumer than a digitally snow blind person or a bot in a smart phone farm generating impressions.
Airline passengers are one of the last remaining captive audiences, people enjoying that ephemeral moment that we all know and love so much – reading a tangible publication. It doesn't matter if its 1966 or 2017, touching something real and physical builds a stronger direct connection that we trust.
Therefore, the backbone of our business is, and will likely always be, printed inflight magazines. However, as the travel industry has developed so has the size and scale of travel media and the potential for growth, as the number of people who are able to fly is enormous.
What has changed
The most significant change has been the size and affluence of the market that travel media seeks to influence.
For example, recent figures show that as a continent, Europeans spent €279bn on holidays in 2016. Similarly, without the income generated by inbound tourism every American would have to pay an additional $1,250 in tax every year to fill the annual budget deficit. The figures are stark and truly illustrate the size of the travel industry. They also highlight the diversity of audiences for travel media to target and influence. And this is pretty much before the world welcomes the full power of the Chinese middle class.
Travel media has found itself in a unique position amongst printed media in that it has bucked the trend of declining print sales seen across other sectors (July's ABC stats show a 6.7 per cent decline in circulation stats for daily newspapers over the year).
At Ink we publish 28 magazines for some of the world's most prominent travel brands, and have continually seen steady year-on-year increases in our audience, driven by booming passenger numbers. Just this week easyJet announced a 9 per cent year-on-year passenger increase, while across the industry, the global numbers of people flying is expected to double by 2035. 
Of particular interest to those involved in the travel industry is the spending power behind this new wave of travellers. As a standalone market Ink estimates that the 48m readers of easyJet Traveller magazine spent a total of £12bn on cosmetics and £28.3bn on hotel stays in 2016 alone.
New opportunities abound
New ways of accessing loyal customers have opened up via various touch points in the traveller journey including ad supported inflight entertainment and advertising, lounge promotions, and onboard sampling. Ink's travel media has also expanded to encompass new advertising opportunities through travel essentials such as boarding cards and online check-in screens.
Industry studies have shown that the average traveller will look at their boarding card (most often with one of our adverts on it) at least four times on their journey. A true and unique way to reach a captive audience.
Airlines are now interested in bespoke video content to their passengers to improve their travel experience, whilst offering advertisers additional platforms for their messages. In the last 18 months alone, Ink has agreed deals to produce bespoke video content for American Airlines, United Airlines, easyJet, and Norwegian.
Another new opportunity for travel media is its unique ability to allow advertisers to target distinct and hard to reach audiences. Working in partnership with airlines, travel media can provide advertisers with a whole raft of demographic information that allows them to build timely, relevant campaigns aimed squarely at the audience they want to target.
For example, Ink data shows that 800,000 football fans come to the UK every year to watch an English Premier League match, 25 per cent of whom travel from Scandinavia. 12,500 additional flights transport 2.8m visitors to and from Ibiza during the peak-season months to July and August. These captive audiences who travel around a passion point offer a range of marketing opportunities to brands looking to target their demographic.
The future for travel media exciting and has huge potential. As greater numbers of passengers are flying and doing so more frequently, the market is becoming increasingly competitive. Airlines and advertisers have both woken up to the role that travel media can play in both enhancing the passenger journey and encouraging repeat purchase.  The airlines also realise that well executed travel media enables them to build relationships with advertisers and monetise more and more elements of their itinerary, providing critical revenue streams.
This all makes travel media one of the last remaining markets where the sky is truly the limit in what it can achieve for brands, airlines and consumer choice. 
Simon Leslie, Co-CEO of Ink, began his working life after leaving school at 17, working as a door-to-door salesman for Irish Life before being head hunted by CitiBank. He made his first foray into publishing in the 1980s with magazines promoting businesses aimed at wealthy Londoners. He created Ink in 1994, with Impressions magazine becoming its first title. This was the inflight magazine on British Mediterranean Airways, an airline which flew between London and Beirut. Since then the business has been on the up. The Co-CEO now manages 300 staff speaking dozens of languages in six offices around the world. His 27 magazines reach an audience of 802 million passengers a year with 20 of the world's biggest airlines.