Toronto Pearson working to meet growing air travel demand
Toronto Pearson joined 10 other airports from the region today to launch the Southern Ontario Airport Network (SOAN), an initiative taking aim at increasing aviation capacity to ensure rising demand is met.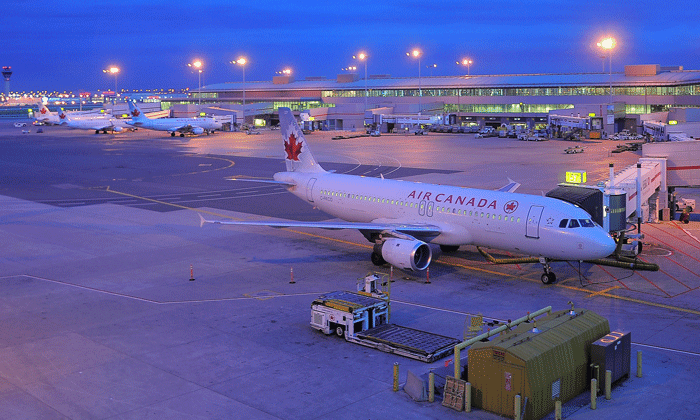 At the event, hosted by Lake Simcoe Regional Airport, Greater Toronto Airports Authority President and CEO, Howard Eng, delivered a keynote speech, outlining how the region can facilitate 110 million passengers annually by 2043. 
Among the short, medium and long-term goals of the SOAN are:
Completing a catchment and demand study of the region to identify opportunities for future point to point growth in leisure, business aviation and short-haul markets at regional airports
Understanding the ground transportation needs in Southern Ontario and advocating for investment in ground transportation improvements that will reduce congestion and greenhouse gas emissions
Developing best-in-class strategies for responsible and sustainable airport growth including community engagement and noise management.
"Toronto Pearson has experienced substantial growth in demand for air travel. In 2016, we reported 8% growth in passenger numbers over the previous year, the largest growth year-over-year in the history of the airport. This growth is forecasted to continue over the next three decades presenting tremendous opportunity, not only for Toronto Pearson but for the region as a whole," said Eng.
With more than 44 million passengers in 2016, Toronto Pearson is Canada's largest airport and second busiest North American international airport.
With plans to become a mega hub airport, Toronto Pearson will play a specific role as a member of SOAN, attracting and accommodating a greater number of international routes and passengers. By 2035, Toronto Pearson aims to serve 80 million passengers annually, facilitate 700,000 jobs in the airport employment zone, connect Canada to 80% of the world's economy and account for 8.5% of Ontario's GDP.
The Southern Ontario airports will benefit from the increased economic opportunity and air travel demand facilitated by the mega hub. Each airport will play a role in increasing their capacity using local demand drivers as well as open and transparent conversations with their communities.
SOAN is comprised of Billy Bishop Toronto City Airport, Hamilton John C. Munro International Airport, Lake Simcoe Regional Airport, London International Airport, Oshawa Executive Airport, Niagara District Airport, Peterborough Airport, Region of Waterloo Airport, Toronto Pearson International Airport and Windsor International Airport.
In addition to publicly launching, the Southern Ontario Airport Network also released their statement of intent, titled "Flying Together: The Southern Ontario Airport Network." The paper details the vision of the group and their long and short term priorities.