An integrated approach to Unmanned Aerial Systems (UAS)
Al Savvaris, Lecturer at the Centre for Autonomous and Cyber-Physical Systems at Cranfield University discusses the future of drone integration into our airspace…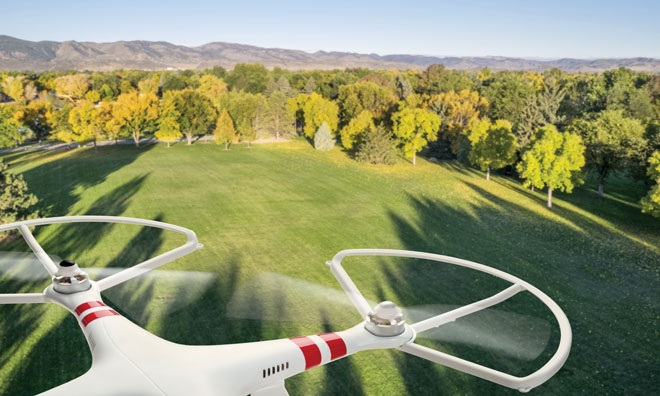 There is huge potential in airspace. The European Commission predicts that the growth in Unmanned Aerial Systems (UAS) – more commonly and pejoratively known as 'drones' – will lead to the creation of more than 150,000 new jobs in Europe by 2050. Al Savvaris, Lecturer at the Centre for Autonomous and Cyber-Physical Systems at Cranfield University discusses the future of drone integration into our airspace.
Potential applications for increased use of UAS are many and varied, from cargo transport to aerial mapping search and rescue, security, power line checking, for agriculture and environmental monitoring. The commercial markets are projected to be huge. The UK is already well placed in terms of UAS technologies and, in principle, there is a massive opportunity to establish itself as a world leader in the field of small, commercial UAS operations. The future of airspace is set to be dominated by the growing integration and effective co-operation between the worlds of manned and unmanned aircraft.
Or is it? 
The prevailing attitude towards drones is that they are a pest; a threat to health and safety which need to be controlled and destroyed where necessary. We have a situation where Dutch police use eagles to take down illegal drones; Japan uses nets at airports, and rather than developing new approaches for airspace management and safety, a U.S. technology firm has started to sell a drone 'death-ray'. Clearly, there are some major barriers in terms of reputation that need to be overcome before integration becomes a practical reality and any kind of commercial possibilities realised. 
Regulation hasn't been able to keep up with the development of the technology, meaning illicit use of UAS has tainted both public and government attitudes and undermined debate on practical applications. Current operators tend to be small and limited in their aspirations. Routine commercial activity is restricted to operations within a small and closely defined height and area, severely limiting opportunities and investment in new approaches. To expand the potential and deliver routine operations Beyond Visual Line of Sight (BVLoS), a range of technologies are required to ensure collision avoidance and improve the general level of mission management capabilities. The market is dominated by firms focused on the short term business potential and without the technology, expertise or the capacity to break out of this loop to develop the more sophisticated BVLoS operations.
Before the world of airspace changes, there needs to be evidence of the ideal UAS: sophisticated, foolproof safety systems alongside tried and tested operational management. In technology terms, the barriers are mainly around the lack of an affordable, lightweight UAS (under 150kg) which has the capability to 'sense and avoid' any obstacles, whether that's other air traffic or fixed objects. Fundamentally this also means a need for a basis of the fast and secure communications required to enable safe operation of the UAS. For BVLoS there also needs to be an increase in range and endurance.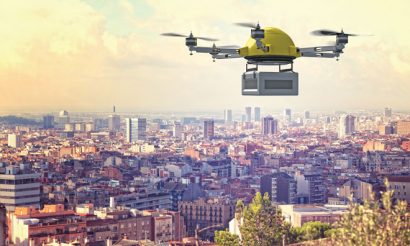 The AIRSTART research project (Accelerated Integration of Reliable Small UAV systems Through Applied Research and Testing) has been set up to address each of these issues – and ultimately to provide the step change in UK technologies needed to open up commercial markets. Funding of £3.2 million was allocated in April 2015 by Innovate UK via the Aerospace Technology Institute. The programme officially began in November of the same year, and is expected to run until December 2017. 
"Before the world of airspace changes, there needs to be evidence of the ideal UAS: sophisticated, foolproof safety systems alongside tried and tested operational management…"
The collaborative project is being led by Airbus Group Innovations working with a range of partners and stakeholders (including the Civil Aviation Authority, NATS and UAV trade association ARPAS-UK); research institutes such as Cranfield University and the University of Southampton; SMEs like advanced rotary engine manufacturer Rotron; and end users for the technology, the RNLI and its interest in support for search operations and Western Power Distribution, for inspection of power lines. 
There are four pillars to the AIRSTART research:
Detection and avoidance of air traffic to improve safety and enable UAS operations in crowded or regulated airspace
Smart perception to enable UAS operations around ground-based objects and infrastructure
Secure and robust communications using lasers to provide highspeed data and situational awareness, as well as pinpointing the vehicle's exact location in flight
Developing high-efficiency engines for UAS operations to extend flight durations and payload, while decreasing costs and increasing productivity. 
Cranfield is well-known for its expertise in unmanned and autonomous systems. Its work is therefore focused on developing and testing the new hybrid power systems and laser communication systems needed. An Unmanned Aerial Vehicle for testing is being created, converting a 58hp RT600 Rotron UAV engine into a hybrid combustion-electric system – a propulsion system recharged by the combustion engine – providing an extended flight time and increased safety if the main engine fails. The research will then look to adapt the smaller 30hp RT300 engine.
The UAV, known as Aegis, is due to be used for the flight test trials to test the novel hybrid power systems and laser communication systems developed as part of the AIRSTART project. This UAV platform is currently being modified in the University's Centre for Autonomous and Cyber-Physical Systems. The Aegis, with its 4m wingspan, has a cruising altitude of between 2,000 and 3,000 feet, a cruising speed of 120kts and was designed originally for search operations. It currently has an endurance of four hours, meaning a range of up to 220 miles. Aegis is able to communicate with a BVLoS via a satellite and design which means the antenna used doesn't compromise the aerodynamic performance. 
Unmanned systems technology firm Callen-Lenz is developing a new generation of its autopilot package focused on communications and control for collision avoidance and safety, drawing on data from different sources of communication and surveillance radar. BlueBear Systems Research is looking at the essential issue of highly accurate and real-time updating of positioning, sensing and mapping in relation to surroundings rather than relying solely on absolute positioning from GPS. This tech is important in particular for future applications in terms of infrastructure inspection tasks (such as overhead power lines, railway lines and gas pipelines), assisted identification of faults and hazards and long term sensor product exploitation. 
The all-important communications between the ground control and the UAV will be the basis of the 'detect and avoid' system. This will be based around a laser data link of 100+ Mbps, which has the potential to go up to speeds of 5Gbps (using a state-of-the-art in-line lithium niobate modulator). A number of challenges still need to be overcome to deliver a fully working system in all conditions: thermal air currents and water vapour have the potential to affect the quality of communications between the UAV and ground control stations; the twin engine UAV means high levels of vibration; to fulfil requirements for application by the RNLI the system will need to be able to fly up to 50km over sea; the design of the comms unit needs to be compact and lightweight enough (under 4kg) not to affect the UAV's flight performance.
UAVs can become a familiar and trusted part of everyday services and operations – and the UK has a particular window of opportunity now to establish itself as the leader in the technologies needed to make this future a reality in Europe and worldwide. But in the current environment, true integration of manned and small unmanned vehicles for civilian uses looks some distance away, given the suspicion of drones and the limitations of existing regulations. Any economic or social benefits are dependent on providing hard evidence – a new impetus in the technology that will change attitudes and the nature of the debate over an integrated airspace.