Travellers flock to Toronto's Pearson International Airport
To find out how Pearson will cope with ever-surging volumes, Phil Fine recently spoke to Lorrie McKee, Greater Toronto Airports Authority…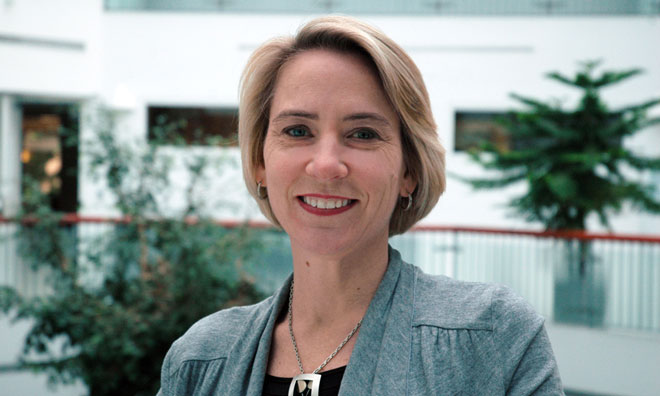 In December 2015, it became the first airport in Canada to log more than 41 million passengers a year. In fact, in the two months leading up to Labor Day, in September 2015, Pearson handled 9.6 million people – 13% more than during the same period in 2015. Not only has traffic grown by over 6% in both 2014 and '15, it's on track for similar growth in 2016. Pearson, now Canada's biggest and busiest airport, expects to log 65-70 million passengers annually by 2030.
To find out how Pearson will cope with ever-surging volumes, journalist Phil Fine recently spoke to Lorrie McKee, Director of Public Affairs & Stakeholder Relations for the Greater Toronto Airports Authority, which manages Pearson International Airport.
You say Pearson could handle roughly 65 million passengers by 2030. How?
By adding more gates, as well as by developing a centralised facility for processing passengers – one capable of streamlined security screening. Better access to regional public transit is also crucial.
With other airports across southwestern Ontario logging a total of five million passengers a year, the total number would rise to 70 million.
Yet, by 2043, it's expected that these airports, plus Pearson, will be handling 90 million passengers a year…
Which means the regional airport grid would have 20 million passengers too many. More importantly, we could take a big economic hit.
Why?
Because these passengers might desert Pearson and those other airports for big hubs like Miami, New York, Chicago and Los Angeles. And that's something we don't want to see.
Pearson has always been where people from other parts of Canada change planes. But it's increasingly a transfer point for passengers from both the U.S. and South America who are flying on to Europe and Asia. Indeed, we're now North America's second-biggest airport for passengers on international flights (New York's John F. Kennedy Airport is the first).
So, how do you keep the passengers coming?
By getting smaller airports in southwestern Ontario to take on bigger roles. Consider Kitchener-Waterloo, a region of roughly 500,000 people about 100km south-west of Pearson. Instead of driving all the way here to catch a point-to-point flight to Florida, Kitchener-Waterloo residents could fly out of their own airport on a charter. This, in turn, would free up space at Pearson for, say, a long-haul flight to Dubai.
We also see a bigger role for other cities, such as John Munro Airport near Hamilton, a city of 520,000 just 60km west of Toronto. Indeed, that airport already boasts flights to five cities across Canada including Calgary and Montreal.
Other forms of transportation also come into the picture. Rather than take a short-haul flight to Pearson, people could take a train.
This jibes with the Ontario government's plan to build a high-speed rail link between Toronto and Windsor, the city just across the river from Detroit. That link would also serve Kitchener-Waterloo and the city of London.
Yet, you don't think Pearson needs to lay down another runway…?
No. We believe we have sufficient airside capacity. Moreover, to make ground movements more efficient, we've twinned our taxi ways. In fact, over the past 20 years, we've invested C$7 billion in upgrading infrastructure.
Meanwhile, rather than more aircraft, we're handling aircraft which carry more passengers, such as the Boeing 787 and the Airbus A-380.  So it's likely that a new runway won't be needed.
But bigger and better terminals will?
Assuredly so. That's one reason we recently finished a C$400 million upgrade to Terminal 3, which originally opened in 1991. And we're not finished yet – we'll continue with renovations this year and next.
In addition, we've started upgrading Terminal 1, which is now 10 years old. That work, which will go to the end of 2019, will allow us to handle U.S.-bound passengers more efficiently.
It's crucial to be able to do so. Heathrow Airport in London and Hong Kong International Airport are now able to get 95% of their passengers through security in five minutes or less. But we can't. So, we're asking the Canadian government to give more money to the crown corporation that handles security screening at Pearson. This should help us with our higher passenger volumes.
Pearson also trails other airports in the percentage of people who use public transportation…
Unfortunately, only 10% of our passengers and our employees now use public transit to get here. By contrast, at Frankfurt International Airport it's 33%; at Heathrow it's 36%; at Schiphol Airport in Amsterdam, 40%; Hong Kong International, 50% and at Shanghai Pudong International it's 60%. So, we've got work to do.
But you can't throw in the towel…
No, we can't. Granted, a lot of people work at Pearson – 49,000 in the airport itself and another 300,000 in nearby businesses. Indeed, Pearson's employment zone is Canada's second biggest. (Downtown Toronto is the biggest), but passengers and employees coming to the airport face congested roads and long commutes. That's why we're urging all levels of government – municipal, provincial and federal – to pour more money into rapid transit.
We're also calling for the development of a multimodal ground transportation hub at the airport; one that will be connected to a yet-to-be-built facility for processing passengers.
Biography
Lorrie McKee – Director, Public Affairs and Stakeholder Relations, Greater Toronto Airports Authority
Ms. Lorrie McKee has been with the Greater Toronto Airports Authority (GTAA) since 1998 and is the Director of Public Affairs and Stakeholder Relations. She oversees government affairs, stakeholder relations and outreach designed to build stakeholder support for Toronto Pearson initiatives.
Prior to working at the GTAA, Lorrie managed government affairs for Credit Union Central of Ontario and worked in political offices at the Municipality of Metropolitan Toronto and the Ontario government.  
She has a Bachelors Degree in Political Studies from Queens University (Kingston, Ontario) and a Masters degree in International Relations from Dalhousie University (Halifax, Nova Scotia). 
Related topics
Related airports
Related people