Drones: Campaigning for safer skies – Part 1
Posted: 18 August 2016 | Brian Wynne, CEO of the Association for Unmanned Vehicle Systems International (AUVSI) | No comments yet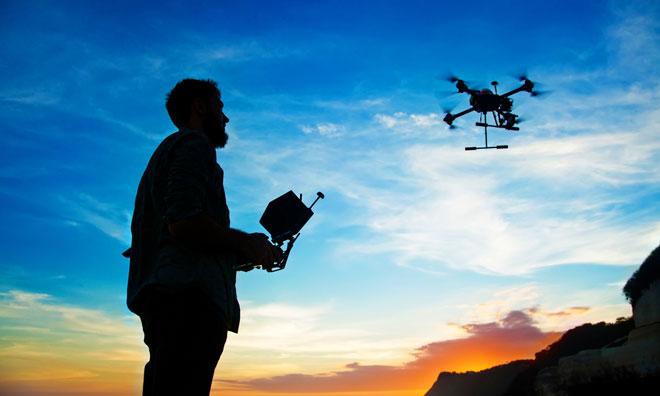 With drone sales in the U.S. nearing one million in 2015, unmanned aircraft systems are currently a huge topic for the aviation industry. Brian Wynne, President and CEO of the Association for Unmanned Vehicle Systems International, provides an overview of the 'Know Before You Fly' campaign, which aims to promote safer skies.
There is a lot of enthusiasm and excitement around unmanned aircraft systems (UAS), more commonly known as drones. As this technology has grown from a niche tool to a highly sought-after business asset and a must-have holiday gift, more and more people are taking to the skies for the first time.
Newcomers to unmanned systems are often eager to get their new aircraft off the ground. However, many new flyers do not realise that even though the platforms can be easily acquired, they cannot be flown everywhere or for any purpose. Today, businesses that want to fly have to navigate an ever-evolving regulatory landscape. Furthermore, the guidelines governing recreational flights can be difficult to find and understand, especially for non-aviators.
As the UAS industry expands, it is important to ensure that everyone who wants to fly knows how to do so safely and responsibly. For this reason the Association for Unmanned Vehicle Systems International (AUVSI) initiated 'Know Before You Fly' in December 2014. This education campaign, co-founded with the Academy of Model Aeronautics (AMA) and in partnership with the Federal Aviation Administration (FAA), works to provide UAS users with easy-to-follow, essential safety information. Education is key to creating a culture of safety around UAS, which will help deter careless and reckless behaviour. The primary goal of the campaign is to ensure that this vital safety information is getting directly to people who are flying unmanned systems.
The nexus of the campaign is the Know Before You Fly website. Among the information on the site is an interactive quiz for drone users to test their knowledge of UAS operational guidelines. The website also features downloadable safety fliers and brochures that can be easily shared by manufacturers, distributors, retailers, schools, UAS training programmes and other organisations. Know Before You Fly has also utilised video contributions focusing on UAS safety from celebrities such as comedian Jeff Dunham – a self-professed 'tech geek' – and San Francisco 49ers safety Eric Reid. In May 2016 the campaign reached a major milestone when the website surpassed 500,000 unique visitors. With projections of 700,000 to one million drones sold in the U.S. in 2015, the robust traffic to Know Before You Fly indicates that the campaign is potentially reaching the majority of recreational users who are currently flying.
While the website serves as a one-stop shop for safety information, the campaign involves much more. Notably, around 100 supporters play an invaluable role in amplifying educational efforts and informing the public by spreading the word about safe and responsible UAS use.
The FAA's free B4UFLY app provides situational awareness to UAS operators, using their GPS locations to pull up flight restrictions and other alerts about the nearby airspace.
Know Before You Fly's supporters include manufacturers and distributors of UAS technology, as well as unmanned and manned aviation groups, trade associations, universities and state and local governments. Of the campaign's supporters, 28 manufacturers and retailers have committed to promoting safety messages directly inside the packaging of UAS products and/or at point-of-sale when customers purchase UAS in stores or online.
For instance, the world's largest drone manufacturer, DJI, now distributes the campaign's safety brochures inside the packaging of all its U.S.-bound Phantom 3 and Inspire 1 UAS product series. Safety brochures started appearing in U.S. consumer boxes in December 2015, just in time for the holidays. As a major player in the U.S. drone market, DJI's participation in the campaign has helped Know Before You Fly reach many UAS operators before they take to the skies.
Additionally, two of the world's largest retailers, Amazon and Walmart, have committed support to Know Before You Fly. Amazon opened the 'Fly Responsibly Drone Store' and links to the campaign's materials on Amazon.com. Meanwhile, Walmart is promoting Know Before You Fly safety information on its store shelves where drones are sold. Additionally, a link to the campaign website is included on receipts for UAS that are purchased both in stores and online.
A number of hobby retailers and distributors have also joined the effort to educate people who are interested in operating UAS safely. For example, the retailer and distributor Hobby People has committed to displaying Know Before You Fly brochures at the registers in all of its 18 stores in Southern California and Nevada. The company's employees were also trained to answer questions about Know Before You Fly safety guidelines from customers purchasing UAS products.
Two of the world's largest retailers, Amazon and Walmart, have committed support to Know Before You Fly.
The FAA has also been reaching UAS users directly via their smartphones and tablets. The FAA's free B4UFLY app provides situational awareness to UAS operators, using their GPS locations to pull up flight restrictions and other alerts about the nearby airspace. The app provides a status indicator that tells users 'Proceed with Caution', 'Warning – Action Required' or 'Flight Prohibited' in flying areas. The app also features maps with geo-targeted information and a planner mode that allows users to select a time and location for an upcoming flight and determine if there will be any restrictions in place at a future time.
It is clear that the ever-increasing accessibility and ever-expanding market for drones necessitates a new approach to safety and regulation of the technology but the approach taken by major online retailers such as Amazon represents a strong first step towards a viable and responsible future for drone usage, be it commercial or public.  
Read the second part of our report here.