Airport security: Taking charge during a terrorist attack
Security analyst Bart Brands has devised a method which can be used as a policy for mass transit hubs such as airports, calling on visitors to identify threats and reduce their risk of being a victim of a terrorist attack…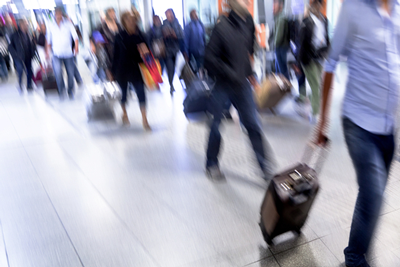 With a passion for personal safety and security, I have developed the A.A.E.A method. After examining different terrorist attacks, there are a number of easily applicable behavioral changes anyone can make, that reduce the risk of becoming a victim of a terrorist attack.
The A.A.E.A method has been developed so it can be used as policy for mass transit hubs such as airports, but also by ordinary citizens. Anyone who wants to take responsibility and help others can profit by learning the A.A.E.A. method.
By implementing and promoting this method, governments and transit hubs can use all of their passengers as one large, organic profiling and surveillance 'database' and promote self-help in case a terror attack occurs. Implementation is cost friendly and uses the publics' self-preservation as the main motivator for learning and using the A.A.E.A method.
A.A.E.A stands for Awareness, Avoidance, Evasion and Attack.
Let's briefly explore the four aspects of the A.A.E.A method.
Awareness:
Awareness is the first and most important step in the A.A.E.A method. Awareness of one's surroundings and those who are in the direct vicinity of oneself is something that law enforcement – and anti-terrorism units regularly trains for. It is a basic aspect for security and military personnel, and something anyone can learn.
The only thing that basic awareness requires from people is paying attention. Paying close attention may seem increasingly difficult in a world where social media is constantly striving for our attention, but delivers maximal results with minimal effort.
Application:
Check your surroundings;

Check for exits and 'hard' structures that can provide shelter;

Check details of suspicious people, 'map' their physical attributes and behaviour;
Avoidance:
Avoidance is the next step in the A.A.E.A method. Attacks perpetrated by terrorists are often focused on – in the eyes of the attackers – legitimate targets, which will deliver the biggest amount of casualties and disrupt society. The targets are filled with innocent and defenseless men, women and children. If possible, avoid these situations. If you have no choice but to be in a higher risk situation, try to limit your presence there, i.e. when at an airports, you could choose to spend some time in a quieter part of your gate.
Application:
Avoid large groups of people in higher risk environments;

Avoid waiting in long lines. Lined up in a que, you are vulnerable. Wait at some distance in order to minimize time spent waiting in line;

Make sure you stay 'mobile'. Don't get stuck in groups that limit your freedom of movement;
Evasion:
Evasion helps you in case steps one and two fail to keep you from harm's way, and you end up with a terrorist attack unfolding in your immediate vicinity. Most people tend to react in either one of the following three ways;
Flight

Fight
Freeze
Whenever not directly involved or injured, it is of vital importance that you do not freeze! Move away from the threat. It is important that you fall back to step one, Awareness, so you can distance yourself from the source(s) of chaos. Always do this in a calm, deliberate and controlled manner. Avoid being trampled. Use any 'hard' structure that can provide shelter.
Application:
Try to avoid freezing; (train and visualise)

Move away from the chaos;

Act in a calm, controlled and deliberate manner;

Apply step one, Awareness;
Attack:
When you find yourself in a terrorist attack and steps one, two and three have failed, you are left with only one option: Attack! This is something you want to avoid at all costs, but sometimes unavoidable.
In a situation like this, it is important to know that most terrorists are willing to die for their cause. Knowing this makes a counterattack extremely dangerous, proven by the security guard at Ataturk Airport who was killed confronting a terrorist. Always try to prevent this step and only use it as a last resort.
Never try to be a hero. Your goal is to survive. Only fight back when needed.
Application:
Only use as a last resort;

Attack with conviction;

Train!
Biography
Bart Brands is a 34 year old Security expert and owner of Brands Public Policy Advise. He has a Bachelor's degree in applied security sciences and is a former member of both the city council of The Hague and Provincial Parliament in South Holland.
Related topics
Related people