Munich Airport: A five-star experience
Offering numerous conference facilities, a passenger experience that is second-to-none, indulgent retail and culinary options and even a state-of-the-art medical services clinic, Munich Airport really is the definition of a modern airport city. Senior Vice-President of Commercial Activities, Rainer Beeck, provides an overview of all the airport has to offer…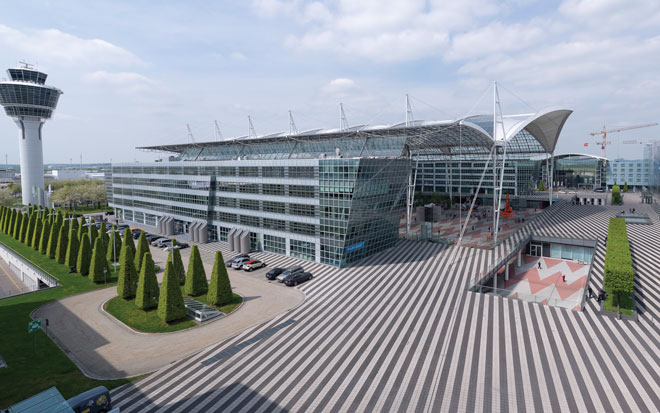 Munich Airport (Flughafen München Franz Josef Strauß) offers much more than just infrastructure to handle air traffic. It is a powerful engine for growth; generating economic development both on the airport campus and beyond, comprising an 'airport city' with an enormous impact on the entire region. As a hive of economic activity in its own right, the Munich hub links the airport region to the world at large. The airport's non-aviation activities now account for 50% of the airport's total revenues. Under the Airport City concept, however, it is essential to balance the synergy effects between the airport and the surrounding region to avoid unhealthy competition. Apart from attracting headquarters/offices of global companies, showrooms, hotels, a conference centre, medical offices and supermarkets, the Munich Airport City also offers an exciting world of shopping, leisure and adventure.
Europe's only five-star airport
With a total of 41 million passengers per year, Munich Airport is Germany's second-largest airport behind Frankfurt. In Europe Munich ranks seventh in terms of passenger numbers, behind London Heathrow, Paris Charles-de-Gaulle, Istanbul, Frankfurt, Amsterdam Schiphol and Madrid. However, it's not only about size – Munich is also far ahead in terms of quality – it is among the elite airports of the world. In the annual global survey conducted by the respected Skytrax Institute, with responses this year from 13 million passengers, Munich again ranked third in the category of 'World's Best Airport'. Munich is also Europe's only five-star airport (as awarded by the Skytrax Institute, following an extensive period of assessment). Munich allows passengers to benefit from all that a premium airport has to offer – comfortable seating areas and public spaces, clear signage, a full range of services and an outstanding selection of shops and restaurants. 
Shopping and dining at Munich Airport
Anyone who has started or ended a journey at Munich Airport knows that the retail world in the two terminals leaves nothing to be desired. A particular highlight is 'Little Maximillianstrasse', Munich's legendary shopping street, on Level 05 in Terminal 2, where the central plaza is ringed with 14 international premium brands and many other iconic labels, offering an extensive selection of the latest designer lines, high-end accessories, classic scents and elegant leather goods. Complementing the high-quality retail offerings is Selman's Bar & Restaurant, where a cold glass of champagne is the perfect way to shorten your waiting time before your flight is called.
To enhance the shopping experience of international guests, assistants are available on request for passengers from Asian and Arab countries. These multilingual staff members will overcome any language barriers and help with questions about tax refunds and other formalities.
Munich Airport is also noted for its dining choices. The many restaurants, cafés and bistros offer pleasant settings for passengers and visitors to relax. From Asian specialities to Mediterranean cuisine, healthy juices and salads; passengers can also enjoy hearty Bavarian dishes and beer brewed right on the premises in Airbräu, the world's only airport brewery – there really is something for every taste.
The recently opened Terminal 2 satellite facility offers even greater dining and refreshment options. At the heart of the new building is a market square reminiscent of the Viktualienmarkt, Munich's famous outdoor market. Here a variety of snacks and takeout options are available at several stands. Those with a little time to spare can treat themselves to a meal at Alfons Schuhbeck's Speisekammer restaurant, or enjoy a fresh sandwich from the bakery by the same name. At the first-ever airport location of the gourmet burger restaurant Hans im Glück, diners can enjoy tasty hamburgers with a direct view of the activity on the airport ramp. For a modern coffee house atmosphere, Sissi & Franz deftly combines Bavarian and Austrian cooking traditions. At Amo, the house specialty is Mediterranean food, with pasta and pizza prepared in an open kitchen. Lenbach's Bar puts the focus on cocktails and finger food. Rounding off the rich variety of food options is Seafood Bubbles & Wine Bar, where guests can savour seafood and choice wines while taking in a spectacular view of the eastern apron.
Along with high-end brands from Germany and abroad, many top-quality regional retailers and clothing lines have opened locations in the new satellite terminal. In the retail areas travellers will find several well-established Munich clothing shops alongside premium global brands. Highlights of the new retail offerings are the three spacious travel value and duty free zones, with decor hinting at sights and motifs of the city of Munich.
Year-round events
Today, airports are much more than just traffic hubs. Munich Airport continually surprises and delights passengers and airport visitors with new ideas for innovative events and activities on the airport campus. Events are held throughout the year and have included tennis matches between the terminals; the Surf & Style event which boasts Europe's biggest standing wave; and of course the winter wonderland during the Christmas season. The events at the Munich Airport Centre (MAC) Forum, Europe's largest covered outdoor space, are always worth a visit. For the UEFA Euro 2016 tournament held in France, the MAC Forum was turned into a football stadium with the airport presenting all matches on a big screen in an arena with seating for 2,000 fans.
A new highlight for summer 2016 is Food & Style. From 12-14 August 2016 this food festival will be hosted for the first time in the MAC Forum between Terminals 1 and 2. Along with numerous artisanal producers, market stands and various food trucks will have something for everyone who appreciates good food. On stage, chefs will cook their latest creations to introduce up-and-coming trends in the culinary world.
A family-friendly airport
Families with small children love Munich Airport, which offers plenty of opportunities for the little ones to get rid of their excess energy before boarding. There are many play areas in both terminals, including a 6m-long toy aircraft in one of the play areas in Terminal 2. To speed up the check-in process, special family desks are available along with baby changing rooms that provide plenty of space for parents and children. Munich also boasts Kinderland, a child's paradise at the heart of Munich Airport Centre. Trained childcare professionals will look after children while parents can relax in a separate parents' lounge that is ideal for getting a little work done or simply relaxing with a coffee.
A hotspot for company events and conferences
With 30 high-tech conference rooms, the Municon Conference Centre, situated between the two terminals, has facilities for conferences, meetings and congresses. In 2015 Municon hosted 2,300 events with a total of 21,000 participants, with 20% of the companies or organisers coming from outside Germany.
Another busy conference spot right at Munich Airport is the Hilton Airport Hotel, which last year hosted 2,381 conferences and events with 34,848 participants, 28% of whose bookings were from abroad.
AirportClinic M – a full-service clinic
Munich Airport is a world leader for medical services offered at airports. The full-service AirportClinic M offers comprehensive diagnostics and treatment, both on an inpatient and outpatient basis. The medical services on offer include orthopedic surgery, urology, anesthesiology, plastic surgery, specialised ear, nose and throat treatment, oral surgery and radiology. The two operating theaters and eight beds meet state-of-the-art medical and technical standards. The concept is to make fast and high-quality medical treatment available right at the location of an international transportation hub. AirportClinic M has signed co-operation agreements with numerous specialists for treatments and surgical interventions at the airport and in the greater Munich area. Munich airport also provides 24-hour emergency medical care for passengers, visitors and airport staff via its own airport health care centre.
Biography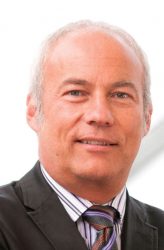 After completing his studies of business administration, Rainer Beeck began his professional career at Lufthansa German Airlines in Frankfurt in 1989. In 1992 he moved to TLG (Treuhand Liegenschaftsgesellschaft) in Berlin. In the headquarters of the subsidiary of Treuhand Anstalt he was responsible for the Real Estate Marketing including Research and Customer Relation Management. In 1994 Rainer moved to Deutsche Bank Group. Based in Frankfurt, he directed the consulting business of the Deutsche Immobilien Anlagegesellschaft mbH. From 2005 he took over the Corporate Real Estate Management and since 2011 has held the post of Senior Vice-President of the Business Division and Commercial Activities at Munich Airport Group.