Interview with Jan Reh, CEO of RIMOWA Electronic Tag
Jan Reh, CEO of RIMOWA Electronic Tag GmbH, reveals the innovative luggage tag that is set to revolutionise premium air travel…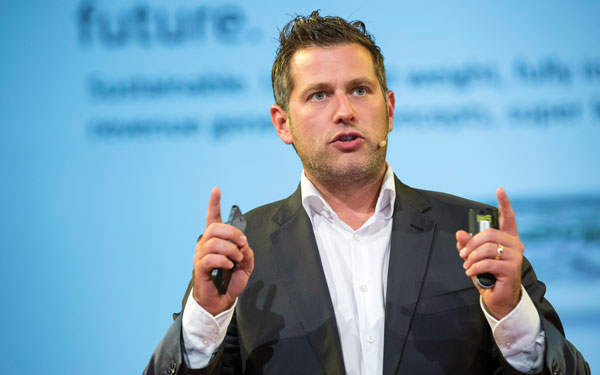 Imagine a world without paper tags, with long queues being replaced with efficient processes, higher sales through new services and satisfied passengers being handled in a shorter amount of time. This concept was the driving force behind the innovation project called 'BAG2GO', initiated by Airbus in 2013, which evolved into a pioneering new product, the RIMOWA Electronic Tag – the world's first digital and fully integrated check-in solution for luggage.
Technology needs to be 'smart'
Currently available worldwide on Lufthansa flights, the tag works on a RIMOWA suitcase using an airline app and the RIMOWA Electronic Tag with an E Ink Mobius™ display, which is innovatively built into the luggage itself. CEO of RIMOWA Electronic Tag GmbH, Jan Reh, explains: "Technology needs to be 'smart' and by that I mean it needs to be fully integrated, so when RIMOWA Electronic Tag was developed, our number one priority was to provide a simple A to B travel experience that is seamless."
Activating the RIMOWA Electronic Tag is easy – once a passenger has packed their suitcase they simply press a button that can be found inside the suitcase. This activates the module for 30 seconds during which time the passenger's smartphone connects to the module via Bluetooth. The passenger then uses the airline app to select their flight and the airline app transfers the flight information to the display panel of the electronic tag – thereby providing a luggage label. The suitcase is then ready to be dropped off at the airport's designated drop-off location.
It was important for RIMOWA Electronic Tag to keep in mind that as well as being 100 per cent reliable, the finished product needed to be totally compliant with the aviation industry and completely secure for passengers. "Airlines do not want to have problems, so operational compliance was essential," explains Jan. "For example, the green stripes on a luggage tag are mandatory for those travelling from the EU. Therefore the information displayed on our tag incorporates the same dimensions and visual elements for technical information. This also ensures that baggage handlers are provided with perfect information for every flight."
Safe and secure
Jan continues: "The tag is safe and secure in every aspect. Firstly, by locating the activation button inside the suitcase we have not allowed any manipulation from outside, and the module stays in 'receiving mode' for no longer than 30 seconds. We have also chosen to use display technology that, by design, doesn't require energy to stay on. Energy is only needed to change the information and activate the module. Therefore information on the tag can never be lost. It will only disappear once the passenger presses the button again for their next flight. Even the batteries in the display are alkaline rather than lithium to comply with cargo regulations."
With the Electronic Tag needing to withstand the physical pressures of baggage handling, a robust design was essential. The display had to be crystal clear and scratch-resistant but also incredibly tough. The final product uses a high-tech material that has the stability and characteristics of glass but that isn't glass. "It's durable and protects the whole module and is also streamlined so cannot get stuck in conveyor systems or torn from luggage," says Jan. To this end, the luggage itself is also important. The suitcase also had to robust enough to protect the module. RIMOWA is an industry-leading luggage manufacturer and once the Electronic Tag has been deactivated it's just a normal suitcase and is therefore compatible with all airlines, whether or not they offer electronic tagging.
A concern for airlines is that any data gathered via the app is retained securely – "our technology is 100 per cent secure and even as the technology provider we will never see the data that is sent to the luggage because it's transferred completely between the airline and the passenger's mobile," reveals Jan.
Premium frequent flyers need a seamless solution
The RIMOWA Electronic Tag is aimed at the 20 per cent of airline customers who are premium frequent fliers. "An electronic tag will never be cheaper than paper and paper is a good solution for airlines and for self-service," says Jan. "So if you want to bring value to an electronic tag you need to find a target audience that will utilise that value. Premium frequent flyers need a seamless solution." And it's this seamless digital chain that airlines can benefit from – the product is designed for the business of an airline. It's becoming increasingly difficult for airlines to make money from a seat alone, so they now look to offer their passengers extra services."
Jan emphasises the importance of the 'home port', which he describes as a vital selling point of the Electronic Tag: "There's no pressure at home. You can already check yourself in, and now you can retrieve luggage data and label your bag before you travel. The passengers now have control and like the feeling of always being a step ahead. Even when they arrive at the airport navigation information is provided through the app. By removing the stress, travel is made more convenient and comfortable – that's the point of mobile technology," says Jan. He believes we will see an increasing trend towards real-time status and loading information – and the RIMOWA Electronic Tag is just one piece in that puzzle.