Facilities management at Hartsfield-Jackson Atlanta International Airport
Posted: 7 January 2016 | John Means FRICS and Facilities Director at Hartsfield-Jackson Atlanta International Airport | 1 comment
Taking a strategic approach to facilities management can help all major transport hubs maximise efficiency in an often challenging environment; writes John Means FRICS and Facilities Director at Hartsfield-Jackson Atlanta International Airport.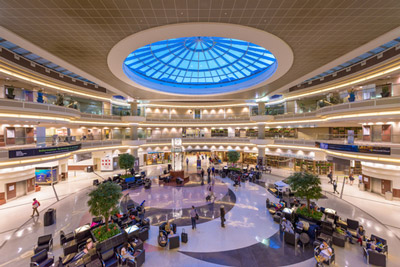 Atlanta's Airport is not only one of the world's largest and busiest, it's also one of the most efficient. Hartsfield-Jackson International takes pride in the forward thinking culture it has created through its innovative use of facilities management (FM).
The role of Facilities Director at a major airport consists of simultaneously keeping day-to-day operations running, whilst also looking to see where new innovations can be implemented to maximise efficiency and cost effectiveness. By adopting this approach we can ensure that Hartsfield-Jackson continues to be the airport of choice for customers the world over – particularly given its reputation as one of the major connection points for people travelling to a number of far flung global locations. 
Without a doubt, a strategic use of facilities management has helped to drive the growth of the airport. Over my time here, three projects in particular spring to mind which can help to demonstrate the role that a tactical approach to facilities management has played.
'Without a doubt, a strategic use of facilities management has helped to drive the growth of the airport'
Firstly, the airport's installation of an intricate Wi-Fi network a few years ago was designed by I.T. but heavily supported by the FM department. To keep the airport at the cutting edge and provide customers with the technology they need to keep up-to-date with work and personal developments on the move, a new and faster Wi-Fi network was needed.
Collaboration on this project was key, and the airport's FM department was a major contributor to this activity, looking at the bigger picture and then drafting in the expertise from across the airport to deliver the project successfully. Weighing up the value of undertaking a major development of this sort is key, but when the task was completed, not only customers benefited from the improved connectivity – staff did too.
Another major project which has demonstrated the value of a strategic approach to FM can be seen in the airports shift to the use of LED lighting. Not only was this a world first, but most importantly it was an outstanding success. This upgrade was implemented across the site – from waiting rooms to runways – and has cut the airport's runway energy consumption by 70%, and we are now advising other world class airports on their own change-overs.
Such an enormous task begins with a small and simple thing: synergy. Again, it was up to the FM and Engineering teams to consider and plan this major innovation, however it still had to be presented as a business case to get the buy-in and support of internal stakeholders and building owners. By obtaining the approval of all of the airport's operational and management teams right from the start we managed to get the project completed quickly – helping the airport to reap the rewards of its change to LED lighting as soon as was possible.
'The empowerment and inclusive nature of the airport's approach to facilities management has been imperative to getting projects delivered'
The empowerment and inclusive nature of the airport's approach to FM has been imperative to getting projects delivered. What's more, by demonstrating the improvements, benefits and efficiencies FM is making to a work environment we've been able to leverage much wider support and engagement across the airport and its operational departments.
The third and final way we've managed to do this is by installing digital dashboards in staff offices across the site. The live feed of internal information on these screens highlights utility and energy usage throughout the airport building, amongst other internal updates. By physically showing people the difference FM is making, we are helping staff to feel more invested in their place of work and effectively inspiring and empowering them to think up their own innovations on a daily basis. It's small changes like these that can really boost support and recognition for FM programmes within an organisation.
A major inspiration for our strategic approach to FM has come from our strong connection with the Royal Institution of Chartered Surveyors (RICS). The organisation is really driving quality and performance within the FM sector, as well as helping to professionalise it through the various training and qualifications it offers.
One of the main problems facilities managers face is that it can be hard for business leaders to grasp the full concept and value it adds. I have certainly experienced this in the past. This can cause us as individuals to lose sight of the bigger picture when presented with so many different challenges to solve. However, our affiliation with RICS and use of its various resources has helped us to develop a programme of FM that works smarter across the business and helped us to achieve some landmark successes in the aviation industry.
Put simply, when businesses understand the importance of FM and use it as a strategic tool, it's only then that they'll be able to unlock the benefits, efficiencies and cost savings that we've achieved over the last few years.
To find out more, visit: www.rics.org/uk/tag/facilities-management.
Related topics
Related airports