Sustainability initiatives helping airports address climate change
Posted: 28 September 2015 | Katherine Preston, Senior Director for Environmental Affairs at ACI-NA
Katherine Preston, Senior Director for Environmental Affairs at ACI-NA, explores the challenges of climate change for the airport industry and identifies what steps airports in the U.S. and Canada are taking by increasing the resiliency of their infrastructure and facilities…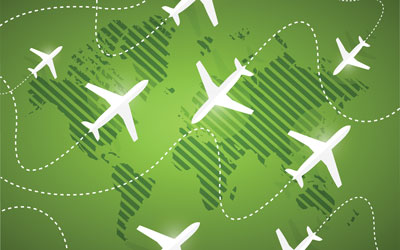 Since the beginning of human flight there have been many challenges faced by the aviation industry. From first discovering how to power and control aircraft, to mid-air refuelling, to launching humans into space, the industry has been adept at creative problem-solving. This ability to evolve has led the sector to thrive for over 100 years and to successfully address more recent challenges like minimising our environmental footprint while remaining economically viable. It is the aviation industry's focus on sustainability commonly defined as the ability of the current generation to "meet the needs of the present without compromising the ability of future generations to meet their own needs"1 that will allow it to continue to meet the air travel needs of communities for the next 100 years.
One of the biggest threats to aviation, and specifically the airport industry's ability to grow and operate in the future is climate change. Challenges attributed to climate change include physical impacts such as rising sea levels threatening coastal facilities, more frequent and violent storms causing flooding and power outages, and infrastructurestressing extreme heat and cold. Other potential impacts include shifting tourism and travel preferences and regulatory programmes that internalise the cost of carbon dioxide (CO2) and other greenhouse gases (GHGs) with taxes and fees.
Sustainability and climate change go hand-in-hand. Many of the strategies that airports employ to become more sustainable include initiatives to reduce their contribution to climate change such as reducing their CO2 emissions and increasing energy efficiency and infrastructure resiliency. Not only have airports undertaken such actions individually, but they have spearheaded sustainability efforts at the national and international level through trade associations and in partnership with their stakeholders. The challenges posed by a changing climate will have to be met with innovative solutions and collaboration in order for airports to continue to serve our communities well into the future.
Airport initiatives
In the past decade or so, airports in the U.S. and Canada have embraced the concept of sustainability and are incorporating it both into their day-to-day operations as well as major planning and development projects. A significant number of the projects focus on reducing airports GHG emissions and increasing energy efficiency, which helps to mitigate industry's contribution to climate change. Increasingly, airports are also developing climate action plans or resiliency programmes.
One example is Boston Logan International Airport which in 2015 became the first airport in the U.S. to integrate climate change resiliency into its Sustainability Management Plan (SMP2).
Funded with a grant from the Federal Aviation Administration's (FAA) Sustainability Master Plan Pilot Programme, Boston Logan not only incorporated climate resiliency studies into their long-term planning, but also committed to several goals, including:
Completing additional climate resiliency studies within five years
Completing enhanced resiliency and adaptation measures on 100% of the airport's assets and resources within 10 years
Reducing overall energy consumption of Massport buildings by 25% by 2020
Reducing GHG emissions from Massport facilities by 40% by 2020 and 80% by 2050 based on 1990 levels
Increasing the share of energy coming from renewable sources.
Boston Logan has also undertaken several other initiatives designed to increase efficiency and reduce emissions, such as replacing terminal lighting with LED bulbs and replacing its aging fleet of diesel buses with new diesel-electric hybrid and compressed natural gas (CNG) buses. The latter effort is estimated to have reduced their airport ground air pollutant emissions by 33%3.
Minneapolis-St. Paul International Airport (MSP) has also instituted a number of sustainability and energy initiatives that reduce their carbon emissions – most recently a project to install the largest photovoltaic solar energy facility in the state of Minnesota. The installation is projected to produce 3MW (megawatts) of power and at peak load is anticipated to supply 20% of the airport's power needs. Together with an initiative to replace parking ramp lights with LED fixtures, the anticipated carbon emissions reduction from this project is over 6,800 metric tonnes per year. That is the equivalent of removing over 1,400 cars from the road.
It should come as no surprise that California airports have undertaken impressive efforts to address their contribution to climate change. In fact, San Francisco International Airport first developed a Climate Action Plan in 2008, and has since published yearly updates and assessments. The airport had a GHG emissions reduction mandate of 25% below 1990 levels by 2017 (which the airport has already exceeded by achieving 34% reduction below 1990 emission level in Fiscal Year 2014), a 40% reduction by 2025, and an 80% reduction by 20504. The airport has taken these goals one huge leap further by announcing in June new goals of zero net energy, zero net carbon emissions and zero waste production by 2020.On the Climate Change Impact Mitigation front, San Francisco International Airport has completed an Airport Shoreline Protection Feasibility Study to better understand its vulnerability to floods and is developing a phased improvement programme to protect the airport from 100-year floods and sea level rise.
Oakland International Airport has taken steps to protect its infrastructure from rising sea levels through a multi-agency, multi-stakeholder effort in the Adapting to Rising Tides5 (ART) pilot study and The Airport Perimeter Dike Project. The goal of the ART study was to assess the risk that sea level rise and other climate change impacts pose to the coastal area, including the airport, and to develop strategies to address these challenges. The Airport Perimeter Dike Project will fortify and raise the 4.5 mile dike that protects the airport from rising waters in the San Francisco Bay. The airport is also kicking off a study to model the performance of the North Field during a flood event.
Canadian airports are also taking steps to manage their GHG emissions, increase their energy efficiency and mitigate their risk from potential climate threats. In late-2014, Montréal-Pierre Elliott Trudeau International Airport became the first airport in Canada to be certified under the Airport Carbon Accreditation Programme at level two, Reduction6. Their accreditation represents the impressive emissions reductions that Aéroports de Montréal has achieved through various energy efficiency initiatives, such as improving its HVAC system, which together have resulted in a reduction in CO2 emissions of nearly 50% per square metre from the terminal buildings7.
In addition to its own energy efficiency and GHG emissions reduction efforts, including a goal to reduce greenhouse gas emissions by 20% by 2020 based on 2006 levels8, Toronto Pearson International Airport is addressing its risk from climate change related events. The airport completed a climate change vulnerability assessment9 for its stormwater infrastructure in 2014, which included a review of the extreme precipitation event experienced by the airport in July 2013 and an ice storm in December 2013. Despite some flooding and impacts to flight operations during the July 2013 storm (over five inches of rainfall in about two hours, exceeding that of a 100 year storm) the airport's stormwater infrastructure performed well thanks to significant investments in prior years.
These are just a few examples of the steps airports in the U.S. and Canada are taking to reduce their contribution to, and prepare for the impacts of climate change by increasing the resiliency of their infrastructure and facilities. 
Industry activities and international initiatives
The broader airport industry is also taking steps to address its impact on climate change by developing an industry-specific GHG emissions management programme, promoting the development and use of alternative aviation biofuels and supporting work at the International Civil Aviation Organization (ICAO) to develop a CO2 standard for aircraft and a framework global market-based measure for emissions.
In 2009, the Airports Council International – Europe launched a CO2 management programme specifically designed for airports, called the Airport Carbon Accreditation Programme. This programme is based on the internationally-recognised Greenhouse Gas Protocol and has recently been implemented in all regions of the world. To date, 125 airports in 40 countries have achieved accreditation, representing over a quarter of all global passenger traffic, and more are joining each year. Airports get certified (and third-party verified) at one of four progressive levels: mapping; reduction; optimisation; and neutrality10. Seattle-Tacoma International Airport led the way with Montreal-Trudeau close behind as the first two airports certified in the ACI-North America (ACI-NA) region. While only six airports in the North American region are currently accredited since the programme was adopted in September of 2014, a number of other airports are currently working towards certification.
The global airport industry through ACI World has joined other aviation stakeholders at the international level (airlines and manufacturers) to form the Air Transport Action Group (ATAG) to address its collective impact on climate change. Recognising the importance of addressing GHG emissions from global aviation as part of a comprehensive approach to tackling climate change, in 2008 ATAG developed the aspirational goals of carbon neutral growth from 2020, and a 50% reduction in net GHG emissions by 2050 compared to 2005 levels11. ATAG members are working collaboratively within ICAO's Committee on Aviation Environmental Protection (CAEP) on a number of measures to help drive progress towards these goals. This includes the development of a CO2 standard for aircraft, and a global framework for market based measures to offset emissions until technology advances to produce more significant reductions. In order to meet these goals, the industry and governments will have to work together to achieve improvements in engine and airframe technologies, more efficient operation or aircraft and improvements in air traffic infrastructure, and the development and use of sustainable alternative aviation fuels.
There has been criticism that ATAG's goals are unrealistic. The fact is that those goals are unrealistic given the current state of technology and availability of biofuels today, but this is a forward-thinking industry that has been hard at work to facilitate the technological advancements necessary to achieve those significant milestones. Airports have joined airline and manufacturing stakeholders in advocating for development of commercial aviation biofuels through initiatives such as the Commercial Alternative aviation Fuels Initiative (CAAFI), which is working to bring government agencies, investors, producers and users together to remove obstacles for the aviation biofuels industry. By providing a forum for collaboration, pushing for policy changes to ease the path of development, and funding important research, the industry is making progress. These efforts embody the concept of sustainability because they not only make economic sense in ensuring a clean, stable source of fuel in the future, but also have huge benefits in terms of reduced GHG emissions.
Conclusion
The concept of sustainability as a way to do business has been embraced by the airport industry over the past several years. The aforementioned examples represent only a very small selection of initiatives that are helping airports and the broader industry to both minimise their impact on climate change and prepare for the potential challenges it poses. The breadth of sustainability projects already implemented and currently underway is truly impressive, and they address not only issues such as GHG emissions reductions, energy efficiency and resiliency, but also water and natural resource conservation, community engagement, green building and recycling. While we have a long way to go to reach the aspirational goal of carbon neutrality, we are headed in the right direction as more airports take steps to reduce their contribution to climate change and prepare their facilities for changes to come. 
References
World Commission on Environment and Development. (1987). Our common future. Oxford: Oxford University Press.
Boston Logan International Airport Sustainability Management Plan, April 2015: https://www.massport.com/media/320786/LoganSMP_Report.pdf
Massport Unifed Busing System and Clean Bus Fleet, https://www.massport.com/media/320879/Unified-Busing-System-and-CNG-Fleet__Sustainability-Project-Sheet_Massport.pdf
2014 SFO Climate Action Plan: flysfo.com/Communiy-Environment
Adapting to Rising Tides website: http://www.adaptingtorisingtides.org/about-us/
Airport Carbon Accreditation Program website: http://www.airportcarbonaccredited.org/airport/participants/north-america.html
Aéroports de Montréal website: http://www.admtl.com/en/adm/communities/environmental-protection/energy-efficiency
Greater Toronto Airports Authority Greenhouse Gases Policy, http://www.torontopearson.com/uploadedFiles/Pearson/Content/About_Pearson/Environment/Greenhouse%20Gas%20Policy%202009.pdf
Toronto Pearson International Airport "Climate Change Vulnerability Assessment for Selected Stormwater Management Infrastructure at Toronto Pearson International Airport", August 2014. http://www.pievc.ca/e/casedocs/toronto_pearson_airport/GTAA%20Infrastructure%20Vulnerability%20Assessment%20-%20FINAL.pdf
Airport Carbon Accreditation Program "Annual Report 2014-2015", July 2015, http://www.airportcarbonaccredited.org/library/annual-reports.html
Air Transport Action Group "Commitment to Action on Climate Change", 2008, http://www.atag.org/our-activities/climate-change.html
Biography
Katherine Preston joined ACI-NA in May 2011 and is currently Senior Director, Environmental Affairs. Katherine manages policy initiatives and programmes related to environmental and sustainability issues at airports and manages ACI-NA's Environmental Affairs Committee. She serves as the ACI-NA representative on a number of industry committees and government advisory committees and as Committee Secretary for ACI-NA's Environmental Affairs Committee. Prior to joining ACI-NA, Katherine was a Policy Analyst for environmental and commercial aviation issues at The Boeing Company from 2007 to 2011. She began her aviation career with the International Air Transport Association (IATA) in 2005. Katherine completed a M.S. degree in Environmental Science and Policy at The Johns Hopkins University and earned her B.A. degree in Political Science from the University of Florida.