Are you part of EUROCONTROL's Network Manager Operations Centre (NMOC)?
Posted: 28 September 2015 | Joe Sultana, Director Network Manager at EUROCONTROL
EUROCONTROL's Network Manager Operations Centre (NMOC) covers the air traffic over 42 countries – from Ireland to Armenia and from Morocco to Finland. So it has a good idea of what is happening in Europe's airspace – but not always what is happening on the ground. Although some airports are connected to the NMOC, sending and receiving real-time information about arriving and departing flights, most are not, and that is something that needs to change. Joe Sultana, Director Network Manager at EUROCONTROL, assesses how industry-wide support is needed to improve the performance of aviation…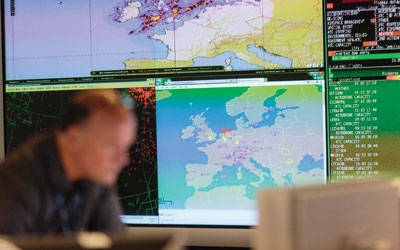 Airports are key to making aviation work – especially in Europe where runways are such a scarce resource. In 2013, we conducted a study (Challenges of Growth) in which we looked at the expected airport capacity in 2035 and compared it with the predicted demand. If we take the most likely scenario, we found that, by then, 1.9 million flights a year will not happen because of a lack of airport capacity. Just as bad, we found that in summer 2035 there will be more than 20 airports operating at 80% or more capacity for six or more hours per day, compared with just three such airports in summer 2012. That has real implications for the delays we can expect and, if there is a disruption such as bad weather, then the ability of the airports and the network as a whole to recover will be severely compromised.
As a result, we at EUROCONTROL are working with airports across Europe to see how we can help. Some of this work is very much at individual airports. For example, we have worked with Zürich Airport to assess more accurately exactly when the morning peak traffic will arrive and to match this with the available capacity. For the Greek islands airports, several of which have very limited stand space, there has been a lot of work done with the airlines to make the best use of available capacity. This has also involved requiring general and business aviation to apply for airport slots at several airports.
Some of our work involves developing new techniques and procedures which can then be used by the airports themselves. So we were heavily involved in developing time-based separation (now adopted by Heathrow) and also RECAT-EU. Here it was clear that there was a need for re-categorising wake vortex turbulence categories and that the solution should fit Europe's pattern of traffic and mix of aircraft, rather than just accepting the U.S. version. We are already seeing some airports looking at adopting RECAT-EU – for example Gatwick, which is the busiest single runway airport in Europe.
Other examples of such work – the development of wider solutions that can be applied at airport level – include Remote Tower, Point Merge, Continuous Descent Operations (CDO) and collaborative environmental operations. These last two help reduce the impact of the airport on the local environment, something that is vital if we are to develop European aviation over the coming years. Communities play an important role in deciding on the operating hours and expansion plans of airports; we need to address their concerns directly and this sort of programme can provide practical assistance.
All of these examples are at the local level but there is also a network dimension as well. This starts at the planning stage and every year we produce a Network Operations Plan which provides extensive information on the state of the network, on developments in the pipeline, on key performance indicators, targets and objectives and on the forecasts for traffic etc. Airports are included because we see them as being an integral part of the network. Not only is there an overview on the progress of key developments (such as CDO), the Plan also contains an appendix showing the detailed situation at each of the 52 airports across Europe.
This integrated approach is reflected in a number of the developments coming up. In the near-term, we have recently gone out to tender for the demonstrator of one of the first of our new Centralised Services, which directly concerns airports. CS1, the Flight Plan and Airport Slot Consistency Service, will check flight plans against airport slots for relevant airports and will generate alerts in case there isn't a match. It may be a surprise to many to realise that no such check is performed as a matter of course and that not only do many flight plans not correspond with their allocated airport slot but also trials revealed a large number of flights taking place without any slot at all.
ATM is moving towards an operational concept (which will include 4D trajectories) that will depend on the real-time exchange of information among ANSPs, airspace users and airports. That is one of the reasons why we are also working on the successor to PENS (Pan-European Network Services). A key element of the new services will be the ability to connect all the relevant players – including airports.
The main means for an airport's connection with the Network Manager Operations Centre at present is through the implementation of Airport Collaborative Decision Making (A-CDM). A-CDM has been extensively covered and its benefits to the airport and airlines are well-known (reduced taxi-times, less fuel burn, better use of infrastructure, fewer delays etc.) but there are also real benefits for the network as a whole.
These mostly come about because there is much better predictability. At present we can estimate how many aircraft are going to pass through a particular ATC sector at a particular time and then, based on the declared capacity of that sector, some aircraft may need to be delayed or diverted in order to prevent that capacity being exceeded. However, if some aircraft are a little earlier than expected, others a little later and maybe some at a different level than was stated in their flight plan, then that estimate can be significantly wrong.
This is not just hypothetical, it actually happens and so ANSPs allow for this when they declare the capacity. If they could actually handle 25 aircraft, they might only declare a capacity of 20. If they had more confidence in the estimate, then that capacity could be increased to, for example, 22. This still allows a safety margin, one that is now sufficient given the new level of demand predictability. Crucially, it also increases the declared capacity by 10%, something that is very valuable.
In fact, a EUROCONTROL study conducted in 2009 suggested that with 42 airports equipped with A-CDM by 2019 there would be a reduction in delays throughout the European ATM network of 20%. We are now re-running that study based on the latest data in order to define the benefits of A-CDM more accurately. Meanwhile, the number of airports with A-CDM continues to grow, with 16 fully implemented and another four or five planned for implementation in the next few months.
As the business case for implementing A-CDM is less clear for smaller airports, we have developed a new initiative; for really small airports that want to be connected to the network but where there is no business case for full A-CDM implementation, we have the 'Advanced ATC Tower' programme. These airports provide a reduced set of departure planning information when compared to A-CDM airports. Fourteen airports have already implemented this.
Being connected to the network also helps the airport to plan its operations more accurately, something that helps not just the airport but also its airlines and ground handling agents etc. This is valuable in everyday operations but particularly useful when there are disruptions or even a crisis. The Network Manager hosts the European Aviation Crisis Coordination Cell and we are acutely aware of the vital importance of having effective and well-tried communication channels when problems appear.
EUROCONTROL, which acts as the Network Manager, prides itself on its impartiality. As a Pan-European intergovernmental organisation, our aim is to improve the performance of aviation across the continent. To achieve that, we need the support and the involvement of all the aviation stakeholders – which most definitely include the airports. There are real benefits for everyone as we move towards a more integrated, network-based way of working.
Airport Corner
In its role as Network Manager, EUROCONTROL regularly captures relevant airport information in its planning and operational processes. To help airports provide this information, the Network Manager has set up the 'Airport Corner' – an airport data repository supported by a secured web application. This approach also facilitates collaboration between the local Air Navigation Service Provider and the Airport Operator, resulting in a coordinated airport view.
There is a wide range of information covered, including capacities, traffic forecasts, local events impacting operations, diversion capabilities, the status of CDO and CDM implementation, environmental information and local contacts. The information provider can mark information as confidential, in which case it is only used for network capacity planning processes and simulations. However, there is a lot of information available more widely and this can be very useful for benchmarking.
At present, approximately 75 major European airports are actively contributing, with another 20 in the pipeline. For more information and for details on how to register, visit www.eurocontrol.int/articles/airport-information
Biography
In 1975, Joe Sultana graduated with an Engineering Degree from the University of Malta and joined the Air Traffic Services Unit in Malta. In 1982, he was appointed Head of Air Traffic Services in the Maltese Department of Civil Aviation. He became Deputy Director of Civil Aviation in 1984 responsible for the Air Traffic Services organisation. Joe joined EUROCONTROL in 1991 as an Airspace Management Expert coordinating Airspace and Navigation projects. From 1998 until December 2002, Joe was EUROCONTROL's RVSM Programme Manager with successful implementation of RVSM in 41 States. In 2003, Joe led the Business Division Network Capacity. He later led the Airspace, Network Planning and Navigation Division. In 2008, Joe joined the Central Flow Management Unit as Head of Operations. In January 2009 he became Deputy Director CFMU responsible for Network Operations and Information Management. In 2011, Joe was promoted to Director of the Agency as Chief Operating Officer within the Directorate Network Management. Since July 2013, Joe has been the Director Network Manager, with the responsibility of fulfilling the role of the Network Manager established with the Single European Sky.