In Profile: John Swift – Director, NATS Middle East
Posted: 6 August 2015 | Katie Sadler, Digital Content Producer, International Airport Review
John Swift, Director at NATS Middle East, talks to international Airport Review about his 27- year career within the Aviation sector and Air Traffic Control business, his role at NATS, anticipating significant regional challenges and suggesting what will help to address them.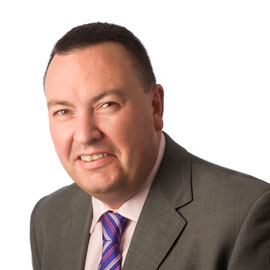 John started his career with NATS in 1988, and worked as an air traffic controller at Belfast before becoming a watch manager at Aberdeen. In 2001 he joined Serco at Dubai International Airport as a controller before becoming Unit Standards Officer and finally Manager Air Traffic Control during the rapid expansion of the airport.
John's career path to a senior role within aviation sector has seen him hold roles in a wide variety of organisations. As Director Aviation Strategy John oversaw and coordinated Serco's ATM activities in the US, UK and Middle East before joining their integrated transport division as Managing Director to deliver and operate the £160 million PFI funded National Traffic Control Centre with responsibility for England's motorway and trunk road network on behalf of the Highways agency.
Rejoining NATS as International Business Director in 2008, he has led the Aviation Data, Training and Client Relationship teams in growing NATS business throughout Europe, the Middle East and Asia. John became NATS Transport Solutions Director in 2010, where he was additionally responsible for NATS Consultancy and MoD business, and tasked with extending NATS' reach both in the UK and International transportation market. In 2012, John was appointed Director NATS Middle East. He is responsible for developing strategy in the Middle East, building key local relationships, and demonstrating NATS' strong commitment to the region.
The company's regional presence comes at a time when air traffic congestion is becoming an escalating problem in the Middle East amid rampant route expansion and airport development. Arabian Gulf states are expected to receive 450 million passengers annually by 2020. Air traffic movements in the Gulf's airspace is predicted to reach more than 2.3 million.
Being part of NATS, the company's air traffic controllers handled more than 2 million flights carrying 220 million passengers in 2014. The company's revenue reached $1.45bn. NATS has operations in 30 countries with a strong presence in Asia and Continental Europe.
"In the UAE, aviation is predicted to account for a quarter of the total GDP by 2016; if that ambition is to be fully realised, airspace must be leveraged to enable this growth."
Commenting on the industry's growth in the Middle East, John Swift said, "Airspace in the Gulf could be a lot more efficient. With GCC air traffic expected to double by 2030 and Al Maktoum International Airport on track to become the world's largest airport with an anticipated annual passenger capacity of 160 million, it is essential that air traffic control is not left by the wayside.
"It's all very well raising concerns about the problems, but what's the solution? In many ways, the GCC is in a similar position to where Europe was – increasingly busy skies with a fragmented airspace structure aligned around national boundaries.
"Europe took steps to address the issues it was facing. With the UK as the founding member, the member countries of Europe created a single organisation to facilitate the smooth flow of air traffic control across the continent – Eurocontrol. Ever since it was initiated back in 1960, Eurocontrol has worked alongside Europe's various national air traffic service providers to coordinate air traffic flows through some of the world's most congested and complex airspace.
"In recent years, countries have collaborated to manage airspace based on operational requirements, in a Functional Airspace Block (FAB), regardless of State boundaries. For example, between 2008 and 2012, the UK/ Ireland FAB delivered over AED 320 million in savings to airlines, including over 230,000 tonnes of CO2 reduction.
"Similar initiatives are urgently required in the GCC to fully enable and support the region's burgeoning aviation industry; a sector whose leaders regular voice concerns at the glacial pace of change. In the UAE, aviation is predicted to account for a quarter of the total GDP by 2016; if that ambition is to be fully realised, airspace must be leveraged to enable this growth.
"The key to unlocking the inefficiencies in the airspace is to be able to recognise that it is part of a wider value chain. It is not about how efficient any one particular country is. It is about how efficient these countries are at their borders, and how efficient their neighboring countries are. It is in everyone's best interest to cooperate and coordinate planning together.
"The efforts invested toward creating a streamlined, harmonised, efficient regional air traffic management system will not only generate wider benefits to those countries involved, but it will also position the GCC as a global aviation industry leader.
"To conclude: addressing airspace congestion within the Gulf remains a critical challenge, and our approach is to leverage our expertise and experience – including in some of the world's busiest airspace – to find solutions so that the GCC ensures it remains a global aviation powerhouse."