Dubai World Central: The world's largest airport in the making
Posted: 28 July 2015 | Khalifa Al Zaffin, Dubai Aviation City Corporation's Executive Chairman
Around 50km southwest of Dubai International Airport, a brand new city is rising, and at the centre of this city is an airport that aspires to become the world's largest upon completion. Dubai Aviation City Corporation's Executive Chairman Khalifa Al Zaffin explains how it plans to achieve this goal…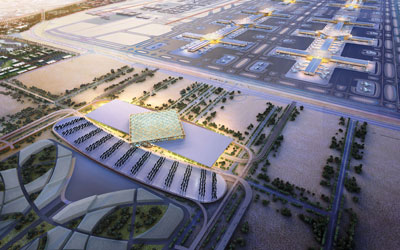 Master-planned over an area of approximately 145km2, Dubai World Central (DWC) represents the essence of Dubai's ambition to become a leader in global aviation. When the Government of Dubai launched the Dubai World Central project in 2006, it marked a new chapter in the emirate's aviation history, which began in the 1930s.
Born out of Dubai's passion for aviation
In 1960, when Dubai opened its first airport (DXB) to the world, its convenience as a geographical mid-point for transcontinental flights as well as its cost effectiveness soon made it popular as a stopover for flights between Asia, Europe and beyond. On the other hand, sea to air cargo traffic from Dubai's Jebel Ali Port – located 50km away – fuelled DXB's ability to act as cargo and logistics hub. Recognising the massive economic potential the aviation sector represented, Dubai acted to press home its advantage.
Subsequently, important milestones were planned for and reached. DXB progressively built three modern terminals to accommodate a steady climb in international passenger and cargo traffic. In 1995, Dubai launched Emirates, which grew to become one of the largest airlines in the world. In 2014, DXB overtook London Heathrow to become the busiest international airport in terms of passenger traffic.
Such progress has led Dubai's aviation sector to become a dominant contributor to Dubai's economy. According to a recent report by Oxford Economics, in 2013 the aviation industry was responsible for over one in five of all jobs in Dubai and contributes US$26.7 billion – coincidentally around 26.7% of the emirate's GDP1. By 2020, the same report projected that aviation's share in Dubai's GDP would rise to 37.5%; and by 2030 to a staggering 44.7%. By the latter date, over one in three people in Dubai are estimated to owe their jobs to the aviation industry.
These projections should be read in the context of IATA's own forecasts which state that the global industry is poised for robust growth over the next 20 years. Seven billion passengers are expected to take to the skies by 2034. Dubai is determined to ride this immense wave, but with DXB quickly reaching its passenger and cargo capacity, more room is urgently needed.
Enter Al Maktoum International Airport at DWC. With its ultimate goal of handling over 200 million passengers and 16 million tonnes of cargo annually, the airport is soon destined to become a major influencer of Dubai's trade, logistics and tourism related fortunes. Presently, Al Maktoum International Airport is undergoing phased development while the airport operates cargo and passenger flights (since 2010 and 2013, respectively). In 2014, the airport handled 850,000 passengers and 758,371 tonnes of cargo. As operations and procedures at the airport crystallise, volumes are expected to rise sharply. 
A city with wings
Al Maktoum International Airport is at the core of DWC, a master-planned city that is almost twice the size of Hong Kong Island. The creation of a futuristic airport couched within a wider, self-sustained urban development is key to Dubai's Strategic Plan 2021, which envisions the emirate as a 'city of happy, creative and empowered people', and a preferred destination in which to live, work and invest.
Everything about DWC suggests it is echoing these themes. Its 145km2 area is large enough to sustain a modern, urban ecosystem. It is demarcated into eight districts that are meant to work together in synergy: the Airport, Aviation, Logistics, Residential, Commercial, Humanitarian, Golf and Exhibition. Even the runways and flight paths are calculated for distance and trajectory so as not to bring noise pollution into the residential and commercial parts of the city.
The Aviation and Logistics districts skirt the airport and offer essential airside and landside access to companies based there. DWC also takes sea to air logistics to a whole new level via the dedicated Logistics Corridor which links it directly to Jebel Ali Port, located a 15 minute drive away. Thanks to this corridor, goods arriving at Jebel Ali Port can be ready for take-off at Al Maktoum International Airport in a matter of a few hours. DWC is also the permanent venue for flagship industry events: including the biennial Dubai Airshow, the Middle East Business Aviation Show and the World Expo in 2020.
As DWC develops, its strategy is to prioritise the establishment of its business and industry platforms. This will create tens of thousands of jobs, which in turn, would spur the development of DWC's residential community. Ultimately, DWC aims to sustain a population of one million. Already, thousands of professionals and skilled workers – employees of multinationals, SMEs and start-ups based there – commute to it daily.
A gathering urban ecosystem
Additional pieces of the urban jigsaw are quickly falling into place as more investors stream in at DWC. Last year, Falcon Aviation, the Abu Dhabi-based VIP jet and helicopter service provider, broke ground on the Middle East's first VIP completion centre at DWC. The France-based STTS Group, a major organisation in aircraft painting, is investing in a multi-purpose facility that will cater to narrow body airlines, VIP aircraft and business jets.
 Fixed-base operators such as Jet Aviation, XJet, and Jetex have signed up to operate from the 6,000m2 executive jet terminal that is scheduled for completion in Q4 of 2015. Other key investors include logistics and freight forwarding companies, MROs, FBOs, consumer-focused companies, F&B operators, financial consultancies, education institutions, retailers, healthcare and fitness providers.
Businesses already set up or planning to open facilities at DWC include that of Kuehne+Nagel, Panelpina, DB Schenker, Aramex, IKEA, Nestlé, Emirates SkyCargo, dnata, Landmark Group, DC Aviation, Falcon Aviation and Maersk Training. Smaller organisations also form a vital part of the business and industrial landscape. SMEs and start-ups are equally keen to take advantage of the free-zone benefits attached to many parts of DWC. 
Another strategic advantage for all companies based at DWC is its proximity to the airport. It allows them rapid and seamless connectivity with countries of the Middle East, North Africa and South Asia (MENASA) region. Over the past decade, MENASA has emerged as one of the most economically vibrant regions in the world. It represents an ever increasing middle class comprising an untapped market with a constantly growing GDP upwards of $30 trillion across industries. 
In 2014, the Government of Dubai sanctioned an expansionary phase worth US$32 billion for Al Maktoum International Airport. The phase is expected to run for the next decade, and will see the completion of several key components. Work on a project of this scale is a dynamic process. It calls for flexibility and readiness to adapt to changing market realities. While fine-tuning is essential, DWC is committed to staying the course and delivering a modern city that centres on the largest airport in the world. After all, the project is integrally linked with the Dubai Plan 2021, which places the people, society and sustainable development at its centre in order to enhance the emirate's future.
A true multi-modal transport and logistics hub
Proximity to Dubai: DWC is just a 15 minute drive away from 'New Dubai' – which comprises several popular residential districts in the emirate. Three arterial roads connect DWC with the rest of Dubai and the UAE. Abu Dhabi is a 50 minute drive away.
Public transport: DWC is served by RTA buses which run hourly, seven days a week. The service is used by people working at DWC, as well as by passengers travelling to and from AMIA. In April 2015, the Government of Dubai announced that it will extend the Dubai Metro line to serve DWC and surrounding areas by 2020. This service will increasingly support people commuting to DWC, as well as passengers travelling to and from the airport. Additionally, Etihad Rail, the UAE's national rail network is also scheduled to a dedicated terminal at DWC. 
Reference
Oxford Economics (2014). Quantifying the Economic Impact of Aviation in Dubai. Available at: http://www.oxfordeconomics.com/recent-releases/quantifying-the-economic-impact-of-aviation-in-dubai 
Biography
Khalifa Al Zaffin is the Executive Chairman at Dubai Aviation City Corporation. An expert on aviation and a leading figure in the aviation industry, he is specifically responsible for setting the strategic vision for Dubai World Central along with other major stakeholders. In addition to his role at DACC, he is also the Executive Chairman of Dubai Aviation Engineering Projects, the construction arm of the Dubai aviation sector dedicated to developing the infrastructure and enhancing the capacity of airports. Prior to his two-decade-long career in aviation, he was a Senior Project Engineer at Dubai Aluminum Company Ltd (DUBAL). Currently, he serves as a board member of the Executive Council for Infrastructure Affairs, Dubai World Trade Center, Cleveland Bridge and DEYAAR. He is a graduate of Arizona State University and holds a BSc degree in Chemical Engineering.