Frankfurt Airport pioneers active noise abatement
Posted: 28 July 2015 | Stefan Mauel, Fraport AG's Senior Executive Manager for Airside Capacity Management
Within the context of Frankfurt Airport's total noise protection programme, active noise abatement plays a key role. Stefan Mauel, Fraport AG's Senior Executive Manager for Airside Capacity Management, discusses the latest progress Frankfurt Airport is making in this area – not only to the benefit of local residents, but also the aviation industry worldwide…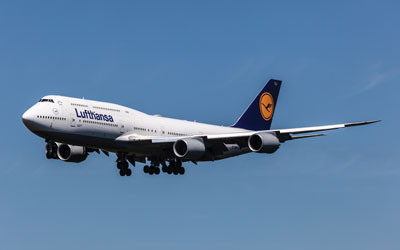 In contrast to passive noise abatement (sound insulation, etc.), active measures aim to reduce the noise at the source – the aircraft. Noise abatement has a long history at Frankfurt Airport (FRA), including active noise abatement which has become increasingly important since 2007 when the first package of active noise abatement measures was launched at FRA in December 2007. This package – signed by Fraport (the owner and manager of Frankfurt Airport), the German state of Hesse, DFS Deutsche Flugsicherung, Lufthansa and the Regional Dialogue Forum (RDF) organisation – created the foundation for continuous development in this critical area.
The initial package comprised seven measures. In 2012, the so-called Alliance for Active Noise Abatement identified another 19 measures aimed at significantly reducing the number of people affected by aircraft noise in the region surrounding Frankfurt Airport. Some of these 19 initiatives are now in regular operation, while others are in a trial-operations phase or have the status of research and development projects. Meanwhile, a second package of active noise abatement measures will be defined in the future by the Forum Airport and Region (FFR) expert group.
The following is a summary update on the most prominent active noise abatement measures at FRA.
Noise Respite Periods
The development of 'Noise Respite Periods' at FRA has benefitted from the successful DROps (Dedicated Runway Operations) project introduced in the first package of active noise abatement measures. DROps operations gave affected communities calculable breaks from aircraft noise at night or during the early morning hours – which was named 'DROps early morning' and applied between 05:00 and 06:00.
After this big success, the government of Hesse started the Alliance for Noise Respite Periods initiative with the aim of developing Noise Respite Periods. Partners in this project include Fraport, DFS, Lufthansa and BARIG (Board of Airline Representatives in Germany). Trial operations for Noise Respite Periods started on 23 April 2015, and will run for one year.
The aim of this measure is to give a seven-hour long noise respite (in combination with the six-hour night time curfew from 23:00 to 05:00 at FRA) to some communities lying under FRA's various approach and departure routes. Noise Respite Periods will be tested in the morning (05:00-06:00) and in the late-evening (22:00-23:00).
How does it work? During the respite periods, DFS assigns dedicated runways for aircraft landings and takeoffs at FRA – thus under the approach or departure paths not being used the noise respite can reduce the noise exposure to the population. It is estimated that up to 40,000 people could benefit from this noise respite operation. The first test results are encouraging and all partners are keen to see the results of the trials during different seasons and types of operational conditions.
Increased ILS glide slope operations (3.2°)
This increased ILS (instrument landing system) glide slope of 3.2 degrees has been installed at Frankfurt Airport's new Runway Northwest (25R/07L) – which was first inaugurated in 2011 for bi-directional landings. The increased glide slope means that aircraft have to fly at a higher altitude about 60m eight miles before reaching the landing threshold. The increased glide slope is one measure that can help reduce aircraft noise emissions under the 12 nautical miles final approach path.
Technical prerequisites for such operations were met by installing two independently working ILS systems for each landing direction of Runway Northwest – making it one of the rare runways worldwide equipped with a total of four ILS systems. Two ILS-systems are certified for CAT 2/3 operations, the other two are certified for CAT 1 operations and have the increased glide slope. This enable good synergy to be achieved for capacity redundancy and active noise abatement reasons.
After approval from the German Ministry of Transport, one-year trials for the steeper glide slope began on 18 October 2012, and successfully concluded in October 2013. In terms of airport and ATC operations, the increased glide slope operation could be easily integrated in regular standard operations, without a higher number of aircraft go-arounds identified. Airline acceptance of the increased glide slope turned out to be much higher than originally expected.
Even the level of noise reduction was better than anticipated. Noise reduction during the test phase was measured by the noise measuring stations operated by Fraport and by Umwelthaus UNH. Thousands of noise data were analysed by the independent DLR German Aerospace Centre's Institute of Flight Systems in Braunschweig. Increased glide slope operations (3.2°) have resulted in a noise reduction of between 0.5 and 1.5 db (A), depending on aircraft type and measurement station.
Following these positive results, DFS received approval from the German Ministry of Transport to introduce regular increased ILS glide slope operations at FRA's Runway Northwest.
The development of increased ILS glide slope operations at FRA clearly shows the pioneering role Germany's main hub is playing, not only at home but internationally. Indeed, FRA is the only airport where increased ILS glide slope operations are conducted specifically for noise abatement reasons and not due to flight obstacle reasons. While it was a long and challenging path to follow, the results have been well worth it.
Other airports such as London Heathrow are looking with great interest at Frankfurt Airport's successfully implemented noise abatement measures.
FRA is first hub in Europe to implement GBAS
In September 2014, FRA was the first hub airport in Europe to commence regular operations of GBAS (Ground Based Augmentation System). In October 2013, the construction work for a GBAS CAT 1 ground station started in the area between the landing base lines of Frankfurt's parallel runway system and just to the west of Runway 18 West. Frankfurt's implementation of GBAS is based on a GBAS-cooperation agreement between Fraport and DFS. DFS was contracted by Fraport to purchase and operate the new GBAS CAT 1 station at Frankfurt Airport. With this cooperation, Fraport and DFS are investing in new procedures and technologies, which will provide greater efficiency and also lower noise levels for landing procedures.
Since 3 September 2014, the GBAS ground station – a Honeywell SLS 4000 product – transmits five GLS CAT 1 approach procedures at Frankfurt Airport, all of them are in the first step 'ILS –look-a-like' with a glideslope of 3,0°. With this first step, flight accessibility of the airport was improved, now offering ILS and GLS precision approach procedures for airline customers.
On 3 September 2014, a Lufthansa Boeing 747-8 made the first GBAS landing at Frankfurt Airport – a new milestone in the airport's active noise abatement history. Furthermore, this event clearly marks another step FRA is taking towards more flexible and environmentally-friendly – not to mention cheaper – airport operations. Between September 2014 and February 2015, FRA handled more than 200 GBAS approaches. The majority of all GBAS approaches were with Lufthansa Boeing 747-8 jets and A380 superjumbos, followed by Emirates' A380s, as well as some Boeing 737-700/-800 jets from Air Berlin, TUIfly and Sun Express.
Frankfurt Airport's GBAS development is being managed in four steps. In the first step today, only ILS 'look-a-like approaches' with a glide slope of 3.0 degrees are published. In step two, GBAS capability for transmitting also approaches with higher glide slopes being used. After the positive experience made with increased ILS glide slope operations (3.2°) on Runway Northwest, the GBAS ground station will offer increased (3.2°) approach procedures for FRA's centre and the southern parallel runways. This should lead to further noise reductions for the people living under the final approach paths to these runways. Step three will involve implementing the relevant ICAO regulations for independent ILS/ GLS and GLS/ GLS approaches. Only with this prerequisite can the full potential of GBAS be fully exploited at Frankfurt. In the long-term, the realisation of segmented or curved approaches, probably the combination of RNP to GLS approaches, will lead to additional opportunities for noise reduction in the vicinity of the airport.
For that reason, Fraport is actively participating in GBAS research and development within the framework of the EU's SESAR programme. Specifically, in the SESAR 6.8.8 and SESAR AAL projects, enhanced arrival procedures enabled by GBAS will be developed. The demonstration of these new flight procedures – especially segmented RNP to GLS and RNP to ILS approaches – are scheduled to take place at Frankfurt from March through July 2016.
All of this progress is indeed impressive, but the implementation of GBAS is a slowly forward-moving project, often the case with many other active noise abatement projects (because of the complexities involved and the need for careful planning, testing and evaluation. Furthermore, in the case of GBAS it is also necessary for airlines to equip their aircraft with GBAS receivers; the cockpit crews also have to be certified by their national authorities to carry out GBAS landings. That makes the implementation complicated and more political and industry support is needed to push this new technology faster into the airline fleets of the world.
GBAS is a long-term project, but it represents the future of our airport in terms of navigation technology. On the GBAS issue, Frankfurt Airport once again is proud to be showing the way for the benefit of residents, the airlines and the industry at large.
More details about Fraport's partnership for active noise abatement initiatives at Frankfurt Airport can be found at www.fraport.com (go to 'sustainability').
Biography
Stefan Mauel has more than 20 years of experience in airport planning. As Head of the Capacity Management Airside Department in the Traffic & Terminal Management, Corporate Safety and Security at Frankfurt Airport, he is responsible for the capacity development and active noise abatement of Frankfurt Airport. Due to his strong strategic competence, Stefan was the Project Manager for vital aspects of the expansion programme of Frankfurt Airport with an additional runway. He is also responsible for the capacity calculation and the simulation of the airside and terminal area. Stefan is a Member of the FFR Expert-Group 'Active Noise Abatement' and the ACI-Europe TOSC Committee. He is highly experienced in liaising with airlines, air traffic control and authorities in order to implement newly developed procedures and systems to improve the capacity and safety. Stefan has a strong leadership qualification and he is managing his team of 14 employees of the Airside Capacity Department. Before joining Fraport, Stefan was Deputy Director in the Planning Department of the German Airports Association (ADV) from 11/1990 until 10/1997.