Patrick Ky shares EASA's vision for the future of aviation safety
In March, the European Aviation Safety Authority (EASA) published its proposals for the future of aviation safety, including recommended revisions to the European Commission's (EC) current 216/2008 regulations. EASA's Executive Director Patrick Ky explains how the proposals will provide innovation, rationalisation and above all, improved safety across the aviation industry…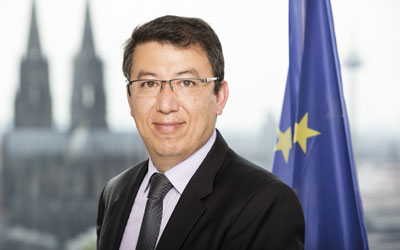 EASA was created over 10 years ago in order to improve civilian aviation safety through research and analysis, monitoring safety rules, and by advising on EU regulations. Having recently conducted a full review of the successes and failures of the agency so far, we sought to prepare EASA for the future. On this basis, we have constructed the Opinion 01/2015 proposal, which supports an EC initiative to improve the performance of the EU's aviation system.
The proposals incorporate a wide range of changes we believe will be important to the future of aviation safety and address current pressures in aviation systems that create safety risks. To this end, two major challenges have emerged. The first is the fragmentation of the oversight offered by national authorities. The second is the combination of different safety components in the aviation system, and the fact that until recently, we did not have a total systems approach capable of looking at the aviation industry as a continuum of activities, actions, components and systems which all influence safety.
Opinion 01/2015 is the outcome of a public consultation – from which we received around 6,000 comments from stakeholders including airports, airlines, manufacturing industry, training organisations, air navigation service providers, national authorities and a variety of related industry associations. Of the concerns raised, a number of airlines and other operators complained that in different EU member states, legislation was applied differently and creating biases in terms of competitiveness. Smaller aircraft operators were also feeling that EU legislation was too. To this end, a lot of the remarks recommended that EASA should migrate to more performance-based and risk-based approach instead of the prescriptive approach we have previously used.
Performance-based regulations and education of our rule making officers will be important to improving our flexibility. Traditionally, a prescriptive approach would ask an actor to provide a system which has a certain number of functionalities. For example, we ask for safety jackets to have specific specifications and features. In a performance-based approach, we would instead say we need a floating device which enables a person of over 70kg to float in water, and the industry has the freedom to decide how to meet this target. We cannot use the performance-based approach for everything – for instance, flight time limitations need to be prescriptive to prevent fatigue – but many regulations can be simplified in this way. Risk-based oversight prescribes, in principle, that instead of looking at each and every detail of an organisation's operations, we will make better use of our resources by focusing on operations that present specific risks.
Another key proposal is that when national authorities have a lack of resources or expertise, they should be able to delegate some of their oversight functions to other authorities or to EASA. Currently, we have a situation in which some national authorities have only 20-30 people to perform all the duties of oversight in all aviation segments – such as managing pilot licences, pilot medical examinations, air navigation service providers and airports. With that number of people it is sometimes simply not possible to work effectively. We propose that national authorities can voluntarily delegate these activities, or if EASA detects a lack of competencies or resources in any given field, we can take over these activities.
Additionally, we also propose new roles within airports which will give EASA a role in the safety regulations of ground handling. At the moment this is outside our scope of activity and I'm surprised we've not been involved in this field previously. When you look at accident statistics however, an awful lot are happening on the ground and we can't afford to have this outside of any safety oversight. Most of the airports we spoke to agree with this approach, but they also ask for regulations to be proportionate and performance-based, which is reasonable.
Two other domains where we want to see an extension of our role are drones and security. Drones represent a completely different type of aircraft, but as aircraft they should fall within our scope of activities so we need to review how to approach them. As for security, we don't intend on changing our relationship with airports and member states, but we would like to be able to better support the EC. Currently, it is carrying out inspections itself, but I don't believe it should be the responsibility of the EC alone.
These proposals involve big reforms that we have already launched internally, but which will ultimately allow us to be more flexible, more efficient and less demanding on industry.
EASA's full Opinion 01/2015 proposals, entitled: 'European Commission policy initiative on aviation safety and a possible revision of Regulation (EC) No 216/200', can be downloaded at: www.easa.europa.eu/document-library/opinions/opinion-012015.
Biography
Patrick Ky became Executive Director of EASA on 1st September 2013. His mission is to further consolidate the role and responsibilities of the agency to become a worldwide reference in aviation and to make the European aviation regulatory system a fully consistent, efficient and reliable framework. Prior to leading EASA, in 2004 he joined the European Commission to work on SESAR, Europe's ATM modernisation programme. He has also held several managerial positions in the French Civil Aviation Authority, in a consulting company, and in EUROCONTROL.