London Gatwick Airport: A premium experience
Posted: 16 February 2015 | Guy Stephenson, Chief Commercial Officer, London Gatwick
Guy Stephenson, Chief Commercial Officer at London Gatwick, explains how the airport's £1 billion transformation is attracting more premium and business travel than ever before.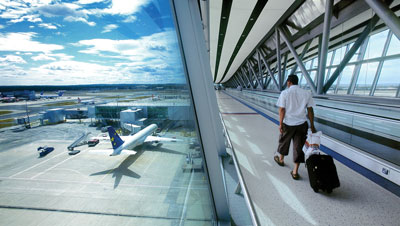 In a little over four years, London Gatwick has been transformed. The UK's second largest airport, has invested more than £1 billion to enhance its facilities and the experience of its passengers – and it's paying off. The airport has attracted a multitude of new routes and seen passenger numbers climb to over 36 million – with the executive travel sector playing a central role in this success.
This is no surprise given our focus on delivering for the premium and business traveller in recent years. Traditionally, Gatwick served as a leisure gateway as part of the BAA system of airports in London. However, when the BAA monopoly was split and Gatwick sold in late 2009, we were given renewed vigour as an independent airport and have since stepped out of Heathrow's shadow to compete for airlines, routes and passengers.
Today, one in five of Gatwick's passengers travel on business, with our diverse route network, quick links to London's key business districts, fast and efficient security, and premium offering tempting passengers away from other London airports. These factors, particularly the growth of Gatwick's premium and business offering, is not just helping the airport's full service carriers flourish, it is attracting more airlines to the airport, particularly away-based carriers from the Middle and Far East.
A major reason for Gatwick's success in enticing executive travellers is our extensive choice of destinations. The airport serves over 200 routes – more than any other London airport – with the UK's biggest domestic and European networks. Gatwick today offers flights to 46 of the top 50 European business cities, with frequencies to many of these in the double digits per day. 
Interestingly, many of today's cost-conscious business travellers are choosing low cost carriers such as easyJet for corporate travel. easyJet, which offers an exceptional choice of routes coupled with high quality service and affordable fares, flew 12 million business passengers last year – a 44 per cent rise since 2010.
Gatwick also offers an extensive range of long-haul services, with more than 40 routes and links to emerging and high growth markets including China, Russia, Turkey, Saudi Arabia, Vietnam and Indonesia. The airport's strong heritage in transatlantic services to the U.S. and Canada also continues, with the addition of Norwegian Air Shuttle's new routes to New York and Los Angeles on the Boeing 787 Dreamliner. This is one of the most high-tech aircraft flying today and will enable even more new direct long-haul routes to emerge in the coming years.
Gatwick's offering was further enhanced earlier in 2014 with the start of A380 services with Emirates. This milestone in the airport's transformation into a world-class facility now sees the A380 fly to Dubai on one of Gatwick's three daily services. This is an important point because it demonstrates another major advantage of Gatwick; that it provides the widest choice of airline of any London airport. From full service, to charter and low cost, it's a unique mix. For the premium customer, we have a long history with full service carriers such as British Airways, Emirates and Virgin Atlantic, as well as new carriers to Gatwick such as Turkish Airlines, Vietnam Airlines and Air China. This has translated into an entire airport journey built around the premium offering.
Today, an Emirates First or Business Class customer can travel in style and comfort by limousine to be dropped off immediately outside of North Terminal – within a few steps of the Emirates check-in area. From check-in, the passenger can enjoy the Gatwick premium security area, which is situated immediately next to check-in, before moving straight through to the Emirates lounge – and even onto its A380 service. Gatwick has worked closely with Emirates to deliver this end-to-end premium experience; understanding that meeting the exacting needs of a premium airline and their passengers is also critical to attracting new routes.
Gatwick can even deliver for passengers who may want to connect onwards from Gatwick. Gatwick Connect, an innovative new product from the airport, allows passengers travelling on two separate airline tickets to drop their bags and check-in for their second flight in the Gatwick baggage hall. The passenger passes through Gatwick's quick security area and gets straight on their onward flight. Airlines signed up include Virgin Atlantic, easyJet, Flybe and Norwegian, with several other large carriers poised to join.
Another essential area for attracting new airlines in particular is travel to and from airports. For Gatwick, travelling to the airport by train, as a third of our passengers already do, is an excellent option. The airport has the best rail connections of any UK airport, with 129 direct connections across the South East. London Victoria and London Bridge are less than 30 minutes by train and Gatwick provides the fastest links to The City of London, Canary Wharf and The Shard for business travellers. The recently announced new Thameslink franchise will also deliver even more capacity, services and improved train carriages by 2016.
In addition to our public transport links, passengers travelling by car can enjoy a choice of short stay parking just two minutes' walk from either North or South Terminals, with the airport's Premium and Valet parking products providing an exceptionally convenient start to the airport experience for executive travellers. For passengers staying at the airport before their flight, Gatwick has a great range of quality on-site hotels – including new additions Hampton by Hilton in the North Terminal and BLOC, which is immediately next to South Terminal security. Other on-site hotels include the Sofitel, Hilton, Yotel and Premier Inn, so there really is something for all tastes.
For Gatwick, the premium experience is about creating a specific ambience and a tailored service. Premium Security, which has the feel of a world-class luxury hotel, offers one-to-one service in a sophisticated environment. While our premium experience remains quick and efficient, the focus here is on delivering world-leading service and the type of experience that a premium airline customer would expect on-board their flight. There's even an opportunity to book our concierge service 'Gatwick First', which offers tailored assistance at the airport – from help with bags from your car or the train, to fast track check-in, Premium Security, and onwards to your lounge or gate. It's the ultimate in one-to-one service through the airport.
For those wanting the fastest journey through the airport, such as those travelling short-haul on business, Gatwick's main security areas are among the quickest of any airport, with an average transaction time of 1 minute 47 seconds. This is in large part thanks to the extensive investment in the airport in recent years, including a £45 million redevelopment of South Terminal's security technology. This will shortly be replicated in North Terminal using the latest technology and today both terminals process passengers in less than five minutes, 95 per cent of the time.
Technology is a central part of the Gatwick experience and an area that we have identified to be particularly important for business travellers. Self-check-in and bag drop areas are extensive across Gatwick, with airlines including British Airways, easyJet and Norwegian Air Shuttle all offering the service. However, we want to make things even easier in the future and we are trialling common use areas for check-in and bag drop in our terminals, meaning the future for business travel in particular is set to get even quicker at Gatwick.
In terms of saving time while travelling, Gatwick's website, which was upgraded just last year and is fully functional across smart phones and tablets, has been specifically tailored for time-pressed business travellers. Information available at their fingertips includes live flight information. Passengers have the option to 'pin' their flight to get real-time updates, including their gate number, offering the ability to head straight to their aircraft without the need to check departures boards. Responsive route maps of the entire airport are also on hand to help navigation to the gate, as well as to airline lounges, shops and restaurants.
For premium passengers who may not be so pushed for time, there is plenty to enjoy before boarding. The premium experience extends after security with a choice of airlines lounges – including Emirates, British Airways and Virgin Atlantic available – as well as the No. 1 Traveller and Aspire pay-as-you-go lounges in both terminals. Designed to offer a premium start to the journey or a place to work while you wait, No. 1 Traveller can be booked in advance or at the lounge itself. As well as offering a relaxing environment to enjoy a glass of champagne or a light meal before flying, No. 1 Traveller in North Terminal even has a beauty spa and cinema. Business travellers can make use of the No. 1 Traveller Lounges' extensive facilities including meeting rooms, conferencing facilities, free Wi-Fi, computers, printers and faxes.
For business travellers, for whom working on the move is critical, free Wi-Fi is available across both terminals and Gatwick became the first 4G-enabled airport in the UK in 2013. Quiet zones with charging points can be found across the terminals and computer areas with internet access are also available. This summer, Gatwick has partnered with Regus to further enhance its business facilities with the opening of a new Business Centre in South Terminal arrivals for passengers wanting to check-in at the office before travelling onwards or freshen up for meetings before leaving the airport. Regus 'Work Boxes' – an airport first – are available to use after security in both terminals. These pay-as-you-go areas offer a secluded office space with access to a computer, charging points, conference facilities and printer and fax machine immediately before you board.
For passengers keen to enjoy Gatwick's premium shopping and eating experience, we have completed major projects in our departure lounges in recent years, including a £40 million re-vamp of South Terminal's shops, which includes 32 new or refreshed stores. A new 6,000 sq ft Harrods fashion and accessories store has been opened alongside stores for exclusive brands such as Aspinal of London, Hugo Boss and Lacoste. The airport already boasts Europe's largest World Duty Free store. In North Terminal, new restaurants including Jamie's Italian and Comptoir Libanis are offering passengers an exciting mix of cuisine.
While the right services and facilities are essential in attracting premium and business passengers, Gatwick's relentless focus on delivering exceptional customer service is a fundamental reason why travellers continue to choose us over other London airports. While every passenger is treated as a guest, our frontline teams are trained to recognise and adapt their style to suit each passenger's needs. This could mean delivering bespoke one-to-one service in our premium areas, quick and efficient service without the small talk for business travellers, or offering extra assistance and time to other passenger types, such as those with young children.
For Gatwick, a seamless experience is central to maintaining and growing its premium and business passenger base. We have worked closely with the UK Border Force to provide a slicker and quicker service for arriving passengers. In fact, Gatwick is so committed to providing an excellent welcome to the airport it has provided part of the investment for new UK Border Force immigration e-gates. These provide the most cutting-edge technology for passengers with a micro-chipped passport.
As many premium and business passengers already know, Gatwick is London's airport of choice. In the competitive London market, Gatwick can offer the routes passengers want, a quick and easy journey, with the experience and service tailored to meet the exacting needs of our passengers. Quite simply, it's the obvious choice for premium and business travel.
Biography
Guy Stephenson was appointed as Chief Commercial Officer at London Gatwick Airport in November 2010, joining from National Express Ltd. Before this he spent five years as Commercial Director of Thomsonfly and worked in investment banking, advising government and public sector clients throughout Europe on airport and ATC privatisation and restructuring. He has a BA (Hons) from the University of Durham, and an MBA with distinction from Imperial College, London.