Women in aviation: Changing the image of the industry
International Airport Review Editor, Holly Miles, writes about the importance of attracting a diverse workforce to the industry since it is is one of the key ways to unlock a more sustainable industry with staying power.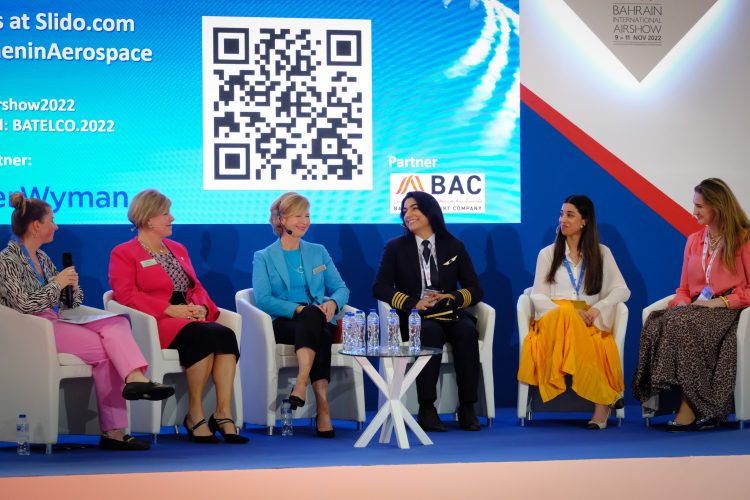 IAR Editor, Holly and panellists at the Bahrain International Airshow (BIAS) 2022. Credit: BIAS
Why should we care about the number of women in the aerospace sector? Well, it matters to all of us. 
The fact is that the aviation and aerospace industry has been experiencing a downturn in skilled workers across all job roles for years, but the COVID-19 pandemic accelerated this exodus from the industry with what many have referred to as the "great resignation". 
Global passenger numbers are set to rise in the next decades and the aviation sector has high ambitions, but simply put, the demand for aviation professionals does exceed the supply. 
That is why it is so important that we do all we can to attract not just women, but the next generation of diverse aviation talent. It's not only the right thing to do, it makes business sense, and it paramount to the sustainability and viability of our industry moving forward.
Still a year of 'firsts'
IATA recently appointed (June 2023) RwandAir CEO Yvonne Manzi Makolo as Chair of the association's Board of Governors – the first female ever appointed to this position. 
It is bizarre that we are still hearing the phrase "the first ever female appointed to this position" in 2023. Women make up 50% of the workforce, so why do they not make up 50% of CEO and other C-level positions?
Despite several cross-industry initiatives and best practices to address the current under-representation of female experts, the issue is still not resolved.
Strong female role models
The key to attracting more females to the industry long-term – and to encourage them to stay – is not just to offer them opportunities to explore aviation occupations and support them in their career-discovery journey. We must also present them with the relevant role models.
It was this topic that was under discussion for a panel session that I was honoured to moderate at the Bahrain International Airshow 2022. I was joined by a stellar line-up of strong female role models: Heidi Grant, President of Business Development at Boeing; Nancy Ziuzin Schlegel, VP for International Government Relations at Lockheed Martin; Yasmeen Fraidon Mohammed, Captain at Gulf Air; Sara Sabt, Director Risk, and Compliance at Bahrain Airport Company and Sarah Palmer, Business Excellence Manager at Saudia Aerospace Engineering Industries (SAEI).
Age-old stereotypes still prevail
Aviation has come a long way from the days when women were a rarity in senior-level roles. However, I was surprised to see a big billboard advertisement for an airline which showed a male pilot with three air hostesses – all women. This reinforces this age-old stereotype that only men are pilots and women are in the serving roles. And images like this do matter. Yasmeen described how her daughter had recently said that she was excited to meet a pilot some day, when Yasmeen pointed out that she was in fact a Pilot, her daughter replied "no, I mean a real pilot," showing that these gendered stereotypes occur at a young age and that they are still happening.
All of the women on the panel agreed that the aviation industry is one in which they feel that they are treated very well as women, so what is it that puts women off joining?
Is the problem that we do not shout about our industry enough? I will take this opportunity to ask you, the reader, when someone asks you what you do for a living, what do you say? How do you say it? Are you excited when you talk about your profession? We need to become advocates for what an interesting, exciting and stimulating career you can have in aviation.
The panel went on to discuss how we future-proof the pipeline to the C-Suite.
It was felt that we cannot underestimate the importance of networks to women in the industry. In some societies, it is not the norm that men and women socialise together, so if men are only socialising together then that knowledge and experience is not passed on to women; that is why networks are so important.
Taking the time to help build someone's career
Everyone is guilty of thinking they do not have the time to help someone out in their career, but the ideas below show that this does not need to be time consuming.
Small ideas to help promote women in your team:
Take a junior to lunch
Ask a team member for their project ideas. Implement the good ones and then give them credit
If you notice a coworker's ideas seem to be off-track, take them aside and give feedback prior to the meeting instead of during the meeting
Return the phone call of the person who is asking for help. It takes courage to ask, so when approached, why not provide the requested help? One day, the shoe may be on the other foot!
It was fantastic to see how well attended the panel session was, and there was a genuine interest in taking part in this debate.
To move forward as an industry, we must be unlocking talent from the most obvious of places and build a people-centric sustainability strategy. I was heartened to receive an invitation again tackling this topic at the 18th ACI Asia-Pacific Regional Assembly, Conference & Exhibition in Kobe, Japan which took place in May 2023 for a panel session on 'People development in corporate strategy: Where to innovate post pandemic?' as it shows a willingness to discuss this topic so very important to the industry. Only by addressing our flaws can we move forward, improve and unlock the industry's potential to innovate and lead into the future.
About the author

Holly Miles is Editor of International Airport Review magazine, the leading information provider to the airport community focusing on passenger experience, airport operations, revenues and sustainability. Since joining the magazine in 2020, Holly has increased the magazine's global reach and brand awareness and is well known in the industry. She holds a Bachelor's Degree in English Literature from Queen Mary University of London.