CPK's Integrated Transport Hub: Where Rail and Air Meet
The Centralny Port Komunikacyjny (CPK) airport is set to become a world-class transport hub, where passengers can easily access all modes of transport, including at the state-of-the-art railway station. It will be designed to provide a high-quality passenger experience and create a comfortable and welcoming space for all who pass through it. It will also allow for seamless transfers, where the passengers can move effortlessly between buses, taxis, trains, and aircraft.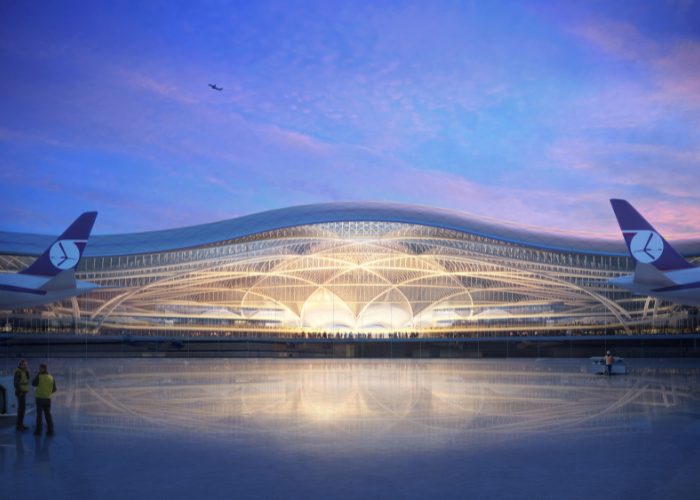 To ensure that CPK's railway station is future-proof, the design incorporates the most innovative technologies available, including smart systems, real-time communication, contactless interface technology for automated ticketing, biometrics for processing, video surveillance for safety and passenger flow management, as well as smart interactive wayfinding, all to facilitate seamless travel for the optimum passenger experience. Additionally, next-generation technologies, such as intelligent traffic management, 5G, artificial intelligence, and machine learning for facility management, can all be integrated into the station's design.
Sustainability at the heart of railway station design
The railway station is to be designed with sustainability in mind, and high standards of sustainable accreditation. Other opportunities for decarbonization are to be explored, including innovations in train technology and shifts to electric trains that use energy from renewable sources, such as solar or wind.
"Our designers are going to be looking at the efficient use of materials and minimisation of energy consumption. They will also consider the material of the roof and canopy cover to determine the individual qualities that it can bring, such as the degree of natural lighting and potential energy generation through PVs," said Szymon Kachniarz, Senior Project Manager at CPK.
High-quality passenger experience
The focus of the station's designer is to provide a high-quality passenger experience, while also delivering comfortable and welcoming spaces for travellers, destination visitors and workers throughout the year. The challenge is to do this in the most sustainable, efficient, and effective ways possible, allowing people to move between the functions without having to worry about the impact of the weather.
The station will be fully accessible, with direct lift connections from platforms to concourses, minimal level changes and a primary concourse on a single level served by amenities, retail, food, and beverage offers to provide comfortable places to dwell for times when timetables are not completely aligned between transport modes