Dubai Airports: Connecting the world
Posted: 14 October 2014 | Lorne Riley, Dubai Airport
Lorne Riley outlines Dubai Airports' ambitious expansion programme which, when complete, will see Dubai International and Dubai World Central-Al Maktoum International Airport's joint capacity reach in excess of 200 million passengers per year.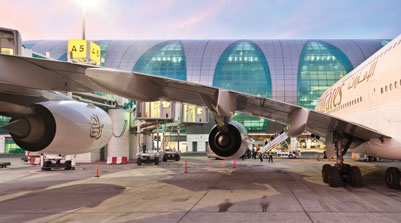 As part of a major expansion plan entitled 'SP2020', announced in 2011, Dubai Airports is investing $7.8 billion in the expansion of facilities at Dubai International to accommodate up to 100 million passengers by 2020. The project will create additional capacity across the airport in terms of new terminal space, refurbishment and expansion of existing terminals, upgrade of the airport's runways as well as expansion to the airport's cargo facilities.
Significant strides have also been made towards completing the facilities and infrastructure outlined in SP2020, the highlight of which was the opening of Concourse A, the world's first purpose-built A380 facility, the opening of the first phase of the Terminal 2 expansion and refurbishment and opening of new cargo facilities.
Dubai Airports is also building a brand new concourse – Concourse D – to cater for the more than 100 airlines that currently operate at Dubai International's Terminal 1.
Concourse A
Concourse A is part of the Terminal 3 complex built for the use of Emirates, from where its passengers can travel to its fast-expanding network of A380 destinations across Europe, North America, Australia and Asia. With 11 floors and a total built-up area of 528,000m2, Concourse A is connected to Concourse B and Terminal 3 via an underground train.
The facility features 20 A380-capable contact gates and Emirates' luxurious First Class and Business Class lounges, which span 29,000m2. Unlike any other airport facility in the world, Dubai International's First Class and Business Class lounges have dedicated floors that offer direct access to aircraft boarding gates. The lounges, which extend the entire length of the concourse, are the largest in the world and offer passengers an array of fine dining with showcase kitchens, conference rooms, business centres, a Timeless Spa, entertainment zones, dedicated smoking areas as well as children's play areas.
Opened on 2 January 2013, Concourse A handled 22,921,761 pieces of luggage carried on over 50,906 flights serving 14,596,893 passengers in its first year of operation.
Terminal 1 refurbishment
Terminal 1, which serves more than 100 airlines that operate at Dubai International, has been undergoing a major refurbishment programme since late-2013. Expected to be completed in 2015, it will provide passengers with a vastly improved customer experience.
The landside arrivals hall is being completely revamped to improve passenger flow, resulting in a larger meet-and-greet area as well as a completely new retail environment with new and refurbished food and beverage outlets. The front of the terminal building is also being expanded to accommodate a new indoor taxi waiting area and to provide a reception area for tour groups.
Terminal 2
Following the opening of the first phase of the expanded Terminal 2 in April 2013, the refurbishment of the existing building continues apace. The first phase of the project saw the footprint of the terminal virtually doubled and included the expansion of the check-in area.
The recent opening of the renovated arrival hall at Terminal 2 enables passengers to move more quickly through the airport thanks to a newly expanded transfer area with seven new automatic tray return security screening machines, and 40 additional immigration and passport counters. Other changes include 10 e-gates, new Dubai Duty Free outlets and three additional baggage carrousels, taking the total number to six. This development follows the opening of the new departures area, which saw the number of gates increase from six to 12.
The final phase of project – which is expected to be completed by the end of 2014 – will see the arrivals area expanded and revamped. Once fully complete, Terminal 2 will have 48 check-in counters, 12 gates and a greater selection of food and beverage outlets.
Runway upgrade
Dubai Airports recently completed a major upgrade of the runways at Dubai International on a tight schedule of 80 days during which the runways were closed alternately. The upgrades have allowed the airport to accommodate more aircraft while improving operational flexibility during busy peak traffic periods.
The northern runway had reached the end of its design life and required resurfacing and other modifications to accommodate future traffic. At the same time there was a requirement to upgrade runway lighting and construct new taxiways on the southern runway to boost capacity. As part of the project the southern runway was closed for the majority of May 2014, while the northern runway was out of operation from 31 May to 20 July 2014.
The refurbished northern runway features an end around taxiway, which allows aircraft using the southern runway to taxi to the north side of the airfield without crossing over the other runway, thus improving traffic flow on both airstrips. Rapid exit taxiways were also added on both runways which reduce runway occupancy times and translates into more capacity.
"I am pleased that our planning and preparations over the past year not only ensured that the impact on passengers during the 80-day period was minimal but that we were able to resume full operations and accommodate increased traffic at the end of the programme without a hitch," commented Paul Griffiths, CEO of Dubai Airports."The runway upgrade programme tested the mettle of the over 60,000 people who work at Dubai International whose dedication and teamwork resulted in the successful delivery of an incredibly demanding programme, led by Dubai Aviation Engineering Projects and Dubai Airports' operations, while maintaining high traffic volumes and top-flight service levels. Additionally it allowed tens of thousands of passengers to experience the speed, convenience and efficiency of Dubai World Central – Al Maktoum International Airport (DWC), Dubai's second airport."
To safeguard service levels while the work is taking place, scheduled passenger flights at Dubai International were reduced and all freighter, charter and general aviation flights were diverted to DWC.
The project involved some 800,000 tonnes of aggregates, 11,000 airfield lighting luminaires, 1,050km of cabling, 1,750 new manholes and 8.3km of drainage piping.
Concourse D
Work is progressing well on the project to build Concourse D, which, when it opens in 2015, will serve as the new home of the 100 international scheduled carrier airlines that operate into Dubai International.
The new concourse will have a design capacity of 18 million passengers per year, ensuring that Dubai International continues to accommodate the continued rapid growth in passenger traffic.
Designed around a central atrium, the emphasis in Concourse D is to create a more efficient customer experience which shortens the passenger journey through its 28 gates.
Cargo
While all dedicated freighter operations have moved to DWC, belly-hold cargo at Dubai International will remain a significant part of the cargo business, particularly given the rapid expansion of the Emirates airline fleet and network.
To accommodate this growth a new cargo staging facility for Emirates SkyCargo was opened at Dubai International in May 2013 which dramatically speeded up the loading of belly-hold cargo on Emirates passenger aircraft.
The new staging facility was the first phase of a cargo facility being built on the site of the old Dubai Expo building. Once completed later this year, the 400,000 tonne facility will be used to transport cargo between Dubai International and DWC.
Additionally Dubai Airports will be increasing the Cargo Mega Terminal's capacity to 1.6 million tonnes a year, up 300,000 tonnes from the current 1.3 million tonne limit, through facility expansion and improved automation, as well as the refurbishing of Freight Gate 1 and Hall A. Together the three buildings will become completely integrated and operated by Emirates SkyCargo. Work on this project began late last year and remains on track for completion in 2015. 
DWC's new terminal
Dubai Airports opened the new passenger terminal at DWC on 27 October 2013, with Wizz Air as the launch airline. Kuwait-based Jazeera Airways launched services from 31 October 2013, while Gulf Air commenced flights from 8 December 2013 and Qatar commenced double-daily services on 1 March 2014.
The new passenger terminal offers full retail as well as food and beverage amenities. It is serviced by one A380 capable runway, 64 remote aircraft stands and has capacity for up to seven million passengers per year.
The terminal played a critical role during the 80-day runway upgrade project at Dubai International by accommodating temporary passenger and freight operations involving some 600 flights per week – diverted from the main hub.
The airport forms the heart of a greater project also called Dubai World Central, a 140m2 multiphase development of six clustered zones that includes the Dubai Logistics City, Commercial City, Residential City, Aviation City and the Golf City. The development is the region's first integrated, multi-modal transportation platform connecting air, sea, and land.
There is a master-plan under review which, when complete, will outline the expansion, development programme and timelines for DWC. DWC will become the world's largest airport with an ultimate capacity of more than 160 million passengers and 12 million tonnes of cargo per annum.
Biography
Lorne Riley joined Dubai Airports in 2009 and is responsible for all aspects of corporate communications and reputation management. He has 29 years of aviation experience dating back to 1985 when he joined Air Canada as a station attendant. During his 15-year tenure with the airline, he served in a variety of operational, training and internal and customer service communication roles. In 2001 he became Director of Internal Communications for Star Alliance based in Frankfurt, Germany where he led a virtual team of 15 airline communicators to support awareness and buy-in of the newly formed global airline alliance. In 2005, he transferred that global experience to IATA in Geneva, Switzerland taking on the role of Assistant Director of Corporate Communications where he was responsible for media relations in Europe, MENA and Africa. He also led communication for IATA's simplifying the business initiative, including the industry's conversion to 100 per cent electronic ticketing.