Airport railways: Keeping airports connected
Posted: 14 October 2014 | Paul Le Blond, International Air Rail Organisation (IARO)
The number of air-rail links around the world is growing at an astonishing rate. Paul Le Blond, President of the International Air Rail Organisation (IARO) looks at some examples of best practice.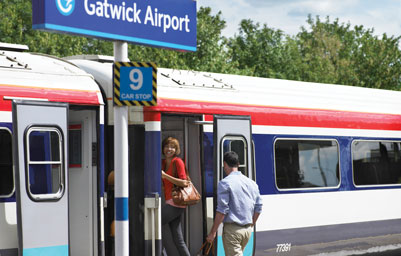 There are currently around 200 airports around the world with rail links, but there may be 400 more links in various stages of planning, design or construction. This remarkable growth is fuelled by a desire to improve accessibility and environmental performance and to provide choice. The International Air Rail Organisation (IARO) is at the forefront of these developments and its members benefit from sharing best practice and learning how to plan, build and operate air-rail links.
Every situation is different and there is no right or wrong way to achieve success. Indeed, success can be measured in several ways, according to your objectives. The most common measure is the percentage of non-transfer passengers using rail – the air passenger rail mode share. But at some airports, rail is only one of several sustainable modes and the objective might to be maximise the overall public transport share. At other airports, staff may be more significant users of rail, so the staff rail share is important.
Why would an airport want a rail link?
So why would an airport want to maximise its rail share? Improving accessibility means enabling air passengers to get to and from the airport more easily, so that the airport can attract more passengers from a wider catchment area. Most air-rail links serve the city centre or downtown area, but others spread out in other directions to link with suburbs, other towns, or even distant cities. The environmental performance of rail is generally better than road-based modes, although should not be overstated, bearing in mind the carbon used in construction and electricity generation. Providing choice is the third objective as it enables passengers to choose to avoid unreliable and congested roads and also improves accessibility to those who may not wish to use, or have access to, a car.
This third objective is also a key to understanding the market for air-rail links. Air passengers are usually categorised in terms of the journey purpose and residence. Journey purpose is primarily business or leisure, with visiting friend and relatives a subcategory of the latter. There is often not much difference in the propensity to use public transport between business and leisure air passengers, but the former tend to be 'time poor/money rich' and therefore use faster and more expensive modes, with the converse for the latter group. On the other hand, local residents tend to use public transport, and particularly rail, far less as they are more likely to use private cars or taxis from their home. Visitors are more likely to use rail for the trip to and from the city centre. Of course, there are always exceptions, hence the need for careful study of each situation. IARO members include experts who are able to forecast mode share based on wide ranging experience.
There are, of course, downsides to air-rail links for airports as well. One which often causes concern is the perceived loss of car parking revenue. In reality, this rarely happens as an airport has to provide expensive car parking at the margin, possibly including a shuttle bus ride to the terminal, and may be better off using that land for other more profitable activities. A further difficulty may be in paying for the air-rail link, as rail infrastructure projects are rarely profitable in the straightforward financial sense. Although there are a few air-rail links which are independent of public subsidy, most rail systems are publicly supported, even when delivered by the private sector. This means that airports are sometimes asked to contribute towards rail links, which in turn means that the airlines and their customers, air passengers, have to meet the cost. This is not always accepted by the airlines, although it has become the norm in many situations for the airport to provide the station.
What's in it for the railway?
Air-rail links can be complementary to other services and provide valuable revenue to rail operators. Air passengers tend to have different patterns of travel than commuters and so can use infrastructure and resources more efficiently, and are also usually prepared to pay an undiscounted price.
Examples of best practice
So let's look at some examples of best practice around the world, and also at some cases where the air-rail link is not performing well. At IARO, we tend to group air-rail links into five types: light rail, metros and subways, network or regional, dedicated airport expresses and long distance/high-speed.
Light rail
Light rail seems to be the favoured type of link in North America and two examples illustrate the approach. In Vancouver, the airport handles around 18 million passengers a year and, since 2010 has been connected by the Canada Line, an automated light rail network which serves a number of stations and downtown. It is a high frequency and cheap service which takes around 25 minutes for the full trip and attracts around 17 per cent of air passengers, a good performance for North America. The elevated airport station is very visible and easy to access and there are other stations close to the terminal which enable staff to access growing airport ancillary areas.
Another recently completed light rail link is to Salt Lake City in the United States. This city's network of lines was extended to the airport in 2013 and is steadily building patronage. Other light rail links in the U.S. can be found in Portland, Baltimore-Washington, Minneapolis-St Paul and Seattle, and Dallas-Fort Worth Airport will soon be connected to the DART Orange Line.
One of the world's most successful light rail links is the Docklands Light Railway (DLR) at London City Airport. This uniquely located airport handles three million passengers a year and its station is right next to the terminal providing quick access to the City and Docklands business districts. It achieves a 50 per cent rail share, the highest for a single rail link. In the UK, a light rail link is expected to open later in 2014 in Edinburgh and in Manchester in 2016.
In other parts of Europe, the Rhonexpress at Lyon St Exupery Airport is a good example of the combination of a street running tram in the city centre and an express service on dedicated line near the airport. Copenhagen Airport also has a light rail service alongside other rail links which together achieve a 55 per cent rail share, the highest in the world.
Metros/subways
Metros serving airports are found in virtually every continent. In the U.S., the Washington Metro serves National Airport and is being extended to the more distant Dulles. The MARTA station at Atlanta is particularly well located in relation to the terminal baggage reclaim area. A recent unfortunate, but not fatal, accident at Chicago O'Hare's Blue Line station brought that link into the news, and it is very successful at attracting staff, if not air passengers, in part because it operates 24 hours a day. San Francisco is served by the BART system. Mexico City is served by Line 5 of the city's subway system.
In Europe, the London Underground has served Heathrow Airport since 1976 and has been extended to Terminals 4 and 5. In terms of total airport passengers (air passengers and staff), this is probably the most successful in the world. Paris Charles de Gaulle Airport is served by the RER, which is part metro, part regional express, with eight trains per hour taking around 30 minutes to the city. Istanbul's Ataturk Airport has been linked by the Metro Line M1 since 2002. Trains are every 7-10 minutes and take 30-35 minutes to the city centre. While Madrid's Metro has served Barajas Airport since 1999 and metros also serve Valencia, Lisbon and Porto Airports.
Rail links are also coming to the Middle East, and one of the few current examples is the Red Line of the Dubai Metro which serves Terminals 1 and 3. This metro has women-only compartments, an example of best practice in terms of reflecting local sensitivities. Meanwhile in the Far East, metros can be found at airports in Okinawa, Japan, Beijing and Shanghai (Honggiao and Pudong) in China and Singapore.
Network/regional links
There is a wide range of this type of air-rail service, and the category overlaps with metros, for example in the many S-Bahn links in Germany, such as Munich, Hamburg, Frankfurt, Düsseldorf, Cologne/Bonn, as well as similar regional services at Amsterdam, Manchester, London Luton, Birmingham, Copenhagen, Brussels, Zurich, Geneva and many other cities. In North America, regional rail services can be found at Newark and Milwaukee, while in Asia there are examples at Tokyo Narita and Osaka Kansai.
In many cases the regional or network rail service is provided in addition to another category, such as a dedicated express or a high speed link. In some respects these are secondary services as they serve other markets as well as the airport. Examples of these secondary links are the Southern and Thameslink services at London Gatwick Airport, the SJ regional service at Stockholm Arlanda, the KL Transit at Kuala Lumpur and the Bangkok City Line. These tend to serve more stations than the non- or limited-stop express services between the airport and the city centre and are therefore slower, they may be less frequent and they are usually cheaper. However, they serve many more stations than the more direct services and are therefore a valuable addition to the range of links.
Dedicated airport expresses
This may be the best known type of air-rail link, with the earlier examples of the London Heathrow Express, Hong Kong Airport Express Line, Tokyo Narita Express, Oslo's Flytoget and Stockholm's Arlanda Express now added to by examples in Kuala Lumpur, Vienna, Rome, Milan, Moscow, Bangkok and Johannesburg.
The key feature of this type of service is apparent from the name 'dedicated', as these links are designed specifically for the air-rail market, usually operating non-stop, with special rolling stock, customer service and marketing arrangements, charging a premium fare.
One of the earliest examples of a dedicated express was the London Gatwick Express, but this service has partly lost its claim to being dedicated because of the extension if its route to commuter areas and the use of unsuitable rolling stock.
Long distance/high-speed
Opinions about the value of high-speed rail at airports vary. In Europe, Frankfurt, Paris Charles de Gaulle and Amsterdam Schiphol have successfully integrated high-speed rail services into the airport stations. But Spain's AVE high-speed network doesn't serve any airports and neither are there any airport stations for the Japanese Shinkansen; the most mature high speed rail network in the world. Critical to the success of high-speed rail at airports is the location of the airport, on a high-speed rail route between cities. High-speed rail services are unlikely to be justified if they only serve the airport, but need to be part of a through network and will therefore work best if the airport is located on a through route. Decisions being made in the UK and the USA about new high speed lines are grappling with this issue.
Of course, the rail service does not need to be high-speed (around 300km/h), but could be merely long distance at a conventional speed. The general rule is that, with a rail station-to-station time of around three hours (whatever the speed), the air/rail market share is around 50/50. This applies to the whole city-to-city market, not just trains serving the airport, but is relevant when considering whether rail services at airports which take over three hours are likely to offer a better choice than air services, which then have the advantage of interline transfer arrangements.
Future ambitions
Airports with ambitions to grow very large without causing highway chaos are looking to increase public transport shares well above 50 per cent, much of which will have to be carried on rail links. This often means multiple services or types of link, each serving different market segments or routes. So London Heathrow is planning supplementary regional links, while Paris Charles de Gaulle is planning a dedicated express. Even smaller airports are seeing the advantage of rail links and no airport with more than 10 million passengers a year can compete without rail access. No wonder that there are so many air-rail links in the planning stage.
Biography
Paul Le Blond has been a member of the International Air Rail Organisation since its formation in 1999 and was elected its President in 2012. Paul was with BAA from 1970 to 2001, he was with Heathrow Express as Rail Strategy Director. From 2001 until February 2003 he was Eurostar's Director of Strategy. He is a Fellow of the Chartered Institute of Logistics and Transport.
For more information about IARO visit www.iaro.com