São Paulo–Guarulhos Airport: The gateway to Brazil
Posted: 16 April 2014 | Luiz Eduardo Ritzmann, CIO, São Paulo–Guarulhos Airport | No comments yet
With 600,000 international visitors and three million local tourists expected to descend upon Brazil for the 2014 FIFA World Cup, São Paulo–Guarulhos Airport has undergone a major improvement programme. CIO Luiz Eduardo Ritzmann outlines the progress to date.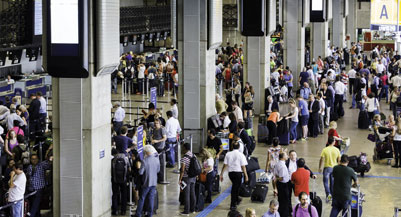 GRU is the largest airport in Brazil
The International Airport of São Paulo (GRU) is currently undergoing the largest renovation and improvement process since it began operations in 1985. Terminal 3 and the expansion of the apron are the biggest infrastructure projects to be delivered prior to the 2014 FIFA World Cup. Comprised of 192,000m2 – more than the total area of Terminals 1, 2 and 4 combined – the new passenger terminal will have an initial capacity for 12 million passengers per year, 20 boarding bridges and 34 new aircraft stands at the apron.
The renovated taxiways and runways will enable the new terminal to receive the largest aircraft in the world, without negative operational impacts. It will also be dedicated exclusively to international flights and will feature an internal four-star hotel with 50 rooms for passengers with connecting flights. Outside the airport a new four-star hotel will be built with approximately 350 rooms.
Terminal 3 will be equipped with modern technology which facilitates the flow of passengers, such as moving walkways connecting to Terminal 2, self-service check-in kiosks, a self-service bag drop system, electronic immigration/emigration control gates (e-gates), as well as a modern baggage distribution system, which will allow passengers to check-in their luggage up to 10 hours ahead of time. There will also be a bus and taxi service terminal.
Additional parking space
In 2012, a consortium (the Guarulhos International Airport Concessionaire) comprising Brazilian companies Invepar and OAS, and South African company ACSA, took over management of GRU Airport. The multi-storey car park was the first major infrastructure construction delivered by the Concessionaire and was inaugurated in May 2013. The eight-story building totals 89,000m2 of constructed area with a capacity for 2,644 vehicles. The facility is equipped with a modern parking slot management system, which electronically controls and displays available parking spaces, automated payment stations and flight information panels.
When the new passenger terminal opens, other services will be offered to passengers, such as self-service check-in kiosks, valet and dry car wash services. Users of the car park are currently transported to the passenger terminal by a van shuttle services, but once Terminal 3 is inaugurated, there will be a covered moving walkway which will connect the building to the terminal.
At the beginning of the new administration, GRU underwent an overhaul in the parking areas creating more than 500 new parking spaces. The main area, in front of Terminals 1 and 2, was divided in two: standard parking with 2,370 spaces and premium parking with 1,210 positions located closer to the terminals. At Terminal 4, where Azul, Trip and Passaredo airlines operate, a new area was opened with 200 parking slots, in addition to the existing 450.
Terminals 1, 2 and 4 improvements
The introduction of the Concessionaire brought with it a series of quick improvements to increase passenger safety and comfort. The first changes were in the terminal halls: all of the signage for passengers was changed and 900 signs, of which 700 are back-lit, were installed. The implementation of a standardised layout, similar to what is seen in large international airports, makes it easier for people from all over the world to understand the information.
Parallel to the changes in signage, 600 seats were renovated or replaced. There were also improvements in lighting with 1,200 light bulbs being replaced or installed, bringing more visual comfort to airport users, especially outdoors. For people with reduced mobility, the tactile floor was renovated in Terminals 1, 2 and 4 to facilitate mobility and service to the visually impaired.
Another important improvement for GRU users was the renovation of the four public toilets in Terminals 1 and 2, all of which were reconstructed and expanded and are now three times larger, offering better ventilation and more room for baggage carts and people with reduced mobility. In order to streamline the flow of passengers, measures were taken, such as the creation of waiting areas prior to check-in queues, baggage buffer areas at arrivals to decrease bottlenecks at the carousel in the baggage claim area, and the elimination of the check-in seal at self-service kiosks so passengers no longer need to go to the airline counter.
In July 2013, the Concessionaire delivered another important improvement to Terminal 2 – the expansion of the security inspection area for domestic departures by more than 65%, from 450 to 740m2. Additionally, the airport purchased an additional X-ray machine now totaling seven in the security area of Terminal 2.
The expansion of Terminal 2 was inaugurated in August 2013. The 6,000m2 project includes a food court with nine stores at the check-in D area of the departures level, and an expanded Duty Free area at the arrivals level, which is now twice as large.
The remote international and domestic boarding area of Terminal 2 is also being expanded. Dedicated to flights where passengers are transported by bus to the aircraft, the area will be expanded by over 50 per cent from 845 to 1,300m2. The remote domestic boarding area will increase from 400 to 650m2, while the international remote boarding area will expand from 445 to 650m2. An additional boarding gate will be added to the existing three in each area, and new bathrooms will also be built. This renovation will make it possible to convert these areas into a single boarding area, be it domestic or international, according to the demand.
Aprons and runways
In October 2013, the Concessionaire obtained approval from the National Civil Aviation Agency to operate an additional aircraft apron, Apron L (Apron Lima). The apron has 69,000m2 and is reserved for aircraft from international airlines, adding 13 new stands for Class E aircraft (e.g. Boeing 777), equivalent to 20 Class C stands (e.g. Airbus A320 or Boeing 737).
The renovation of runway 09L/27R also began in October 2013 and was completed towards the end of December 2013. The area under renovation was approximately 1,200m long, on the centre stretch of the runway which is 3,700m long. The renovation and widening of runway 09L/27R to receive Class F aircraft will begin after the 2014 FIFA World Cup, with a delivery deadline for the first half of 2016, as per the Concessionaire Agreement. Thus, the current runway width of 45m will be expanded to 60m. The ultimate goal is for the airport to realise a total capacity of 60 million passengers per year by 2022.
GRU will see an additional influx of passengers in 2016, with the Olympic and Paralympic Games taking place in neighbouring city Rio de Janeiro in August 2016.
Security
GRU's security staff – including employees and subcontractors – is made up of approximately 700 professionals who oversee land and airside operations as well as the cargo terminal. The Concessionaire has invested in this area since the beginning of its administration, and today there are over 2,000 cameras installed around the airport, including in the commercial areas. By the start of the FIFA World Cup in June 2014, there will be around 2,500 cameras. The goal is that once the security camera installation project is completed, there will no longer be any blind spots in the airport.
More shopping and restaurant options
With the proposal to increase the options of stores to the public, especially in the food court, the Concessionaire also stepped up its commercial initiatives. To that end, during its first few months passengers received new food and shopping options. In November 2012, the American hamburger restaurant Carl's Jr. opened its first store in Brazil in GRU Terminal 1; in September 2013 Bob's, Empanada Brasil and Temakeria Makis Place opened restaurants in Terminal 4 for domestic flights and in the arrival area of Terminal 2. Chilli Beans, offering sunglasses and watches, also opened a store on the mezzanine level of Terminal 2. Havaianas expanded and renovated its store on the mezzanine level of Terminal 1, where Brigaderia also opened a store. Brahma Kiosk, Spoleto food-chain, Tostex sandwich chain, a hot dog restaurant called Dog Station, as well as another Copenhagen Café also opened their first stores at the airport. Another important achievement was the agreement renewal with Dufry, which will more than double the Duty Free area at the arrival section in Terminal 2.
Once Terminal 3 is inaugurated, GRU will have around 250 stores, including food, clothing and accessories. Each terminal has a different mix of shops, according to their public-demand. Thus, Terminal 1 and 4 have more local businesses; Terminal 2 will have a mix of shops geared to the middle class. And Terminal 3 will feature brand shops that are easily recognised by both foreign tourists and the local public.
GRU has various communication channels with its users. For example, the airport's new website (www.gru.com.br) offers travel tips, flight information and an Interactive Guide with a map of the airport, including shops, bars, restaurants and general services; along with access to a helpline. GRU also has various social networking channels including Twitter and Facebook. In addition to this, in August 2013 an exclusive site for the airport's cargo sector was launched, now known as GRU Airport Cargo (www.grucargo.com.br), where users can get to know the warehouse infrastructure, the services offered for exports, imports, domestic cargo and courier; consult tariffs and fees, as well as access pertinent laws and legislation.