Placing the spotlight on ADM Aéroports de Montréal's expertise in snow removal
On average, Montréal-Trudeau International Airport receives 220cm of snow every year, but never closes and rarely suspends its operations. The airport talks to International Airport Review about its rigorous winter operations.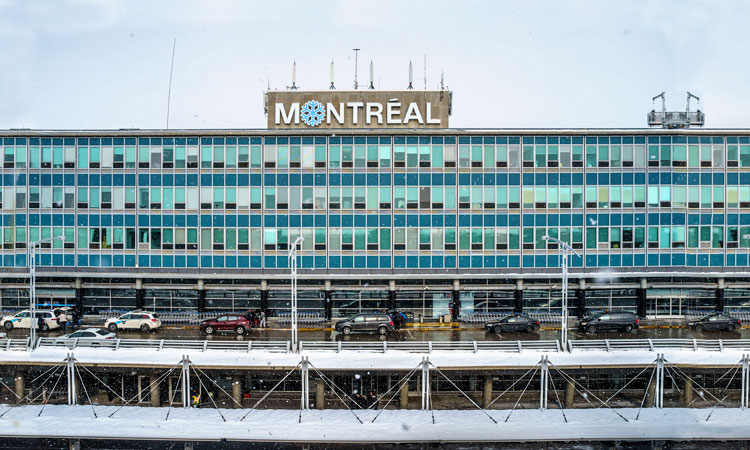 Montréal-Trudeau International Airport's (YUL) snow removal team is responsible for clearing more than 1.9 million square metres of aprons, runways and taxiways – the equivalent of a 300km trip.
There is an average of 80 weather events each winter, and no two storms are identical. In total, this precipitation produces more than 600,000 metric tonnes of snow that must be loaded from the apron each year into huge trucks that are five times larger than normal sized dump trucks.
The team performs this task with military precision, using advanced technological tools, a modern fleet of snow removal equipment and highly specific procedures to get the job done. Thanks to the expertise that has been developed over the years and an efficient system, the average snow removal time per runway takes less than 22 minutes.
The process begins with an analysis of weather forecasts, as early as 24 hours before the planned event. Additional validations are made on a recurring basis because weather conditions can change rapidly. Of course, this is not an exact science, so the magnitude of precipitation can sometimes be under or over-estimated. This is where experience and instinct come into play.
Snow removal crews are called to work depending on the anticipated severity of the weather event. YUL's high-precision winter operations then swing into action. They are controlled from a high-tech 'snow station' that benefits from a good overview of airport operations and is equipped with winter operations software for call management and data handling.
As soon as snow appears on the runways, the equipment is deployed. Braking tests are performed as soon as a runway is cleared to ensure that the surfaces are not contaminated, and that grip is at its maximum. ADM Aéroports de Montréal (ADM), the airport authority that manages YUL's operations, uses the latest Global Positioning System (GPS) and Geographic Information System (GIS) systems to collect real-time data on friction, temperature and runway condition. The data is then transmitted to all stakeholders, including air navigation service provider (ANSP) NAV CANADA, which provides it to airline pilots for take-off and landing.
A renewed fleet
To maintain the highest operational standards, ADM invested more than $6 million three years ago to renew the bulk of the heavy equipment fleet that it uses for the winter maintenance of the runways and manoeuvring areas at YUL. It also purchased new equipment.
Longer and more frequent periods of icy conditions, and the increase in areas to be maintained, led ADM to add more spreader trucks to its fleet of maintenance vehicles and to acquire additional equipment, including an oversized loader, front-end loaders and five new state-of-the-art brush ploughs.
These new acquisitions have made it possible to reduce intervention time and, thus, minimise the impact of precipitation on operations. The maintenance teams are now better equipped to do their job and, thus, meet the needs of passengers and air carriers operating at YUL.
During a winter precipitation episode, the snow removal fleet is deployed according to a clear set of priorities based on the operational requirements of Montréal-Trudeau's three main business sectors: domestic, transborder (Canada/United States) and international. The airport's two main runways are cleaned on an alternating basis to ensure optimal fluidity. If the snowfall is very heavy, the cleaning is done on a continuous basis. The type of snow (granular, wet, sticky, etc.) or freezing rain conditions are constantly monitored, since they can affect the manoeuvres required and the type of de‑icer used, such as liquid potassium acetate (freezing rain) or sodium formate (snow).
The 2020-2021 winter season is a special case, due to the limited number of air movements that will take place as a result of restrictions implemented to control the spread of COVID-19. While ADM could have chosen to limit its operations to one runway at YUL during the cold season to significantly save costs, it decided to keep both runways operational to maintain a level of reliability and safety on these highly unpredictable days.
Recognised expertise
Over the years, ADM has won numerous awards for its snow removal expertise, including two Balchen/Post awards for excellence in airport snow removal performance and one for de-icing from the American Association of Airport Executives. The secret to such a success certainly lies in a winter operations formula that combines best practices, advanced tools and experience. That is why ADM's expertise in snow removal is in high demand by other airport authorities around the world.
After all, YUL is an airport operating in a country of snow, and ADM's team have know-how and experience that very few people can claim to possess!
MONTRÉAL-TRUDEAU
AIRPORT WINTER OPERATIONS AT A GLANCE:
Manoeuvring area: 1.9 million square meters
Average annual snowfall: 220cm
Average number of weather events: 80
Volume of snow loaded: 600,000m3 (10,000 trucks)
Winter operations team: 32 permanent employees and 90 seasonal workers
Operations: 24 hours a day, seven days a week.