Building Portland International: America's favourite airport
Vince Granato, Chief Projects Officer at the Port of Portland, talks to International Airport Review about the construction of the new main terminal at Portland International Airport, which has been built with biophilic design principles and takes inspiration from the surrounding landscapes and streets of the city.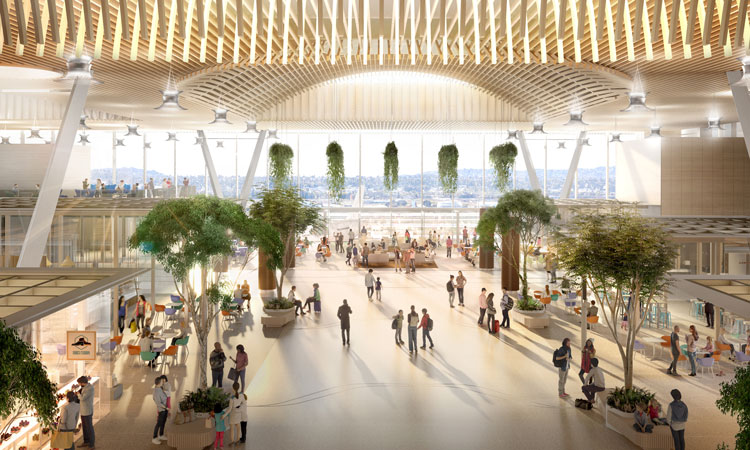 Main Terminal. Photo courtesy of Port of Portland
Portland International Airport (PDX) has long been voted one of America's favourite airports due to our celebration of all things Portland: great food, creative people and outdoor adventures. It's not very often that an airport's three-letter code becomes a nickname for its city, but that's exactly what happened here in PDX. As we begin to build a new main terminal, our goal is to bring more local flavours and charm into the airport.
The construction of the new main terminal is one of five major projects that fall under the umbrella of the airport's capital improvement programme, PDX Next. Over the next five years, this series of transformative projects will bring more Pacific Northwest-inspired architecture, local restaurants and shops, inclusive design and carbon footprint‑reducing technology to Portland International. The other projects under PDX Next include: the recently opened Concourse E; a new Concourse B, set to open in Fall 2021; parking additions and a new rental car centre, also opening in Fall 2021; and the rental car wash and fuel centre, which opened in March 2018.
Building for the future
At the core of the main terminal redesign is keeping the figurative heart of PDX while upgrading the physical one. The new terminal's nature-infused interiors emphasise our big goals: doubling down on health and safety. We're building the space with an eye to the future – building for earthquake resilience and room to grow. The existing footprint will expand by 175,000ft2, and, while the new main terminal will give travellers more room, it will come with an important reduction: when complete, PDX will use 50 per cent less energy per square foot while doubling the size of the building. This milestone expansion will give us the flexibility to adapt to new technology and plenty of space to welcome the growing number of passengers that we expect to see in the coming decades.