Fraport in 2007
Fraport AG, operators of Frankfurt airport since 1924, have developed into one of the industry's leading companies, offering a range of services from traffic and terminal management to real estate marketing. Dr Stefan Schulte discusses future plans for Fraport AG, with safety and security as top priorities.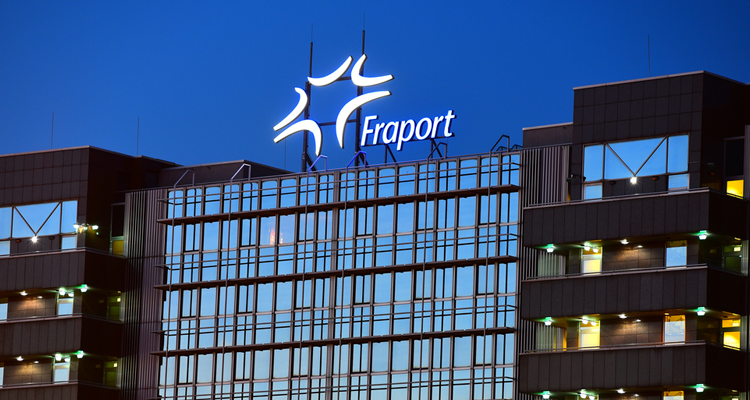 Fraport AG is a leading player in the global airport industry and following its initial public offering in June 2001, has become the second largest listed airport company in the world by revenues. Fraport trades on the Frankfurt stock exchange (share symbol FRA) and is a member of Germany's M-DAX mid-cap index of blue chip companies. The company is listed on the London-based FTSE4Good Index and the Dow Jones STOXX Sustainability Index – the most important indices for sustainability (according to strict criteria in the areas of corporate leadership, environmental protection, and social and corporate responsibility). Fraport is regularly covered in The Financial Times survey of European Top 500 companies.
Fraport AG's share capital of €914.8 million is distributed (as of December 31, 2006) as follows: the State of Hesse (31.68 per cent), the City of Frankfurt (21.21 per cent via Stadtwerke Frankfurt am Main Holding GmbH), Deutsche Lufthansa (9.98 per cent), the Federal Republic of Germany (6.56 per cent in exchangeable bonds), Julius Bär Holding AG (5.10 per cent), The Capital Group Companies, Inc. (5.07 per cent), and a free float with private and institutional investors (20.43 per cent, including employee-owned shares).
The company's four-member executive board is comprised of Dr. Wilhelm Bender (chairman), Prof. Manfred Schölch (vice chairman), Dr. Stefan Schulte (member and executive director finance), and Herbert Mai (member and executive director labor relations). Prof. Schölch's will be retiring from the company on March 31, 2007, and will be succeeded as vice chairman by Dr. Schulte. The Fraport supervisory board has 20 members. Fraport's recently appointed new head of investor relations is Stefan Rüter.
For fiscal year 2005, the Fraport Group achieved revenues of ?2,089.8 million and an EBITDA (earnings before interest, tax, depreciation and amortisation) of ?547.5 million. Figures for fiscal year 2006 will be issued on March 6, 2007 and the Annual Report 2006 will be published on March 28, 2007.
Aviation pioneer for more than 80 years
Fraport's expertise is based on more than 80 years of aviation history at Frankfurt am Main, Germany. Founded in 1924, Südwestdeutsche Luftverkehrs AG (Fraport's forerunner) began operating Frankfurt Airport at the former Rebstock airfield. In 1936, Frankfurt Airport (airport code = FRA) was inaugurated at its present-day location adjacent to the Frankfurter Kreuz autobahn intersection about 12 kilometers from downtown Frankfurt. A renowned pioneer for decades, FRA serves as Fraport's home base and as a showcase for the company's know-how, technology, products, and services.
Providing integrated services from a to z\The company prides itself on being a leading-edge provider of integrated airport services. Besides managing FRA, Fraport AG and its subsidiaries provide the full range of planning, design, operational, commercial and management services for airports around the world. Fraport AG serves as a neutral partner to the world's major airlines: offering a complete package of aircraft, cargo, passenger and other ground handling services. Outside Germany, the company has ground services operations in Austria and Spain. ICTS Europe, a wholly owned Fraport subsidiary, has become the largest provider of aviation security services throughout Europe and is also expanding rapidly into maritime security. Other areas of Fraport expertise include real estate development, airport retailing, IT services, intermodal concepts, environmental management, hub management, training, etc. Through investments, joint ventures and management contracts, Fraport is now active at about 60 locations around the globe. Fraport served some 73.8 million passengers in 2006 and handled 2.6 million metric tons of cargo (airfreight and airmail) at the Group's six airports: Frankfurt Airport (FRA), Frankfurt-Hahn (HHN), Hanover (HAJ), and Saarbrücken in Germany; Antalya (AYT) in Turkey, and Lima (LIM) in Peru.
Under an eight-year co-management contract, Fraport experts began working in early 2005 with Cairo Airport (CAI) to maximise its position as the hub of the MENA (Middle East, North Africa) region. Fraport, which bids for airport management projects worldwide, was recently awarded a 30-year concession for operating, managing and developing Delhi Airport in India. Fraport also has a new long-term concession for managing the Black Sea airports of Bourgas and Varna in Bulgaria – a new member state of the European Union.
Frankfurt Airport: vital global hub
Developed, owned and managed by Fraport AG, FRA serves as one of the most important hub airports in the global aviation system. FRA covers 1.94 square kilometres and comprises of three runways, two passenger terminals, two major cargo areas, and the former U.S. Rhein-Main Air Base – which closed at the end of 2005 and returned to Fraport for civilian use. In 2006, Frankfurt Airport welcomed about 52.8 million passengers and handled more than 2.06 million metric tons of airfreight – making it Germany's busiest passenger airport and Europe's top cargo gateway. Among the top 10 airports in the world, FRA ranked number eight for passenger traffic and number six for cargo tonnage in 2005.
Economic and job engine
FRA has become "Germany's largest employment complex at a single location" with more than 500 companies and organisations providing jobs for about 70,000 people – including almost 19,000 who work for Fraport, its subsidiaries and affiliated companies at FRA. Indeed, Frankfurt Airport is the driving force and economic magnet of the dynamic Frankfurt/Rhine-Main-Neckar region. Home of the euro and the European Central Bank (ECB), Frankfurt am Main is world renowned for its many important trade fairs such as the Frankfurt Book Fair and the IAA Car Show. Located in the heart of Europe, Frankfurt has been a major trading centre and crossroads for over twelve centuries. Today, FRA plays a vital role in continuing this tradition on a global scale. FRA serves an expanded catchment area of 35 million inhabitants located within a 200-kilometer radius of the airport – far greater than for any other European airport.
FRA's global network
Frankfurt Airport's Winter 2006/2007 Timetable features 127 scheduled passenger airlines (not including charter passenger and cargo carriers) providing 4,252 departures per week to nearly 300 destinations in 110 countries worldwide. Six U.S. scheduled passenger airlines use Frankfurt Airport, versus only two at London-Heathrow. FRA is the home base of the Lufthansa fleet and the main European hub for the Star Alliance, which is headquartered at FRA, too. Frankfurt serves as the "Gateway to Eastern and Central Europe" and is one of the most important global hubs for Asian traffic.
Quick change artist FRA
According to statistics from the Association of European Airlines (AEA), FRA consistently ranks as the most punctual major hub in Europe. Indeed, FRA has become a high performance, quick-change airport where about 54 per cent of all passengers transfer to connecting flights. Fraport's hub expertise ensures this enviable performance, not only for passengers but also for air cargo shipments. Fraport's ground handling teams often make up for "imported" in-bound flight delays by shortening the turnaround time for aircraft on the ground.
The Frankfurt intermodal travel port
Fraport is an internationally recognised pioneer of intermodal transport, particularly air/rail/road links at FRA since 1972. August 2002 marked the inauguration of Deutsche Bahn's high-speed rail corridor between the Frankfurt/Rhine-Main and Cologne/Bonn (Rhine-Ruhr) regions. This enables more and faster rail connections.
For example, travel times between FRA and downtown Cologne have been sliced in half to under one hour. Along with better access to FRA's expanded catchment area, the new line serves as a key link in the trans-European high-speed rail network. FRA's Long-distance Train Station serves as a mainline hub in this network and offers some 170 intercity trains daily – substantially more than any of the other major European hubs.
Developing the FRA superhub
In the coming years, Fraport AG will be implementing the biggest expansion in the history of FRA. Fraport's vision calls for redeveloping Terminal 1 (including the Hall C expansion for four million more passengers per year; doubling of retail space at Terminals 1 and 2) and implementing the massive €3.4 billion Airport Expansion Program (AEP). The AEP feature two key elements: a fourth runway to increase overall runway capacity by 50 per cent and a new Terminal 3. Providing extra capacity for at least 25 million passengers per year, Terminal 3 will feature 50 airport parking positions, a people-mover and high-speed baggage tunnel linking it to the existing terminals, and an extremely flexible modular design. With the AEP, FRA will thus be able to serve well over 80 million passengers per year by 2015. Furthermore, Fraport is strategically positioning FRA to be a key global gateway for the new age of superjumbo travel. All three terminals will be able to handle the A380 and a new A380 maintenance base is under construction at the south side of the airport. On October 29, 2005, FRA became the first airport in the world to welcome the new Airbus A380 superjumbo for airport compatibility testing. Lufthansa's future fleet of 15 superjumbos will be based at FRA.