A dynamic and versatile simulator solution for complete ATC training
AGIL Air Traffic Control (ATC) simulator is carefully built to encompass all aspects of ATC training, testing and procedures development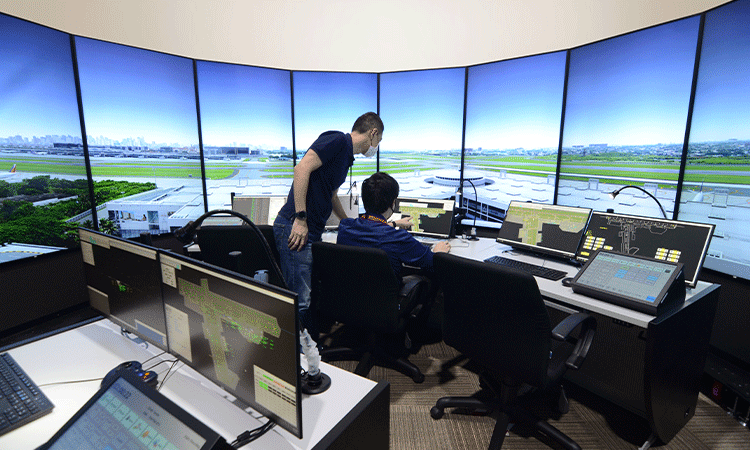 Well sought for its ability to be fully scalable and high-fidelity, its the go-to solution for integrated and thorough ATC training.
The 2D and 3D immersive simulator supports training in the development of practical ATC skills required for day-to-day operations and simulation of emergency scenario management.
Realistic radar, procedural and airport tower simulation environments are provided for the training of en-route, approach and tower controllers.
The solution is highly customisable and adaptable, offering the full training spectrum, from ab-initio to operations and refresher training in a realistic airport and airspace environment.
Virtual Tower Simulator
Seamless 360° visual environment
Airport visual database with 3D models of all buildings and airside structures, runways, taxiways and aprons including an accurate rendering of markings
Interactive control simulation
3D models for aircraft, vehicles and ships
Generates day and night scenarios as well as different weather conditions
Simulation of aircraft emergencies
Radar and Surveillance Simulator
Facilitates full training spectrum in air traffic control surveillance operation
Allows flexible distribution of processes across computer elements:

Surveillance detection
Radar data processing
Flight data processing
Automatic Dependent Surveillance-Broadcast (ADS-B)
Wide Area Multilateration (WAM).
Procedural Non-Radar Simulator
Provides comprehensive procedural control operations training
Available as a standalone or integrated module with the virtual tower or radar simulator to create complex scenarios
Oceanic control
Voice Communications Control System
Integrated voice communications network with a realistic simulation of all ATC air-ground and ground-ground communication functions and facilities
Integrated voice recording and replay synchronised with the ATC simulation exercise
Customisable voice recognition feature
Additional capabilities
ATC ConOps development and validation
Airspace design and optimisation (sectors, routes, approach procedures)
Remote tower camera positioning
Airport or airspace visualisation tools
Electronic flight strips
ADS-C/CPDLC
Safety nets
Approach sequencing
Sector workload display
Features
User-friendly data preparation facility
Supports flight data processing simulation
Aerodrome lighting panel simulation
Advanced instructor and simulation tools

Advanced replay capabilities and instructor debriefing tools

Simulation of aircraft emergency scenarios
Electronic flight strips for IFR/VFR/military flights
Use friendly voice recognition editor for easy addition or modification of phraseologies
Civil and military aircraft manoeuvres

Formation form and break including military approaches