Optimising gate management at Seattle-Tacoma International Airport
Tim Toerber, Airline Resource and Scheduling Manager at Seattle-Tacoma International Airport (SEA), discusses how the airport's gate optimisation project has led SEA to become the most efficient airport in the U.S. from a gate management perspective.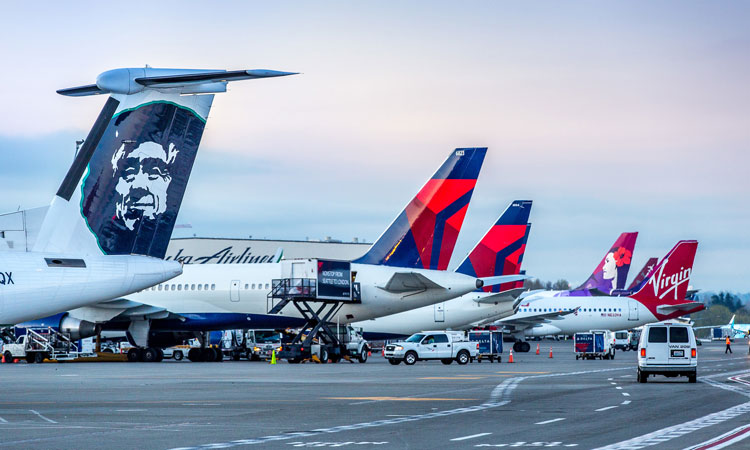 As the world becomes more closely connected, airline passenger traffic has steadily increased over the past decade, and for most airports, being able to accommodate the rising number of flights and passengers is a major challenge. When expansion projects are underway, this challenge, and the related gate management constraints, are further exacerbated.
This is exactly what Seattle-Tacoma International Airport (SEA), the eighth busiest airport in the United States, encountered. To address this challenge, in 2010, SEA began researching new resource management technologies for the common‑use gating, ticketing and baggage resources to overcome the deficiencies of its prior gate management system. It selected INFORM's GroundStar solution for its planning and day‑of‑resource management needs.
Going from error-prone manual input to automation
Prior to implementing the optimisation software in 2012, each individual airline schedule was manually formatted into a unique Excel spreadsheet and then converted to a CVS file. Next, this data was uploaded into a Gantt chart to display the entire airport operation consisting of 1,300 to 1,500 operations per day. The process was prone to frequent manual input errors and required countless staff hours a month to de-conflict. The new system has completely automated this process, by accepting a standard schedule information manual (SSIM) file from the airlines, importing the SSIMs into a planning session, and running an optimisation process based on unique airport business rules.
The error-prone manual aspect of SEA's former gate management process was further hampered by SEA's rapid growth. The airport was growing to a point where it needed a more refined gate management system in order to identify opportunities to synchronise airline schedules across the airport, while reducing gate-hold events and, in turn, average taxi times. Since SEA did not have dedicated hold pads for aircraft, each aircraft holding for an available gate slowed down the airport's overall traffic and flow. The new approach provided more refined gate activity planning; SEA's planning of construction and maintenance activity to have the lowest negative impact on airline operations.
SEA's growing infrastructure
Currently, SEA is operating from 66 contact gates (i.e. aircraft position, adjacent to terminal with a jet bridge), 14 ground-loaded positions, and 10 hardstand bus hold rooms. The airport is home to 31 airlines with 91 domestic routes and 28 international destinations.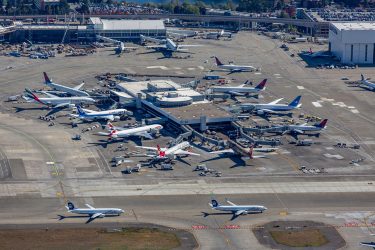 Over the past five years, SEA has seen a 46 per cent increase in the number of passengers served per year. To accommodate its growing capacity, the airport has embarked on major expansion projects. Specifically, a new international arrivals facility (IAF) is being built on the landside of the airport's Concourse A and is expected to be complete by the end of 2020. It was designed to increase the capacity of its federal inspection services area and increase the number of gates capable of handling international arriving wide-body aircraft from 12 to 20 and increase its processing capacity from 1,300 passengers per hour to 2,600.
Two years prior, in November 2018, SEA completed its Concourse D Annex project designed to relieve congestion for travellers waiting at gates or on the airfield for an open gate to deplane passengers during peak periods. With the completion of the Concourse D facility, SEA gained six new bus gates and a separate, dedicated bus drop-off point for arriving flights. This facility serves as a construction mitigation measure while the North Satellite undergoes major renovation and expansion from 12 to 20 gates. Furthermore, the hardstand programme now gives SEA airlines a better alternative to waiting for a contact gate by enabling them to proceed to remote aircraft parking pads and busing passengers to the terminal. Additionally, the same flights can depart from the remote pads through the D-Annex or tow onto contact gates for departure.
Accommodating growth and airline needs with gate optimisation
When selecting a gate management solution, SEA took into consideration its expansion needs and INFORM solution's ability to allow users to set defined business rules and quickly optimise schedules against those rules. Additionally, the solution's ability to accept various airline data feeds and interface with other software tools has allowed the team to continue expanding capabilities and benefits to the organisation.
Regarding the timeline for implementation at SEA:
2012 – the solution was implemented with basic system functionality
2013 – the system was expanded to manage ticket counters and bag make-up devices, in addition to gates
2015 – SSIM file integration with a planning tool was implemented with the first true optimisation efforts deployed
2017 – airfield busing dispatch software was implemented with an airfield map to track buses, occupied aircraft parking positions and key airline resources
2018 – an audit log was implemented to track and review changes made on either the host or general user interface (GUI) side
2019 – five out of six airline data feeds were migrated to the standardised aviation data information exchange (AIDX) connections
2019 – the solution was integrated into the airport's visual docking guidance system (VDGS) to assist parking aircraft without ground marshals
2020 – the solution will be integrated into the airport surface area management and airport collaborative decision-making system.
The optimisation software project at SEA went smoothly. However, getting the software to interact with each individual airlines' unique gate operating systems did take time to progress. Serial data connections existed, at first, for each of the top five carriers – Alaska, Delta, Southwest, United and American – but, over time, SEA has been migrating to the Aviation Information Data Exchange (AIDX) standard established by IATA. The preferred method for connecting these data feeds is a redundant MQ web‑based connection. Many of the glitches that existed with the individual airline connections have been resolved after migration to the AIDX MQ connection. There is also a separate AIDX connection with OAG Flightview to obtain flight update information for other non-feed carriers operating at SEA.
Benefits derived from gate optimisation
Since implementing the new resource management system, SEA has gained improved visibility of airline gate resource needs; enabling it to achieve more efficient airline assignments of gates, both in the planning and daily stages. There has also been a marked improvement in the ability to plan maintenance and construction activities to occur with the least amount of impact to SEA's airline customers. The user interface has enhanced the experience for day-of gate management by facilitating better decisions and shared information among airport operations, airport maintenance and airline personnel. Ultimately, it has been the travelling public that has benefited from more on‑time flights and a reduction in gate hold outs.
The number of turns per gate further reveals the benefits of optimised gate management at SEA. Signatory airlines at SEA now operate with a minimum of six turns per gate, with some averaging as high as 10 to 11 turns per gate in peak season. Gate hold delays and average taxi times have also been reduced, and – despite going from the 16th busiest airport in the U.S. in 2011 to the eighth busiest in 2018 – SEA continues to process more flights annually with even fewer gates. As for cost savings, given the estimated ROM cost of $230 million to build one new gate at SEA, it's clear how being able to handle higher air traffic volume with fewer gates – gaining more efficiency from existing spaces when measured against the cost of constructing a new gate – represents significant savings. Additionally, reduced carbon emissions due to reduced aircraft taxi times has helped SEA to further meet its environmental goals.
The airports' focus on iterative continuous process improvement, and partnerships with other companies, has led SEA to become the most efficient airport in the U.S. from a gate management perspective. As a result more airlines are looking to adopt the same solutions, and other airports frequently visit to learn from these optimisation measures.
Biography
Tim Toerber is the Airline Resource and Scheduling Manager at Seattle- Tacoma International Airport (SEA). He has worked at SEA since 2015, holding positions including Airline Schedule Coordinator. Previously, Toerber was Project Manager at Greene- Gasawy Architects and a Company Commander and Helicopter Pilot in the U.S. Army.