Miami undergoes technological renovations
Within a complex terminal renovation at Miami, new screening technologies have been installed to ensure passenger and luggage processing is not just efficient, but as safe as possible. Lester Sola, Miami-Dade Aviation Department Director and CEO, provides more information on the on-going developments.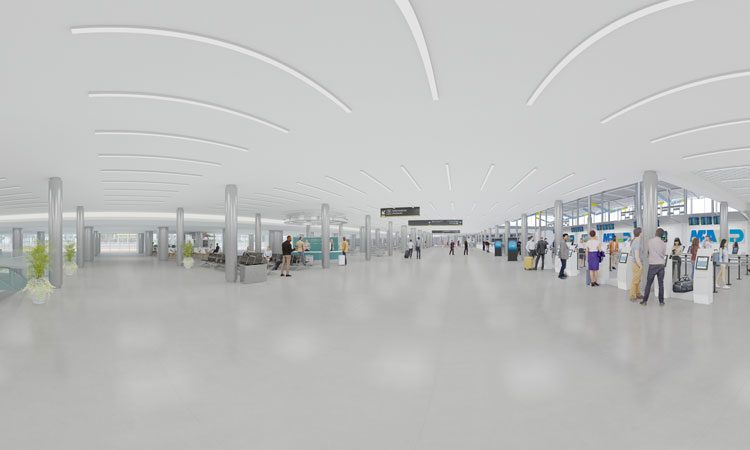 IN EARLY 2018, MIA launched its biometric entry pilot programme in its renovated Concourse E passport screening facility. Since then, the facility has been screening as many as 10 passengers per minute via facial recognition.
The new technology by U.S. Customs and Border Protection (CBP) verifies a traveller's identity by matching their facial image to the document they are presenting. The airlines now using the Concourse E facility have seen their wait times decrease by 30 to 80 per cent year over year since relocating from MIA's Concourse D. MIA expects to launch biometric entry processing in its two other passport-control facilities (Concourse D and J) by the end of 2019.
In early 2019, MIA began trialling biometric exit screening at two Concourse J gates. Through a partnership between MIA and CBP, a simple photograph taken at the boarding gate is used to confirm passengers' identities and their authorisation to travel. The facial recognition verification process takes less than two seconds with a 99 per cent matching rate, according to CBP. By late 2019 or early 2020, MIA plans to advertise for a vendor to provide biometric exit screening at all of MIA's gates.
In the fall of 2019, MIA will launch its TSA checkpoint queue wait time analyser system, which will provide predictive checkpoint queue display, lane-open recommendations, visibility of peak wait times, visibility of overall passenger impact by wait times, and historical performance.
In May 2019, MIA became one of the first 18 U.S. airports chosen by the TSA for its first wave of new computed tomography (CT) screening technology deployment. The new CT scanner, available at one of MIA's Concourse D checkpoints, detects explosives by creating a 3D image that can be viewed and rotated on three axes for thorough visual image analysis by a TSA officer. MIA expects to install the new CT scanners at its other TSA checkpoints by the end of 2019 or early 2020.
MIA has completed construction of a new $324 million baggage handling system (BHS) for its Central and South terminals. The project consisted of replacing the in-line security screening portion of the South Terminal BHS and the installation of an automated sortation system for the Central Terminal. The new system is scheduled to be fully phased in to all Central and South terminal gates by the end of 2020.
On 10 July, the Miami-Dade County Board of County Commissioners adopted a resolution that allows the Miami-Dade Aviation Department to advertise a competitive solicitation for the hiring of two teams of specialised service consultants that will assist the Miami-Dade Aviation Department (MDAD) in the implementation of its new capital improvement programme (CIP). This CIP will be built during a period of five to 15 years through 2035 and beyond.
Portions of the Central Terminal include older, outdated facilities that are limited in their level of efficiency and ability to enhance customer service. Once renovations are completed, passengers walking through MIA's Central Terminal will immediately notice a raised roof structure that will allow more natural light into the ticketing hall, in addition to increased circulation space and queueing depth, similar to what is found in the newer North and South terminals. After ticketing, passengers will walk into a larger security checkpoint serving concourses E and F and exit the security checkpoint into new retail and concession areas. Concourse F will also be modernised to provide larger waiting areas, access to more post-security retail and concession options, and direct access to all gates and the terminal building through the departure level. The South Terminal will also be expanded to accommodate three new jumbo aircraft gates, including an apron expansion that will provide aircraft parking for an additional three wide-body jets. The goal of this new capital programme is for MIA to provide even greater value, convenience and efficiency to our visitors, airline partners and cargo operators. Because of the programme's phased structure, we look forward to delivering to our passengers and business partners new and improved airport facilities.
The CIP was designed by the Miami-Dade Aviation Department to accommodate for future growth in passenger and cargo traffic at MIA – projected to reach 77 million travellers and more than four million tonnes of freight by the year 2040. In 2018, MIA surpassed 45 million annual passengers for the first time ever – an increase of nearly one million over the previous year. The gateway of the Americas served 21.8 million international passengers in 2018 – making it once again the busiest airport in Florida for international travellers and third-busiest U.S. gateway in that category. MIA continues to maintain its ranking as the busiest U.S. airport for international freight as well, setting a new record of 2.3 million total tonnes of freight in 2018 – up 60,000 tonnes from its 2017 total. The growth continues in 2019, with MIA tracking higher numbers for both passenger traffic and freight.
The new screening technologies, both for travellers and baggage, will be significant in ensuring MIA can continue efficient passenger and freight growth in the years to come.
Biography

Lester Sola, Aviation Director and Chief Executive Officer of the Miami-Dade Aviation Department oversees operations at Miami International Airport (MIA) and four general aviation (GA) airports in the Miami area. Sola has served Miami-Dade County for more than 26 years.