Qatar Airways begins new route to Sydney Airport
4 March 2016 • Author: Katie Sadler, Digital Content Producer, International Airport Review
Sydney Airport has welcomed new airline Qatar Airways on 02 March 2016, marking the start of a new daily flight from Doha to Sydney.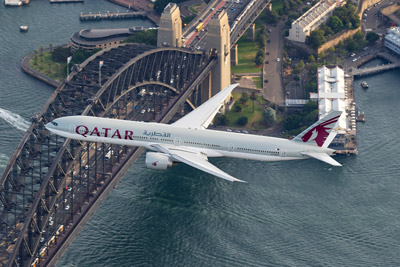 The new daily Qatar Airways service will operate on a 335-seat Boeing 777 aircraft and provide connectivity to more than 150 business and leisure destinations across its global network. The aircraft will feature the new Oryx One inflight entertainment system with more than 3,000 entertainment options on individual screens in all classes. In Qatar Airways' Business Class, passengers will experience fully flat beds and an on-demand à la carte menu service allowing them to order anything from the menu at any time during the flight.
Commenting on the arrival of the new airline, Sydney Airport Managing Director and Chief Executive Officer Kerrie Mather said: "We're thrilled to welcome Qatar Airways to Sydney Airport. Qatar Airways is a three-time Skytrax Airline of the Year winner and will provide passengers with more choice, a quality product and seamless connectivity through Doha's new Hamad International Airport to destinations around the world," Sydney Airport Managing Director and Chief Executive Officer Kerrie Mather said.
Qatar Airways daily service to Sydney Airport will generate over $240m to the Australian economy
"Qatar Airways' new daily service will boost tourism, providing an additional 245,000 seats per year, generating an estimated 3,000 jobs and contributing more than $240 million to the Australian economy.
"It will also foster trade, providing greater air cargo capacity and access to the Middle East. Australian exports to Doha grew by 23 per cent last year, and the State of Qatar's high demand for livestock, cereal, meat, dairy products and crops provides a significant opportunity for Australian exporters."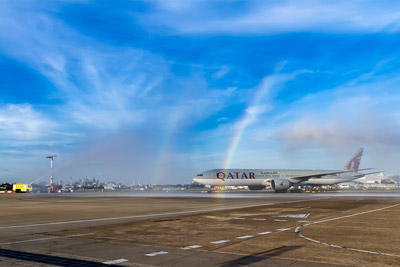 Qatar Airways Group Chief Executive, His Excellency Mr. Akbar Al Baker, added: "Touching down here in Sydney for the first time is an important milestone for Qatar Airways and for the people of Australia.
"We are delighted to be able to offer passengers flying from Sydney the opportunity to connect to more than 150 places on our global network via our state-of-the-art airport in Doha. We look forward to taking the people of Sydney to the places they want to go on our modern aircraft, and giving them a taste of the Arabian hospitality and comfort which earned us the aviation industry's most prestigious title of Skytrax Airline of the Year in 2015.
"I would like to personally thank Sydney Airport and city authorities for welcoming us and we look forward to strengthening our relationships with them and the people of Australia in the coming years as we all go places together."