How self-service bag drop solutions pay dividends in passenger experience and non-aeronautical revenue for airports
Supported by:

Join this virtual panel to learn about the tangible benefits of implementing self-bag-drop, as well as best practice and lessons learned. Airports on the panel will also discuss the future of baggage handling through off-airport services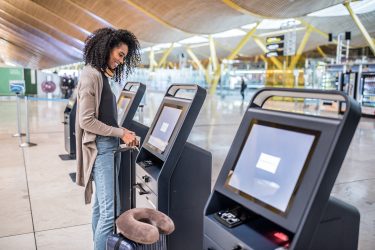 Self-service bag drop are becoming increasingly prevalent in airports around the world and many of the major hub airports have implemented them in some form. It is enabling a more efficient and more streamlined check-in process, giving passengers a stress-free experience. Airports who are able to process passengers through the check-in and security screening process quickly are able to increase the average dwell time of passengers in the duty free retail and food and beverage outlets. Studies show that passengers are more willing to spend money at airports if the airport experience is right – up to 45% more in some cases – so it is imperative that airports keep passengers at the centre of everything that they do and are constantly working to optimise and elevate the experience.
This panel will bring together airports who have implemented this type of solution, to discuss the benefits they have seen in passenger experience, operational efficiency, and non-aeronautical revenues. This, plus the challenges they have encountered and how they have worked to solve them resulting in best practice and lessons learned.
Panellists will also discuss the future of baggage operations and how services like off-airport services might evolve in the future and play a more central role in air travel. It will take a lot of collaboration between airports and outside organisations such as hotels to make this a viable and non-labour-intensive service which will ultimately raise the traveller experience to new levels.
Key learning points: 
How implementation of self-bag-drop delivers payback for airports in terms of passenger dwell time and non-aeronautical revenue gains
Learning experience for airports and airlines who would like to leverage this technology within their own airport
Best practice guide for self-bag-drop and lessons learned from implementation
Discussion of future baggage trends specifically around off-airport bag drop, what airports think of this and what is needed to make it successful in the future
FAQ
Frequently Asked Questions
Is the webinar free?
Yes – there is no charge to watch the webinar, either live or on-demand.
When will the webinar take place?
The webinar will take place live on February 28th 2023 at 13:00 GMT.
Who will be moderating?
Holly Miles, Editor, International Airport Review.
I'm busy. Can I watch it later?
Yes – you can still register and you will be notified when the on-demand version is available to watch at a time that suits you.
What are the benefits of attending live?
During the live webinar, you'll be able to pose questions to the speakers, which will then be answered during the live Q&A session at the end of the webinar.
How long will the webinar be?
This webinar will last for up to one hour.
What do I need to watch this webinar?
All you need is a computer with an internet connection. Be sure to use headphones if in an office environment.