Transform your airport overnight for flow control and building back revenue
Supported by:

The airport industry took a hit during the pandemic. But we also learnt a lot; namely that flexibility and being able to act fast is crucial – for the safety of the passengers.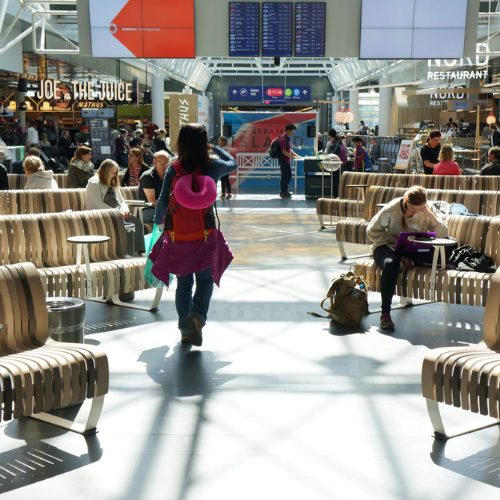 One of the main challenges for airports is the downtime that is required when refurbishing and making changes. How can we do this without shutting down business? After working with airports, airport management and passenger experience for years, we feel confident in being a trusted partner and delivering this kind of unique and placemaking transformation overnight.
We've also seen how airport retail struggled and are still struggling to get back to comfortable levels. How can we get people to feel safe and confident again when flying? Let us make the airport visit a part of the journey, not just a place to pass through on the way to the destination. If we can manage passenger safety and flow, with modular and placemaking solutions, we can guide people intuitively, safely and create an environment where they can relax, unwind, and enjoy.
We know that, when we feel good and relaxed, we tend to do more enjoyable things like eat more, shop more or just read a book while waiting for your flight.
We call this the retail effect: Enhanced passenger satisfaction = increased dwell time = increased revenue.
Key learning points:
Find out how you can transform your airport overnight and offer your passengers a place that makes them feel good and safe, fulfil their needs, and give them a positive passenger experience.
Learn how to optimize airport retail by changing the airport design.
Get ideas and tips of how to design with modular seating to control people flow and create a safe airport visit.
Get a chance to learn from industry expert and ask them questions.
FAQ
Frequently Asked Questions
Is the webinar free?
Yes – there is no charge to watch the webinar, either live or on-demand.
When will the webinar take place?
The webinar will take place live on 13 June 2022 at 14:00 GMT.
Who will be moderating?
Holly Miles, Editor, International Airport Review.
I'm busy. Can I watch it later?
Yes – you can still register and you will be notified when the on-demand version is available to watch at a time that suits you.
What are the benefits of attending live?
During the live webinar, you'll be able to pose questions to the speakers, which will then be answered during the live Q&A session at the end of the webinar.
How long will the webinar be?
This webinar will last for up to one hour.
What do I need to watch this webinar?
All you need is a computer with an internet connection. Be sure to use headphones if in an office environment.