How placemaking in airport interiors can enhance passenger experience, create engagement and boost retail
Supported by:

The airport industry took a hit during the pandemic. But we also learnt a lot; namely that flexibility and being able to act fast is crucial – for the safety of the passengers.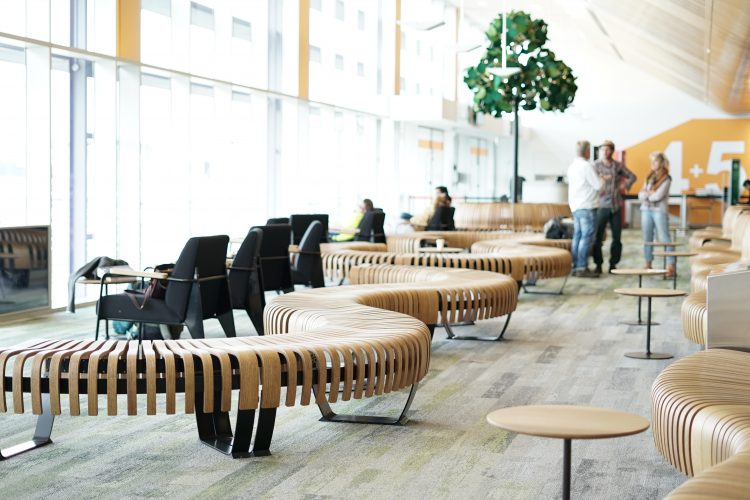 The airport industry took a hit during the pandemic. But we also learnt a lot. We learnt that flexibility and being able to act fast is crucial – for the safety of the passengers. A challenge for airports is the downtime that is required when refurbishing and making changes. How can we do this without shutting down business? After working with airports, airport management and passenger experience for years, we feel confident in being a trusted partner and delivering this kind of unique and placemaking transformation overnight.
We've also seen how airport retail struggled and are still struggling to get back to comfortable levels. How can we get people to feel safe and confident again when flying and deliver a world class passenger experience? Let us make the airport visit a part of the journey, not just a place to pass through on the way to the destination. If we can manage passenger safety and flow, with modular and placemaking solutions, we can guide people intuitively and safe and create an environment where they can relax, unwind, and enjoy.
We know that, when we feel good and relaxed, we tend to do more enjoyable things like eat more, shop more or just read a book while waiting for your flight.
We call this the retail effect: Enhanced passenger satisfaction -> increased dwell time -> increased revenue.
Key learning points:
 How can the right airport design create a safe and enhanced passenger experience?
Find out how you can transform your airport overnight with no down time
Learn how to optimize airport retail by changing the airport design
Get ideas and tips of how to design with modular seating to control people flow and create a safe airport visit
Get a chance to learn from industry expert and ask them questions.
Keynote speakers
Michael Eggenschwiler, Chief Executive Officer – Hamburg Airport


Michael Eggenschwiler is CEO at Hamburg Airport. The 62-year old business graduate from the university of St. Gallen/Switzerland has assumed this role in March 2005 after two years as Managing Director of Hamburg Airport.
Starting his professional carrier at Crossair in various management positions, he took over a senior management role at Swissair. Michael Eggenschwiler was Member of the Executive Board at Swissair, last being responsible for sales & marketing in Swissair's home market Switzerland.
From 2007 to 2010 he acted as President of the German Airports Association ADV and is currently Board Member of the German Airports Association ADV and Bundesverband Deutsche Luftverkehrswirtschaft BDL. He is Swiss Honorary Consul for Hamburg and Schleswig-Holstein. Further he is member of the Advisory Board Hamburger Sparkasse and HDI-TALANX.
Michael Eggenschwiler is married and has two children.
Luke Kendall BA(hons), Associate Director, UK – Chapman Taylor

Luke joined Chapman Taylor in 2006 and has an established track record having worked on a number of award-winning high profile projects from conception to delivery and has strong expertise in leading and managing large design teams on major projects.
His focus in this time has been in the Transportation and commercial sectors, with a particular interest in passenger experience and the different mindsets they have as they journey through Transport hubs and terminals.
Johan Berhin, Designer & Founder – Green Furniture Concept


Johan Berhin is the founder of Green furniture concept. He is the designer behing the Nova C series that you can find in public places all over the world. He has an engineering and industrial background and got his design education at the TU Delft in Holland, and at Domus Academy in Milano. His industrial experience has given him a good knowledge of manufacturing and has fed a need to make things better – to find ways of manufacturing closer to nature.
FAQ
Frequently Asked Questions
Is the webinar free?
Yes – there is no charge to watch the webinar, either live or on-demand.
When will the webinar take place?
The webinar will take place live on 30 August 2022 at 13:00 BST.
Who will be moderating?
Holly Miles, Editor, International Airport Review.
I'm busy. Can I watch it later?
Yes – you can still register and you will be notified when the on-demand version is available to watch at a time that suits you.
What are the benefits of attending live?
During the live webinar, you'll be able to pose questions to the speakers, which will then be answered during the live Q&A session at the end of the webinar.
How long will the webinar be?
This webinar will last for up to one hour.
What do I need to watch this webinar?
All you need is a computer with an internet connection. Be sure to use headphones if in an office environment.