How can analytics help you improve the passenger experience and create safer, more efficient airports?
Supported by:

Watch now for a deep dive into why and how airports must understand passenger behaviour so they can act decisively, increase efficiency, and improve the passenger experience. Hear first-hand from airport stakeholders and leave with an understanding of how a data solution can positively impact your airport operational and business decisions.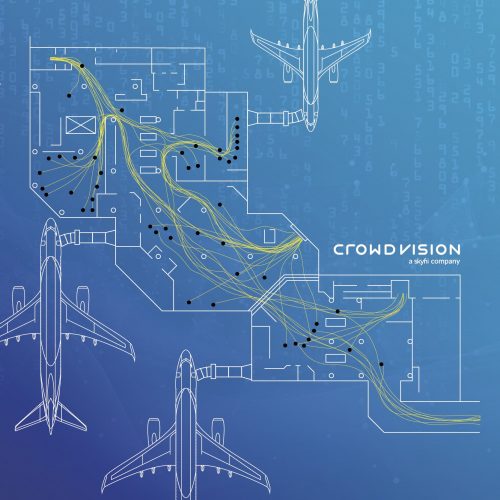 The pandemic changed airline protocols, which will stay for years to come. Health and safety rules will remain, as well as the need to manage queues and crowds. Airport managing bodies now face new priorities including limiting crowds, optimising floor space, and reducing passenger processing times. Not to mention, airports must also maximise revenues through high value services, while adhering to protocols, and not over taxing their resources. In order to meet these challenges, airports must understand passenger behaviour.
Watch to learn how we leverage data from various sources to understand behaviour so airports can act decisively, increase efficiency, and improve the passenger experience. We dove into the most common challenges we see airports struggle with and how an integrated data solution can help. We also discussed the various use cases historical data analytics enable. Hear directly from airport stakeholders on how they use crowd analytics to improve airport operations and transform the passenger experience. Leave with an understanding of how a data solution can positively impact your airport operational and business decisions.
Key learning points:
Discover the various use cases and benefits an AI-driven integrated platform enables.
Understand how historical passenger analytics provide reliable evidence for planning, maintenance management, and investment decisions.
Learn how airport stakeholders use crowd analytics in new and innovative ways to improve efficiency and the passenger experience.
Interact with Skyfii | CrowdVision and industry experts.
Keynote speakers

Stephen Callender, VP of Solutions Consultant –  Skyfii | CrowdVision

Stephen Callender has worked in the crowd analytics space since 2017, having previously focused on design and entrepreneurship in the software industry. Stephen was a pioneer of CrowdVision's hardware agnostic approach, matching our hardware and product solutions to the unique needs of our airport customers.
Katie McCoy, Business Intelligence Manager – Charlotte Douglas International Airport (CLT)

Throughout 2021, CLT has consistently ranked among the top 5 busiest airfields in the world, and top 10 for passenger traffic globally. Katie worked for the City since 2003 serving in leadership roles with the Budget & Strategy Department and City Manager's Office before joining CLT in 2017. She earned a Master of Public Administration from the University of North Carolina at Chapel Hill and is a certified member with the American Association of Airport Executives.  
Lowell Mason – Senior Data & Systems Manager at Heathrow
Lowell is primarily responsible for leading a team of analysts and analytics engineers to enable and deliver reliable analytical services to internal and external clients by leveraging data mining techniques and visualization tools. Key clients included all Heathrow Airlines and Ground Handlers and UK Border Force.   
Lowell first joined Heathrow in 2010 as part of the Babcock control room team and has spent the last 10 years in various roles with Babcock and Heathrow Airport driving performance through data derived and driven insights with a Lean Six Sigma approach. Lowell leads the go-to group for finding creative solutions to complex business problems. He also leads the culture change towards Data-Driven Decision Making to enable real focus in making the most of the information available and advocates democratizing data as the way to make our teams and the passenger experience better. 
FAQ
Frequently Asked Questions
Is the webinar free?
Yes – there is no charge to watch the webinar, either live or on-demand.
When will the webinar take place?
The webinar will take place live on 16 February 2022 at 14:00 GMT.
Who will be moderating?
Holly Miles, Editor, International Airport Review.
I'm busy. Can I watch it later?
Yes – you can still register and you will be notified when the on-demand version is available to watch at a time that suits you.
What are the benefits of attending live?
During the live webinar, you'll be able to pose questions to the speakers, which will then be answered during the live Q&A session at the end of the webinar.
How long will the webinar be?
This webinar will last for up to one hour.
What do I need to watch this webinar?
All you need is a computer with an internet connection. Be sure to use headphones if in an office environment.