Lighting the way at Manchester Airport
MHA Lighting has helped Manchester Airport cut its lighting energy consumption by 63 per cent through a third major lighting installation…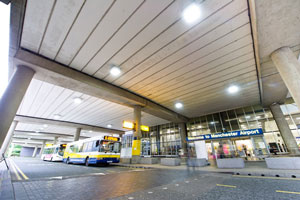 MANCHESTER-based MHA Lighting has helped Manchester Airport cut its lighting energy consumption by 63 per cent through a third major lighting installation.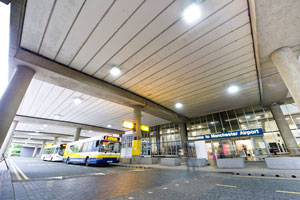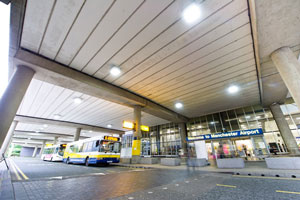 With its award-winning low energy luminaires and ability to design bespoke solutions, MHA Lighting has quickly become one of the airport's preferred suppliers, supplying more than £500,000 worth of lighting products to the airport in the last 18 months.
The latest project, which completes this month, includes replacing under canopy lighting with MHA's patented C Lite technology.
This project replaced 400 watt (without ballast) Metal Halides with their new C Lite product – the C90/700. This unit uses just 180 watts (including ballast) and will replace the Metal Halides on a one-for-one basis and installed at a height of 9 meters, whilst maintaining more than 180 Lux to the floor.
MHA Lighting managing director Tom Harrison said: "We have a great relationship with Manchester Airport and very much enjoy working with an airport that is not only award-winning, but forward thinking.
"Their commitment to the green agenda and becoming carbon neutral is truly impressive and we are delighted to be playing our part in helping them achieve their goal.
"Everyone at the airport has been delighted that MHA has been able to achieve all their project objectives, including improved levels and quality of lighting, energy reduction targets and providing the simplest installation solution.
"In addition they are pleased with the aesthetic appearance of MHA Lighting's lights which complimented the modern image of the airport.
"Meanwhile for us at MHA, MAG has become somewhat of a lighting showroom for our lighting products. Now we have supplied C Lites for the covered roadways between the car parks and terminals we are able to connect our various projects so it is MHA pretty much all the way."
In 2009, Manchester Airport made a major commitment to reduce its carbon footprint and set out to be the first airport group to have carbon neutral ground operations by 2015.
In November 2010, MHA Lighting supplied 2140 LB Lite LED lights for Manchester Airport's Terminal Two and Terminal Three multi-storey car parks, which will achieve an overall Co2 reduction of 3170 tonnes over the product lifetime.
MHA Lighting's fittings were then again selected for Terminal Two Arrivals and Departures concourse and baggage reclaim hall to replace 280watt metal halides (including ballast losses).
There, MHA installed their award-winning High Bay TiLite – which is just 123 watts with ballast and delivers 300 lux to the floor. These lights replaced the metal Halides on a one-for-one basis and not only improved lighting levels and uniformity within the concourse but instantly achieved a 57% energy saving.
The team at MHA Lighting are highly skilled at integrating intelligent electronics firmware and software into their lighting solutions.
For example the High Bay TiLites have been supplied with control gear that works seamlessly alongside Manchester Airport's Building Management System, which in turn will work alongside aircraft flight movements interface (once completed).
This means that they have the potential to do clever things like dim the lights in empty passenger zones, but automatically switch the lights back on when aircraft have landed.
Intelligent controls like this can only further reduce energy consumption and of costs.
Jonathan Beswick, Project Technician, Manchester Airport, said: "After several months of trialling numerous lighting technologies and designs, MHA's bespoke retro fit solutions outshone all the others.
"We were particularly impressed with the speed and efficiency of MHA Lighting to design, fit and test their products to our stringent criteria.
"Their products have more than exceeded our expectations and we are delighted to have been able to work closely with MHA to find the right solutions for different applications within the airport.
"MHA Lighting is demonstrating right here at Manchester Airport that with forward thinking design, it is possible to improve light levels, while reducing energy consumption and carbon impact."
Related topics
Related people