Working together, working with you
Introducing the Schmidt/Holder M480, the five in one, multi-purpose vehicle for ALL seasons. The Schmidt/Holder M480 offers quality, versatility, power and comfort…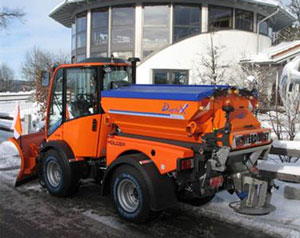 Schmidt/Holder M480
Introducing the Schmidt/Holder M480, the five in one, multi-purpose vehicle for ALL seasons.
The Schmidt/Holder M480 offers quality, versatility, power and comfort. It is designed not only to ensure it does a better job but also yield a higher economic benefit than other vehicles.
Legendary versatility has made Holder machines highly sought-after, they are designed to operate year round in all weather and can be equipped to tackle most jobs. Whether it be mowing, or road planing during spring and summer, through to heavy duty snow and ice clearance in winter, the Schmidt/Holder M480 offers the perfect solution.
The M480 can even be used for towing narrow-body military and civil aircraft with up to 19 metric tons take-off weight.
To make it an even more compelling proposition, the Schmidt/Holder M480 is the ONLY compact multi-purpose utility vehicle available with a highly efficient mechanical power take-off (PTO) ensuring economical working and fuel consumption savings of up to 30%.
Why have several vehicles under utilised for most of the year, when you could have one machine that can do it all. Save money, time and maintenance costs. It's really that easy. Simply fit the right attachment for the task and off you go! Job done.
Call us now on 01733 393391 to BOOK A FREE DEMONSTRATION.