New Business Lounge for high flyers opens at London Southend Airport
A brand new Business Lounge for passengers flying in and out of LSA by private jet is now operational…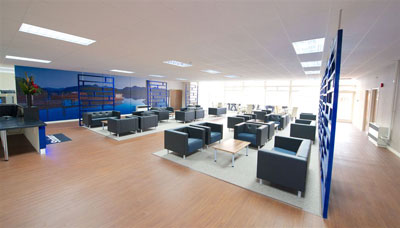 A brand new Business Lounge for passengers flying in and out of London Southend Airport by private jet is now operational.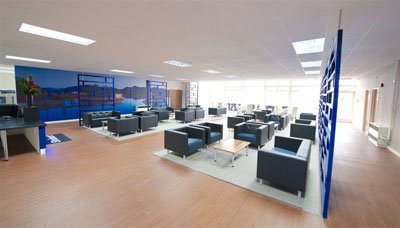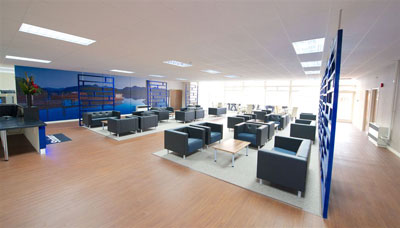 The Arrivals Hall in the old London Southend Airport terminal building has undergone a £500,000 transformation to create the state-of-the-art facility.
The new Executive Handling area includes a meeting room (complete with full video conferencing technology), a pilot's rest zone and facilities for drivers who are waiting for passengers. There is a large, comfortable lounge with plenty of space for passengers to relax whilst their aircraft is prepared, and where they will well cared for by an experienced hosting team who can provide them with a wide range of refreshments. The whole area is equipped cutting edge security screening equipment, and also offers discreet, direct access to the exclusive business jet parking area.
The completion of the Business Lounge comes shortly after London Southend Airport announced an exclusive new partnership with Landmark Aviation to handle business jets during summer 2012. Landmark Aviation is one of the world's largest fixed based operators of business jets. It has 52 bases across the USA, Canada and France and a strong reputation for safety and excellent customer service.
London Southend is the only UK airport with a direct mainline rail connection with the Games at Stratford – with up to 8 trains per hour from the brand new railway station. The airport is also located on two major dual carriageways (A127 and A13) that lead to Stratford and on to central London.
London Southend Airport Managing Director Alastair Welch said "London Southend is going to be introduced to a wide range of new customers in 2012 as they travel to London for the Olympics, and we want to demonstrate to them the great service and big benefits we can offer them over other London airports – both this summer, and beyond. This new Business Lounge is part of our commitment to providing our passengers with the best possible facilities and excellent customer service."
Related airports
Related people