Aviation, Business and Union Leaders outline plan to get growth off the ground
Key tests for a successful aviation policy put to Government…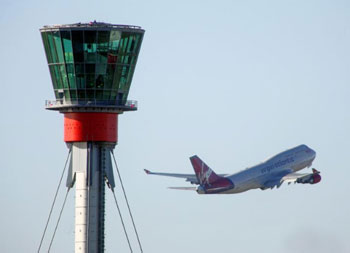 CEOs representing Aviation Foundation members – BAA, British Airways, M.A.G and Virgin Atlantic- along with heads of the British Chambers of Commerce and the TUC, today called upon the Government to adopt four key tests to secure a credible and lasting aviation policy.
The tests, announced at a press conference in Westminster, come ahead of next month's launch of the Government's consultation on aviation policy. They state that any successful aviation policy must:
Deliver a clear policy conclusion that can be progressed without further delay.
Aim for cross-party consensus and a commitment that lasts beyond the term of one Parliament and ensures the policy will be implemented.
Achieve cross-departmental consensus and support Britain's economic growth, consistent with our trade, tourism, transport, environmental and climate change strategies.
Be based on a policy process that has considered all options rationally and objectively on their merits.
The tests are designed to ensure the forthcoming Government consultation on aviation policy does not become a pretext for further delay. While leading trading nations across the globe have quickly recognised that a thriving aviation industry is vital to future economic growth, British politicians have debated this point for almost fifty years without effective action. As a result Britain is falling behind as an economic powerhouse at the worst possible time.
Aviation collectively creates over £50 billion of wealth for the UK each year and protects almost one million British jobs. In addition, at a time when the UK is losing out to European rivals in its connections to emerging markets, it has been shown UK businesses trade 20 times as much with emerging market countries that have a direct daily flight to the UK as they do with those countries that do not.
Willie Walsh, CEO, International Airlines Group, commented: "We've had years of government inactivity on aviation policy and this consultation must result in a plan of action and the commitment to see it through – not another fudge. It's the UK that loses out while around the world they will rub their hands with glee as we stumble along our path of inactivity".
Colin Matthews, CEO, BAA, commented: "Whatever decisions emerge from the next Government policy review, history shows they will not be implemented without real leadership by all political parties. The current aviation policy review is the last chance for Britain's political leaders to work together in the national interest and prevent the UK slipping out of the premier league of global connectivity. It is time for narrow political interest to be put to one side and for our political leaders to grasp the nettle and work together for the good of the UK as a whole."
Steve Ridgway, CEO, Virgin Atlantic, commented: "In my 11 years as Chief Executive there have been 8 Transport Secretaries, 7 Business Secretaries, 6 Home Secretaries and 8 Tourism Ministers, but not a single strategic aviation policy that has met the country's needs. In every other leading country, aviation is an expanding industry that underpins and facilitates growth in other parts of the economy. In the UK, crazy taxation and on-going indecision on how to deal with the crippling lack of capacity is stunting economic growth and having a strangling effect on tourism. To ensure that UK plc. is not left behind the rest of the world, the Government needs to develop a long-term credible aviation policy – and fast."
Charlie Cornish, CEO, Manchester Airports Group, commented: "UK aviation is a hugely significant creator of wealth and employment in its own right. But its importance goes much further than that, which is why this country should have an aviation policy that truly addresses the needs of all, whether it's business or leisure, passengers or freight, hub or point to point. In the UK regions, where recession has hit particularly hard, economic growth driven by aviation is needed more than ever."
Brendan Barber, General Secretary, Trades Union Congress, commented: "Trade unions have pushed the Government for a meaningful growth strategy and the aviation sector clearly has a central role to play. Aviation provides hundreds of thousands of skilled, well-paid jobs for our members. In these difficult times, such jobs are at a premium. Of course, it is vital that our environmental and climate change commitments are taken into account as we develop the sector, but I am confident that that can be done."
John Longworth, Director General of the British Chambers of Commerce, commented: "British businesses are busting a gut to increase their exports to new and growing markets across the globe. If we want them to succeed, we urgently require an aviation strategy that delivers capacity and connectivity for today, for tomorrow, and for the long term.
"The government must stop tip-toeing around on aviation because of short-term political considerations. Unless politicians grasp the nettle and make some tough decisions, both our export and inward investment potential will suffer. My message to Westminster is clear: don't condemn Britain to second-class status as a trading nation. Deliver an aviation strategy that's actually worth the paper it's written on."
Related airlines
Related organisations