Another month of steady passenger growth in the Asia-Pacific region
Posted: 14 June 2012 | Airports Council International (ACI) | No comments yet
Passenger traffic in the Asia-Pacific region continued to show a steady growth in April 2012…

Passenger traffic in the Asia-Pacific region continued to show a steady growth in April 2012. According to the latest ACI Passenger and Freight Flash Reports, a year-on-year increase of 9.5% was recorded for airports in the Asia-Pacific and 10% for the Middle Eastern airports, comparing to April 2011.
Beijing (PEK) continued to record the highest passenger throughput in the region, with over 6.7 million passengers. Tokyo Haneda (HND), with over 5 million passengers came second and the other 3 airports in the top 5 were Hong Kong (HKG), Jakarta (CGK) and Bangkok (BKK), all recorded over 4.6 million passengers in April 2012.
Passenger traffic for the first 4 months of 2012 showed a promising 9.3% and 13.4% increase for the Asia-Pacific and Middle East areas respectively when compared to the same period last year.
For air freight traffic, Asia-Pacific area recorded a year-on-year decline for the second consecutive month, at -3.1% in April 2012. Year-to-date result from January to April 2012 showed a decline of -1.6%. However, Middle Eastern area remains resilient to the economic downturn in other parts of the world, where positive trend continued with a 4.9% increase year-on-year and 3.8% increase year-to-date.
Hong Kong (HKG), which handled over 337,000 tonnes of freight in April 2012, was the airport in the region with the highest throughput. Shanghai Pudong (PVG), Seoul Incheon (ICN), Dubai (DXB) and Tokyo Narita (NRT) were the other 4 airports in the top 5 list for cargo throughput.
ACI Asia-Pacific Regional Director Mrs. Patti Chau commented, "Although air freight in the Asia-Pacific area still suffers from the impact of the worldwide economic uncertainties, it is encouraging to see that air freight in the Middle East as well as passenger traffic in both the Asia-Pacific and Middle East areas continue to grow at a steady pace. This growth is in line with the ACI Global Traffic Forecast issued in 2011."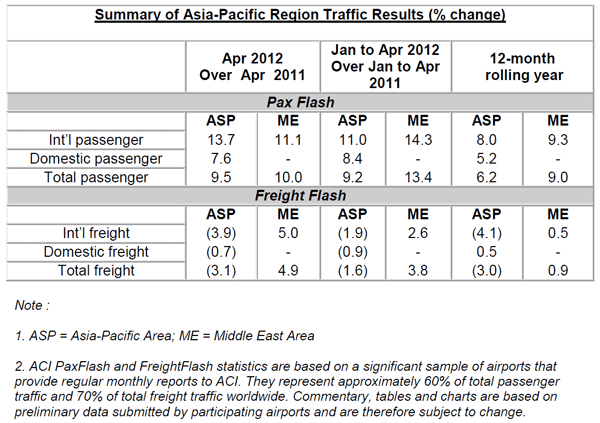 Related organisations
Related people