SITA readies Azerbaijan for Eurovision traffic surge
Azerbaijan Airlines (AZAL), introduced mobile and web check-in for its passengers…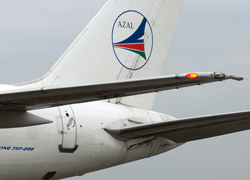 Azerbaijan Airlines (AZAL), the flag carrier of Azerbaijan, today introduced mobile and web check-in for its passengers. The services, provided by global air transport IT provider SITA, are part of the airline's preparations for the surge of traffic this week as the country hosts the Eurovision Song Contest.
AZAL has adopted SITA's Horizon PassengerMobile which gives travelers a wider choice of self-service options. The airline's passengers can now check-in, select their seat and generate their boarding pass simply by using their mobile phones or via the web. They can also board the flight using a self-printed boarding pass.
The new check-in services have been introduced as part of the national infrastructure developments as the country prepares to host the international event that takes place over four days and attracts visitors from 42 countries.
Eldar Hajiyev, Executive President, Azerbaijan Airlines, said: "This is an exciting time for our country and we are proud to offer these world-class services to all the visitors coming to Azerbaijan for the Eurovision Song Contest. SITA worked closely with us under a tight deadline to get the services in place by today and we are delighted that we are ready for the busy days ahead.
"SITA's passenger services are used by leading airlines and airports around the world and this investment will provide a smoother journey for the more than one million passengers who fly with AZAL each year."
Dave Bakker, SITA President, Europe, said: "Mobile check-in is becoming more popular as the adoption of smartphones rise. More than half of global passengers now carry smartphones and expect mobile services to be provided. SITA's technology allows AZAL's customers to check-in quickly and easily with their phone or using any device that has internet access. SITA makes it easier for passengers to enjoy a world-class journey."
Later this year, SITA will also provide AZAL with kiosk check-in for its passengers at Baku Heydar Aliyev International Airport and Moscow Domodedovo Airport.
AZAL operates passenger flights across Europe, the CIS, Middle East and Asia. In 2014, the airline plans to introduce long-haul flights to destinations in North America and South-East Asia using newly purchased Boeing aircraft.
Related organisations
Related people