airBaltic appoints a new Chief Operations Officer
The Supervisory Board of Latvian national airline airBaltic has approved Martin Sedlacky as the new Chief Operations Officer…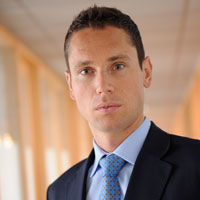 Martin Sedlacky, Chief Operations Officer of airBaltic
The Supervisory Board of Latvian national airline airBaltic has approved Martin Sedlacky as the new Chief Operations Officer and Member of the executive Board.
Martin Gauss, Chief Executive Officer of airBaltic: "airBaltic has an excellent team in operations, who achieved outstanding efficiency and made airBaltic the most punctual regional airline in continental Europe in 2011. We are delighted to welcome Martin Sedlacky as a new Chief Operations Officer and a Member of the executive Board. I am confident that he will be a tremendous asset to airBaltic's operations and continue to contribute to business restructuring programme airBaltic ReShape."
In the past decade, Martin Sedlacky has had a strong focus on business restructurings, including airlines, across Central and Eastern Europe, Scandinavia, USA, Singapore, Malaysia. As part of Boston Consulting Group (BCG), Martin Sedlacky spent the past seven years working on business consultancy projects in transportation and other industries. In the past four months, Martin Sedlacky made a significant contribution as a BCG project leader focussing on airBaltic ReShape programme. He has received an Engineer degree and CEMS Master's in International Management from the University of Economics in Prague and Helsinki School of Economics.
The executive board of airBaltic consists of three members. Chief Executive Officer Martin Gauss is the Chairman of the Board. The new Chief Operations Officer Martin Sedlacky will join Chief Finance Officer Vitolds Jakovļevs as a member of the Board.
airBaltic serves 60 destinations with direct flights from its home base in Riga, Latvia. From every one of these, airBaltic offers convenient connections via North Hub Riga to its network spanning Europe, Scandinavia, Russia, CIS and the Middle East.