The Imtradex headset AirTalk 3000 XS convinced at the ATC Global in Amsterdam
At air traffic controls, the communication is a key factor for effective work processes…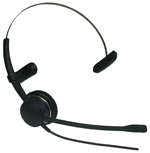 AirTalk 3000 XS
At air traffic controls, the communication is a key factor for effective work processes. This was again made clearly at this year's ATC Global in Amsterdam. With over 5,600 visitors from over 115 different countries the exhibition is one of the most important meeting places for air traffic control. Professionals in the field of Air Traffic Control (ATC) are generally demanding in terms of technological means of communication. "We are pleased, that our new headset AirTalk 3000 XS was able to convince the visitors so strongly," says Ralf Kudernak, managing director of Imtradex Hör-/Sprechsysteme GmbH (www.imtradex.com).
The great international interest provided lot of visitors on the Imtradex stand. Particular professionals from Russia and Colombia were giving special attention – to the extremely lightweight monaural headset AirTalk 3000 XS. With high wearing comfort and crystal clear sound, it is ideal for people in air traffic control, capable of communicating clearly with each other, and also communicates over long periods of time.
The optimized technological features of the new headsets – including the enhanced, NC microphone – are tailored to the needs of professional users in the ATC field. In this context, the convenient, unbreakable and flexible design of the headset is significant. In addition to the extremely light weight, which is considerably below competing products, and the noise-cancelling microphone (NC), the AirTalk 3000 XS also features the Acoustic Shock Protection (ASP), to protect against too high sound pressure levels. The use of "high quality" acoustic components insure the high performance of the audio and voice quality.
For more information visit www.imtradex.com
Related organisations
Related people