Operator announces Master Plan to make Luton "London's Local Airport"
London Luton Airport Operations Limited was the fastest growing London airport in 2011..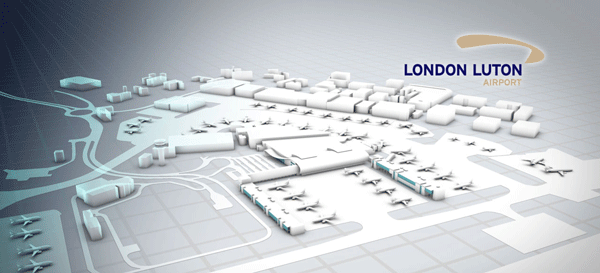 London Luton Airport Plans
London Luton Airport Operations Limited, the operator of London Luton Airport, which is the fifth largest airport in the UK and was the fastest growing London airport in 2011, today announces its Master Plan for the future of the airport.
As the airport operator since 1998, we have carried out a detailed study of the airport and its opportunities for growth, which we have used as the solid basis for creating a credible and sustainable plan which will help ease the constraints on point-to-point short haul aviation capacity in London and meet the DfT's forecast of 15-16 million passengers per year by 2028. These plans include:
The phased development of London Luton over the next 15 years to facilitate growth in passenger numbers and airline demand that will avoid overbuilding capacity, and passing on unnecessary costs to airlines and passengers.
Growing the number of passengers from nearly 10 million to 15-16 million per year over the next ten years;
Turning Luton into "London's Local Airport" through continual improvement of transport links with the Capital, and caring for the local environment and community we live in.
The three main components of our proposed initial development phase would include:
Improvements to the terminal building through the construction of a new pier, and a new layout which can be achieved through minor extension works that won't disrupt the running of the airport;
Extending the taxiway to increase the number of aircraft movements, creating new aircraft stands, and upgrading existing ones;
Constructing two new traffic lanes to the south of "Airport Way", leading into a newly created set down system in the Central Terminal Area, which will ease congestion and manage growth in the future.
LLAOL's Masterplan and accompanying presentation of the proposed phased development can be obtained from our website at www.london-luton.co.uk/Masterplan/
Following public discussion by the Council that they may terminate our Concession before its expiry in 2028, LLAOL reiterates that as the operator of London Luton we have trebled the number of passengers using the airport from 3.4m passengers in 1998 to 10m passengers today. If the Council does terminate the Concession, it will be required to make a significant termination payment to us reflecting the value of the remaining years of the Concession and certain other liabilities. This will run into the hundreds of millions of pounds and risks delaying or even preventing development and the benefits it can bring for the foreseeable future.
Glyn Jones, Managing Director of London Luton, said, "The Mayor of London has proposed a new hub in the Thames Estuary to deal with the constraints on medium and long haul aviation capacity in London and the South East. Today we have outlined a credible and realistic plan that, if approved, will put Luton at the heart of solving the burden on point-to-point short haul operators who want to grow."
Related airports
Related organisations